Mitchell Layton/Getty Images
June 25, 2011
For another game, the new formation, tactics and players (to a point), worked for Bob Bradley.
The United States beat Panama 1-0 after a late counter-attack goal from Clint Dempsey. The assist came from struggling Landon Donovan, who came on as a substitute, and the play was started by Freddy Adu; the entire play was wrapped up in a heart warming package.
But there may be some out there that were a little unnerved by the game.
Missing on the day was much of the panic-ridden, edge-of-your-seat emotion and play that has come to exemplify a constantly under-performing/overperforming U.S. team. Instead, they controlled most of the possession, and other than a short burst at the end of the match, Panama had few true opportunities.
It must have been nice for the U.S. to be on the other end of such a performance.
Granted, all the kinks haven't been worked out of the system; it's not like the U.S. had that many chances.
Still, it's a trade off. Panama didn't have as many quality chances, scored fewer goals and was less of a threat overall, and isn't that better than the outcome of the previous meeting with Panama?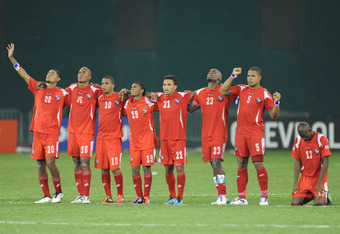 Panama had a strong tournament. The U.S. should expect to see their defensive plan used against them in future CONCACAF games.
Mitchell Layton/Getty Images
For the semifinal, Panama once again ceded possession and territory.
And once again, the U.S. struggled to break down Panama's defense—a defense that was once again quite similar to the American style of play against stronger opponents—a compact, well organized defense willing to give up space well into their own half.
As a side note, Panama did well for itself in this tournament. They have some talented players and showed their organization, and team focus. The players and coach did much to improve their status. Clearly, they're a dangerous side.
However, the U.S. had the majority of possession, and it seemed to be a game against the clock. Will the U.S. score before they run out of time and it becomes a penalty kick crap-shoot?
Against Panama, they did, and now they'll be playing Mexico in the Gold Cup final.
There's one caveat moving forward though. Get used to this style of play from Bob Bradley's team, so everyone better work up some patience to handle it.
And it will be an exciting future too, even if the run of play doesn't seem like it.
It's better than the alternative (the aforementioned edge-of-the-seat, "Why can't we play like we're professionals?" insults thrown at televisions in bars across America).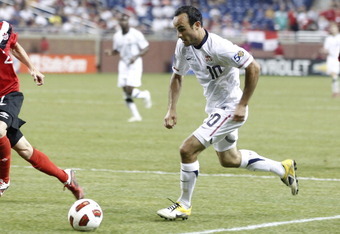 Let's qualify properly: Best Counter-Attack Player for the U.S.
Gregory Shamus/Getty Images
The team did not let in the early goal, or allow an early chance like the one Jamaica missed. Plus, Panama's first real chance didn't happen until right before the half.
In just changing the nature and the feel of the game, the formation paid off, despite the goal not even being a direct result of the formation. Instead, it was a counter attack that included the "best U.S. counter-attack player" Landon Donovan (sorry Kyle Martino, your claim that Donovan is the "best American player ever," is up for debate, but more on Martino, his announcing and analysis later).
Now comes the real question: how does the U.S. get more, especially offensively, out of the system?
The way this U.S. team plays its 4-5-1, it's much closer to Sir Alex Ferguson's Manchester United strategy of making sure to "have a strong defensive line and let everyone else run around."
This system works really well when those runners are Cristiano Ronaldo, Wayne Rooney, Carlos Tevez and one player from a pool of Scholes, Giggs, Berbatov, Park, Nani, Valencia, you name the player (all one-time United players to play under that strategy).
And there must be value in this style as Ferguson's most recent Manchester United's team has a similar feel to its play.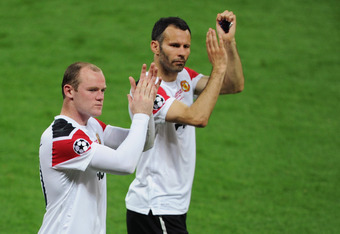 Bob Bradley should look to Manchester United to tweak his 4-5-1 system.
Michael Regan/Getty Images
So maybe Bob Bradley's on to something. Writers steal from the best, why shouldn't coaches?
It may not be the same (International teams can't buy their players, and the U.S. doesn't have the likes of Ronaldo, Rooney and Tevez in its player pool), but the formation can work for the United States.
Since Bradley is a defense-first type of guy, his version of the formation has four true attacking players, the forward and three supporting midfielders, then if everything's good, his outside backs and hopefully another central midfielder supporting the offense.
Call it a 4-2-3-1, a 2-4-3-1, whatever you would like, the formation varies throughout the game, but the point is, the majority of the offensive duties hang on the play of four offensive players.
Unfortunately though, the game is won or lost on how well the supporting players, both offensively and defensively, are involved in the play.
If the outside backs don't get up the field, the play breaks down. If another center midfielder doesn't get involved in the attack, either by making the right run, the right pass or the right shot (Jones against Jamaica), then the team can't maintain pressure and create opportunities.
Even Barcelona, the best club team in the world this year, recognized this and always has two out of its three center midfielders involved in the offense; even Barcelona couldn't sit back and let four offensive players play against the opposition, and they have Lionel Messi.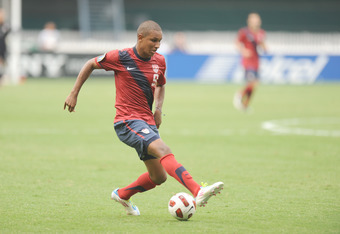 Why are so many analysts having trouble recognizing how much work Agudelo's doing to make this formation and team successful?
Mitchell Layton/Getty Images
This is where patience comes into play.
In future games, the U.S. needs to maintain possession, something Agudelo seems to have a better feel for than Altidore, and this may be why he's getting more out of this system along with the more technically sound players on the squad (in the end, technique trumps all, doesn't it?).
As games unfold, the U.S. can discover which matchups benefit which players, what space is being granted, where to exploit the defense, etc., but again, that takes time, patience, intelligence and the confidence that it will happen. This is all new territory for Americans.
How many times have fans seen a team give up on its game-plan when there aren't immediate awards?
This is the danger with the current state of affairs for the U.S.
If they become frustrated, especially since the new formation and tactics aren't proven, they could give up on what may go down as one of the most important changes this team has made under Bob Bradley.
This will be Bob Bradley's test. Can he get his team to believe in his changes?
To the team's credit against Panama, the Americans stuck with the plan. They could have just as easily thrown it out.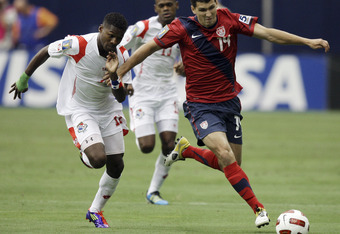 The 40-60 switch didn't work against Panama because Eric Lichaj doesn't have the skills to attack out of the change of direction, but that's understandable, he's a fullback.
Bob Levey/Getty Images
The game was never as simple as Kyle Martino, announcer and analyst for Fox Sports for the Panama game, pointed out. In fact, the U.S. really needed to do the opposite of whatever he claimed on the night.
This is especially strange coming from a person that used to play for the national team, but then again, he may be unfamiliar with the system, and everyone sees soccer differently.
But the team wasn't going to break down the defense by switching the ball 40 to 60 yards like he claimed (and they never did).
Whether it was, as Clint Dempsey claimed in his post-game interview, that the field was narrow and that made it more difficult to break down a compact defense (it certainly makes it easier to recover and rotate to the far end of the field when it's not that far away) or the fact that the U.S. player usually on the end of the switch wasn't the technically gifted player needing the ball, in any case, that plan never worked.
And the Panama game wasn't the first time announcers have called for the quick switch of fields from the Americans.
As humans, we like balance. The U.S. hasn't had a balanced attack lately, and there's a belief that the rotation will open up holes in a defense. The U.S. team has struggled to move the ball horizontally with any sort of speed, but the same could be said for their vertical movement as well.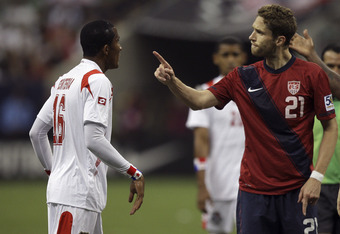 A couple of fingers were pointed at Goodson after his foul before half-time. The Panamanian attacker went around Goodson like he wasn't even there.
Bob Levey/Getty Images
Unless there's a mismatch, or Cristiano Ronaldo, or perhaps a player closer to home like Clint Dempsey on the end of a switching of the fields or on the end of a one-two combination coming as a direct result of the switch, then a drastic and timely rotation doesn't have the effect it needs to have.
It's too easy for defenders to adjust.
Against Panama, it was usually Eric Lichaj on the end of a switch. Unfortunately, he didn't have the dribbling skills (he is a defender) or the support to break down the defense on a switch. It's why he's much more dangerous off the ball than with it.
Martino was also wrong in claiming that Agudelo should have stayed on Panama's center defenders.
Agudelo received the ball in the spaces between the center and outside defenders where he had the space to face the defense or play a ball to the supporting players (outside defenders like Lichaj and Cherundolo) and start an attack.
Agudelo played the situation right, against larger, bulkier defenders, an offender needs to get them moving and off-balance.
It's exactly this type of play that got Goodson in trouble right before the half. He was out on the corner of the eighteen (same place Agudelo got most of his balls), and the Panamanian player beat Goodson with his pace and skill. Agudelo's instincts were right.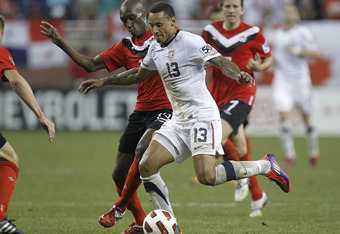 Jones can't always look for the 40 yard perfect chip as the first pass.
Gregory Shamus/Getty Images
By the second half, it became apparent that if the U.S. was going to score with their new style of play, their best bet would be down the center of the field.
And this is exactly where the U.S. is going to have most of its problems with this system. If teams force the U.S. to play down the center of the field, it's going to get bumpy.
Zac Lee Rigg at goal.com echoed this sentiment in his quick review of the game (his whole article is here):
"Panama also lined up in a 4-2-3-1. Whereas Jason Morrison had to push forward from his flat midfield role to try to mark America's deeper midfielders, Panama already had guys in that space.

In particular, Nelson Barahona, who proved fairly influential on the ball as well, sat behind the lone striker Luis Tejada (Blas Perez was suspended) and denied easy transitions for the U.S.

Bradley and Jones have their upsides, including stamina, heart, a knack for timing late runs, and good size. Releasing the ball well under pressure is not among either of their strong suits.

Jones in particular slammed the ball to the forward-most American player as soon as he caught a glimpse of Barahona out of the corner of his eye. Those long balls never paid off, which isn't surprising given Juan Agudelo's more technical game."
Panama wanted the U.S. to switch the ball and get it to its less technically skilled defenders before they were in an offensive position to play in the cross or get the quick one-two. Time and again, once the outside players got the ball, Panama went to break up the attack.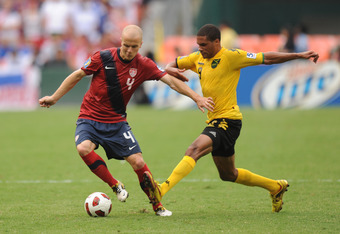 Why isn't their a heat index for movement and passing statistics with direction for the Gold Cup like they have for the UEFA Champions League? I guarantee it would be eye-opening to see where Michael Bradley moves and how he passes.
Mitchell Layton/Getty Images
Over the course of two games, the space between the holding midfielders and Panama's two center defenders was the most dangerous spot.
This was proved over two games as Agudelo could hold the ball there, Dempsey, Bedoya and Kljestan started attacks from here, Panama defenders fouled immediately in this area, and any other type of attack from any other area was either snuffed out or headed out by the giant backs for Panama, excepting Goodson's header on a set play of course.
It was clear Panama wanted to avoid play through the middle.
And Panama did so successfully too. If it wasn't for a Panama corner where the defense was finally stretched (notice: vertically, not horizontally), then who knows if the U.S. would have ever score?
Rigg addresses this in the second part of his argument.
On offense, Jones and Bradley tend to clog space. They don't really move from the five to 10 yards in front of their center defenders. Beyond going back to get the ball from the feet of their defenders, they don't finish out their runs.
They jog a few feet to the side.  What's worse, when they have the ball, Jones, as Riggs said, plays a long ball, or in Bradley's case, passes mostly sideways or backwards.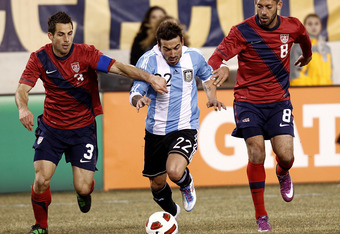 How much faith does Bob Bradley have in Carlos Bocanegra?
Jeff Zelevansky/Getty Images
A center midfielder's offensive life depends on a few qualities: movement, passing ability and ball skills.
Jones and Bradley aren't the best dribblers, they're inconsistent passers, so they have to move. They didn't against Panama. Instead, they blocked the passing lanes that opened up the attack.
For the Gold Cup Final against Mexico, try watching the game with a center midfielder (I watched the Panama game with two of them) and watch how they react to the movement, or lack there of, from America's center midfielders. For the semifinal, the center midfielders I knew were screaming at the television.
Usually, Bob Bradley's in-game changes are stronger than his preparation, so I was shocked he didn't address this glaring problem at half time.
On the one hand though, I can understand why he didn't make a change. Does Bradley sacrifice the cover he has for two inconsistent central defenders after he's already pushed his outside backs forward?
Can these same backs pass the ball accurately and not turn it over and cause a counter where Panama is most dangerous?
At some point, Bob Bradley is going to have to work out this issue if the U.S. struggles to convert possession into scoring opportunities.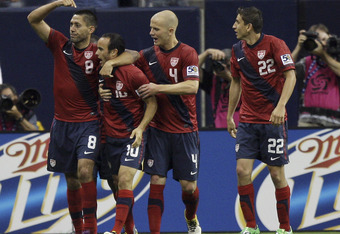 Dempsey REALLY wanted everyone to know Donovan made the pass on his goal...why so adamant?
Bob Levey/Getty Images
Jermaine Jones and Michael Bradley are going to have to offer more to the offense (I know Jones scored and caused the dismissal of a Jamaican player in the quarterfinal, but that seems to be the exception rather than the rule in his short career for the U.S.).
Also, how will Jones, Bradley, and the team fair in their new formation with a better opponent that pressures defensively, wants possession, is technically skilled and fast...like Mexico?
One player that might benefit from the system is Landon Donovan. A 4-5-1 can give him the space to run at defenders, but again, the team will need to be stretched vertically. Still, after his goal against Panama, he needs to be on the field.
If that danger is present, then teams will need to adjust their plans, and that can lead to other opportunities.
As a side note, did Clint Dempsey's point to Landon Donovan after the goal seem excessive? I'd buy the man a drink after the game too for making the perfect pass, and only pass to score a goal in that case, but what did that mean?
And why point that out? Did Dempsey disagree with the benching? Are they best friends? Is Dempsey worried he'll never get a pass like that again? Is he telling his teammates, "This is how you pass?"
In any case, Donovan earned his starting spot back, especially after Kljestan's abysmal play. Congratulations Donovan, I hope the slump's over.
Back to the team, if Bob Bradley doesn't figure out how to get more offense out of his defensive midfielders, then he falls into a trap similar to the problem Italian club teams have run into once they started mimicking Arrigo Sacchi's great AC Milan teams of the late '80s and early '90s.
Sacchi claimed that his organized defense was actually an offense.
He claimed that his team forced the ball to players they wanted to have the ball, and then they took it from them. Italians interpreted this as a defensive strategy (because they pressed high and had a high offensive-trap minded defense), but it ended up putting his team and his best players in beneficial positions.
He also expected to have players wide and five attackers in front of the ball (and stressed movement. Does this sound familiar?).
So other Italian teams mimicked Sacchi's defense and not the offense. And now soccer has the anti-football many Italian teams have been known for.
In the same way, Bob Bradley risks turning a formation developed to get the most offense out of attackers that aren't quite forwards and not quite midfielders and to utilize numbers by including outside fullbacks.
How comfortable would it make a conservative, defensive minded coach to keep two defensive midfielders in front of two defenders with the option of pulling his outside fullbacks back and then, if needs be, pull 10 men behind the ball if necessary? 
The temptation is there, and if Bob Bradley and his team aren't patient, then this could be the case. Bradley could turn a formation created to get every inch of offensive ability out of great teams and make it the super-defensive formation he might dream about at night.
If the team can't find young defenders to handle the center of the field, then the team can't push forward.
Goodson and Bocanegra aren't performing at a level that instills that type of confidence. Plus, once one considers Bocanegra's age (and Cherundolo's for that matter), this issue isn't going away.
Consequently, the glut of American talent is in the midfield. Donovan, Dempsey, the current good form of Bedoya, Kljestan (until last game), Adu, and the talent of injured Feilhaber and Holden, as well as the defensive talents of Jones and M. Bradley.
This means that Bob Bradley has the options and talent to work with any tweak to his 4-5-1 system, be it offensive or defensively.
He just needs to have the defenders in his team, the intelligence to recognize the changes needed to be made (He didn't make them against Panama and that may include benching his son, something he's very loathe to do even though Michael Bradley has been the weakest starting player since Donovan's timely assist) and for his players to trust and execute the plan.
And that takes time...and patience.
And then there's Mexico. This team will press, it will hold the ball, it's a technically sound team with strong, young and talented forwards. They're fast, and they move.
Will Bradley and Co. panic? Will they give up on their new system? Will they make it an ultra-defensive tactic? Or will they have faith? Will the right players be involved?
Perhaps this is why during the pre-game on Fox Sports Eric Wynalda confessed his excitement for the Panama game.
Their should be just as much for the Mexico final, but it shouldn't be the final test for Bradley's new experiment. There's a different feel to this U.S. style of play, and I'd rather be yelling at the television because the team's controlling possession and trying to find a way to break down a defense than bargaining with the soccer gods so that one half-chance can count as a goal.
Like the new article format? Send us feedback!