2011 NBA Draft: The Sixers Leave Fans Scratching Their Heads Once Again
June 25, 2011
Mike Stobe/Getty Images
Last night, after a couple of hours of hearing the ESPN draft panel mispronounce the names of what seemed like half a dozen International players and Jay Bilas say "wingspan" for the 10th time, the transition out of the lottery signified the upcoming first round selection for the Sixers.
Following the sort of out-of-character season the team had, following their dreadful 3-13 start, fans probably expected the draft strategy to follow the team's inspiring season.
Sandwiched between the Pacers and the Knicks, the Sixers were looking at at least six prospects who would have been considered a good fit for the team in the immediate and distant future.
The Morris twins, a classic tweener type of pick the team has gained notoriety for, were gone and things were shaping up well for the team, as several prospects had unexpectedly slipped out of the lottery.
In a unique scenario where the team could signify what direction they planned on moving in, the Sixers did what have done countless times in the past, shy away and take the safe bet. 
First let me say that I am a fan of Nikola Vucevic and I think he is an improvement, albeit a minor one, over our current center. I think that he is a guy that will buy into what Doug Collins is preaching and probably improve as a player because of it.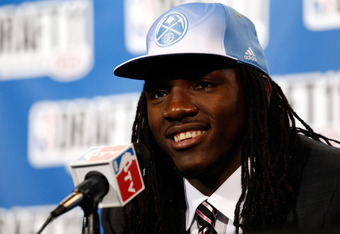 Mike Stobe/Getty Images
However, a team that is in the position of the Sixers, a few years away from legitimately challenging the elite teams in the Eastern Conference, missed an opportunity to take the kind of player who could be a major component on this team down the road, when they are ready for the opportunity to compete with those teams. 
Multiple players left on the board at the time had the sort of unique talents that could make them stand out in the NBA when the rest of their skills catch up a bit. Doug Collins is being hailed in Philadelphia for his ability to get significant contributions from guys like Jodie Meeks and Spencer Hawes.
If he can get the best out of guys who may not be the most talented on the court, why not try and draft someone with a distinct talent in a particular area and let Collins and his coaching staff improve their game the way they have gained notoriety for? 
Kenneth Faried can score all of his points off tip-dunks and transition and still benefit the team and be one of the fans' immediate favorites. He seems to be playing the game on a different level of tenacity than anyone he is up against and has the opportunity to be one of the all-time great rebounders in this game.
Faried would have had skilled big men around him to help his offensive game develop, and his energy and tenacity would bring a new element to what is an already lethal Philly bench.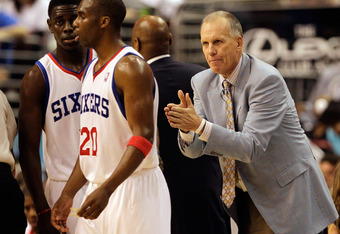 Rob Carr/Getty Images
Chris Singleton is another player whose prowess in one area would have justified waiting a few years for the rest of his game comes along.
I watched Singleton for four years in College in several ACC matchups and he has had the task of guarding some of the best offensive players to come through college hoops in the last decade.
Not only has Singleton held his own, but he has made the other players look downright pedestrian. He is a tough kid who takes pride in that aspect of his game.
I realize that taking Singleton might put the organization in a more difficult situation then they need to be with the Andre Iguodala situation, but the team may need to expedite that process or it may never happen. 
The last player I had been anxious to see the team pick was Jordan Hamilton. Hamilton ended up slipping further than I expected, but there were those who said that will end up turning him into a better pro.
This team is currently void of a player who can step up in a big situation and hit a clutch shot. They've tried to make Iguodala that guy but, simply put, he's not cutting it.
Hamilton may need a bit more coaching and to improve his attitude a bit, but he has the sort of pure shooting and scoring ability that this team lacks, and they had a clear shot to make him their pick.
The team will receive no such talents from either pick in the draft and will once again be scratching their heads when it comes down to who will take the last shot in those one-possession games, an area in which we all witnessed their weaknesses. 
This might all be a pointless argument in a couple of years. The system in place that Collins seems to want does not require a dominant center, but a big man who can go inside and out, which Vucevic can do.
If he develops a bit more of an edge, he will escape the Spencer Hawes comparisons, and easily contribute double-double averages.
Lavoy Allen is a question mark, but certainly has had stretches where some have marveled at his ability on the interior. These two could be solid complementary players to a team who, according to some sources, may still be in conversations about acquiring Lamar Odom and his soon-to-expire contract for next year.
I still find it difficult, though, to imagine either Nikola Vucevic or Lavoy Allen leaving any sort of substantial impact on this league in their careers. 
Follow Me on Twitter: @sprice15