2011 Gold Cup Final: Mexico's Youth and Firepower Overwhelm USA
June 26, 2011
Kevork Djansezian/Getty Images
This is the game that everyone wanted. The border rivalry, filled with, as Tim Howard put it: "Respect. Hate. Passion. It's all there." Another matchup between the Americans and the Mexicans for the rights to claim another Gold Cup title.
Mexico was a clear favorite heading into the game (and for the tournament) and despite playing the game on American soil, the Mexican contingent well outnumbered that of the red, white and blue. 
I had heard about all of Mexico's young superstars but had yet to see them play all together. What an eye-opener that would turn out to be. I think the USA's defense felt the exact same way.
After conceding two early goals, Mexico didn't panic. They didn't look shaken or rattled. They kept attacking in full force and rolled up four unanswered goals on the US. Final score, 4-2. USA humiliated, Mexico triumphant. 
I think we knew that Mexico was the better team and can agree the better team certainly won, but I think, some of us at least, can agree that the USA also had their opportunities to seize this game and even pull out the victory.
While I am not the biggest Bob Bradley fan, this loss can not be put on him. OK, not ALL of this loss can be put on him. The players are directly responsible for this one. Are Bradley's roster selections, lineup choices and tactics questionable at times? Yes.
Let's remember that it is because of him that the USA is where it is right now. Is there another coach out there who could take us even higher? Absolutely, I believe that. My point is that even after this devastating loss, I am not calling for his head like a good majority seem to be.
I'll start with our so-called "leaders." Landon Donovan got the start instead of coming off the bench as he did in the previous two matches. It was a good call. You have to put your best team on the field in the final. After scoring the second goal for the US, where did Landon go? He pulled a LeBron and just seemed to disappear. At least Donovan showed up for a little bit of the game, unlike Clint Dempsey. Was he even on the field?
Outside of captain Carlos Bocanegra, these are two guys that the team needs to run through. These are the guys who should be leading by example, showing both the young guys on the team and all the young fans of US soccer watching nationwide why they are considered top-notch players. They were far from that last night. 
Now part of that comes from the simple fact that the USA looked like a bunch of chickens running around with their heads cut off. There was very little possession, so it was tough for Dempsey and Donovan to even get a touch on the ball.
However, that's where they need to demand it. Michael Bradley, generally, receives the ball in his own half and distributes it to get the attack going. Landon and Clint are dangerous with the ball at their feet, but they seemed to be incredibly passive and unwilling to come get the ball and set something up for their teammates. 
It was very unfortunate that Steve Cherundolo was injured early on. To me, that changed the entire complexion of the game. His departure, coupled with the addition of Bornstein to the game, just spelled doom for the USA.
Cherundolo may not have the wheels (who did, honestly?) to keep up with Mexico's wingers, but he wouldn't have been dominated by them either. His play along the right flank for the duration of the Gold Cup for the USA was pivotal. His defending had been outstanding and he added another element to the offense for the Yanks with his ability to get up and whip the ball into the middle. He took a lot of pressure off the midfielders. His loss was huge and the US had no answer for it.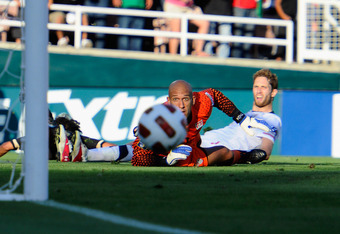 Kevork Djansezian/Getty Images
Tim Howard was not Tim Howard last night. In fairness, his defense left him out to dry many times, and he did make some nice saves. However, both of the goals in the second half I thought Howard could have, should have done better.
His reaction on Barrera's second goal (which was beautifully struck with the outside of the right foot) was really slow. He could have had that one. The Dos Santos goal was just a disaster, but again the defense set him up on that one so he can't be totally to blame. Not to mention Dos Santos put the perfect touch on the ball as it just went over Lichaj's head and into the goal. Not Timmy's best game.
The lone bright spot for the USA last night was Freddy Adu. Among all the negatives I've spat out thus far, Adu is by and large the one positive thing to come out of the game. He was once considered the next big thing as a 14-year-old, but never met those expectations.
After being away from the team for the past two years, he checked into the semifinal against Panama and showed his potential. It's hard to draw anything from that one-time appearance. He got the start against Mexico and it proved to be the right decision.
Where Jozy Altidore seems to just float around, Adu comes back and commands the ball. He wants it. Despite his small stature, he's not afraid to take on anyone. I liked that aggression and that mindset from him.
He delivered several good crosses, most notably on Bradley's goal off a corner kick early on. Freddy Adu seems to have matured a great deal since his last opportunity to play for the USA. It's great to see him back and in such good form.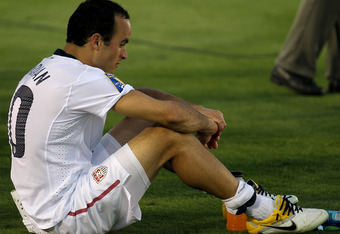 Stephen Dunn/Getty Images
The USA went up 2-0, despite being severely outplayed by the Mexicans. However, instead of trying to get the ball down and possessing, the US attempted to get in an up and down battle, and that is something they clearly weren't going to win.
With that type of strategy, too many of Mexico's players were left with tons and tons of space, which is horrible news if you're the opposition. Those players know they are faster and more skilled and they came right at the USA full force. It was only a matter of time before the back line cracked and were exposed. Instead of falling back, the defense continued to push up and leave gaps in behind them. That resulted in them being burnt for the first goal by Barrera. 
Mexico actually had to use up two subs in the first half to replace two of their own defenders. This should have been an obvious clue for the US, when they did attack, to go at the new players, just as Mexico was doing with Bornstein. In typical US fashion, they turned the ball over way too often in the midfield and allowed Mexico to advance it right back down their throats. 
With all this time being spent on criticizing the US side, I will certainly give credit where it's due. Mexico is a heck of a team. They are fast. They are explosive. They work well together.
That being said, though, they don't possess the ball a whole lot. They left wide open gaps in the midfield area. In the end, they capitalized on the American's mistakes and made them pay dearly.
What they lacked in team possession, they made up for in speed down the side and constant pressure on the back line of the US. Relaxing for even the slightest moment meant you were already a step behind Dos Santos or Hernandez or Barrera. They look to be set for the next 10 years or so. 
The US is in a transition phase right now. Veteran players getting older with some youth mixed in. They need their own legitimate youth movement. When will that come? I don't know. Hopefully soon.
It's not to say that Donovan, Bocanegra, Cherundolo and those guys have lost it all. They are still sound players and fundamental to the success of the United States, but not for much longer.
Our roster depth was definitely exposed in this Gold Cup, which was also brought on by Bob Bradley's roster selection. There are some young names out there like Feilhaber and Timmy Chandler who weren't on the roster. Bedoya and Adu showed their potential. 
It will be interesting to see what happens with this team. If Bradley gets axed, then so be it. I think it eventually needs to happen, but right now this one is on his players. There was a lack of emotion and passion once Mexico got rolling. That response just wasn't there.
They came close several times, highlighted by Dempsey's shot that met the crossbar. Outside of that, possession was sloppy and no one stepped up when their team, their country needed them.
It was a disappointing result, but the better team clearly won.