NBA Draft: Why Kansas State Guard Jacob Pullen Was Robbed on Draft Night
June 26, 2011
Christian Petersen/Getty Images
It really is pretty simple. If Jimmer Fredette is the 10th pick in the NBA draft, Jacob Pullen deserved to have his name called last Thursday night.
Although very few people probably expected the recent Kansas State graduate to go in the first round, he certainly caught a raw deal going undrafted.
Pullen was among the top guards in America in each of the last two seasons. Despite being only 6'0" tall and seeming to play better off the ball than at point guard, Pullen managed to average around 20 points per game each of the last two seasons while leading K-State to NCAA tourney runs both years.
Furthermore, in stacking his NBA resume up against last season's face of college basketball, Jimmer Fredette, Pullen proves he is nothing to laugh at.
Jimmer Fredette averaged 28.9 points and 4.3 assists per game playing in the Mountain West, where his best competition was a very athletic San Diego State team that frankly, he destroyed.
On the other hand, Pullen, who probably looked better to scouts at the end of his junior season, averaged 20.2 points and 3.7 assists in the Big 12, which is without argument a much tougher league.
In evaluating what both guys can do, Fredette is better with the ball. He can handle with the best and pull up for fall away threes like very few NBA players can do. He is reportedly two inches taller, and the assist numbers over their careers coupled with his more dynamic handle would suggest he has more potential as a playmaker.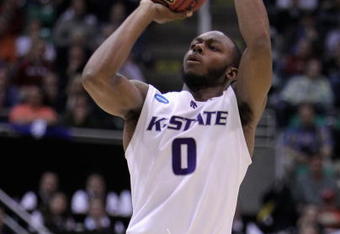 Christian Petersen/Getty Images
Pullen, on the other hand, is a superior defender who, although people are bound to question his ability to defend at the NBA level, showed over his career that he could hound opposing ballhandlers and lock in on the other teams best guards when needed.
The characteristic they both share is the ability to shoot the lights out of the ball from long range, something they both proved last season with Pullen shooting 38 percent from deep and Fredette 39 percent.
Ironically, Pullen's best case for how well he could handle NBA guards came in the 2010 NCAA tournament against none other than Jimmer Fredette. In their second-round matchup, Pullen did as good of a job shutting down Fredette as just about any one man has over the past two seasons, holding him to 21 points on 5-for-13 shooting.
Furthermore, he exploded on the other end of the floor for 34 points of his own in a double-digit victory.
Pullen is not without his flaws as a prospect though. He is listed at 6'0", way too small for an NBA 2-guard. He also struggled to show he could be an efficient point guard, barely registering a 1:1 assist to turnover ratio.
In an early season matchup against Kyrie Irving and Duke, he looked completely outclassed and rattled. Despite all of this though, he shares many of the same flaws as Jimmer and having one guy get  enough of a pass to go in the lottery while the other will now have to struggle to get any shot at the league with the impending lockout shows the politics behind the draft process.
I do believe Jimmer is the stronger prospect of the two and undoubtedly deserved to be drafted higher, but I also think the gap between them was close enough for Jacob Pullen to get picked up.
Fredette's insane popularity and SportsCenter coverage during the season turned out to be a bigger help to his draft stock than many people may have realized at the time. Pullen unfortunately ended up in the news more for outside comments and antics than his play this season, which couldn't have helped matters.
Nevertheless, his professional basketball journey may not be off to the start he wanted, but hopefully he can silence the doubters the same way he did at Kansas State as a 3-star recruit who went on to break the school's scoring record.