Why Minnesota Timberwolves Fans Should Be Excited
June 27, 2011
Rob Carr/Getty Images
On this day seven years ago, Timberwolves fans' excitement level was sky-high. Their squad was fresh off a trip to their first Western Conference Finals.
Seeing the TNT NBA crew (Ernie Johnson, Charles Barkley, Kenny Smith, and the always in-vogue Craig Sager) sitting in the Target Center, a spectacle that was brand new to the season ticket holders, further convinced Wolves nation that this was just the beginning.
Although they had ended up losing in six games to the Lakers a couple months prior in those conference finals, most, including myself, believed that this was just the beginning.
While two-thirds of the "Big Three" (a frequently-used designation, but current at the time), Sam Cassell and Latrell Sprewell, were getting up there in years, the established and unquestioned face of the franchise, Kevin Garnett, was still in his prime. Everyone anticipated a return to the same point the following year, and then some.
One man who needed more than ten million dollars to feed his family and a few injuries later, the state-wide dream of a reign near the top abruptly ended. The Timberwolves didn't even make the playoffs the next season, and haven't made it back since.
There hasn't been anything for Wolves fans like that 2003-04 season, and there definitely hasn't been a summer since with as much anticipation for the upcoming campaign.
This summer is as close as it's been in a long time.
It's hard to imagine this as a possibility, considering the circumstances. The Wolves are coming off a 17-win season, and many believe that the team basically quit towards the end of the year. It was almost to the point that Wolves fans hoped they had quit, as that would at least explain the lopsided scores that ended yet another dismal winter.
Needless to say, while it was definitely tough, the bright spots were undeniable. Kevin Love became the first Wolves player since Kevin Garnett to make an All-Star team. Before his ankle injury, Michael Beasley was one of the top scorers in the NBA. Rookie Wes Johnson showed flashes of the player he could become from time to time as well.
Once recently-acquired Anthony Randolph got some minutes, he showed flashes of young Lamar Odom at his best. With that said, most were relieved to see the season end.
It was a pretty simple start to the offseason, without much happening for any team. Other than the talk of a prospective lockout, the NBA had basically hit a dull point.
Then, the Spaniard finally broke his silence and announced he was on his way.
Once the long-awaited Ricky Rubio had announced he was coming over, things began to look promising for the lowly Timberwolves. And, for many, the reported firing of Kurt Rambis was icing on the cake. It was then up to G.M. David Kahn to add to his winning streak of sorts in the NBA Draft.
They had the #2 pick, the highest the franchise has ever had. Some said, trade it. Some said not to over-think it, and to just take the best player available, which would likely mean combo forward Derrick Williams.
Thankfully, they just went with the promising rookie in Williams. Considering the possibility of a hard cap being placed on teams once a new collective bargaining agreement is finally settled, the idea of bringing in a big contract at this point would have been risky.
They also took a very solid guard in the second round: Malcolm Lee, a guy I have always been a big fan of in college, who is likely destined to be a defensive specialist at best in the pros.
The draft made the Wolves a very interesting type of team. After draft night, they became a team of assets. But that begs a couple questions: What is Kahn's next move? How does he manage to use these assets to make the best team he possibly can?
This is where it gets interesting for everybody.
What needs to happen with the logjam at the forward positions?
The Wolves currently have a problem, but I would call it a good and potentially fun problem. They need to find minutes at the forward spots for Kevin Love (shouldn't be a problem), Michael Beasley, Derrick Williams, Wes Johnson, Anthony Randolph, Martell Webster and Anthony Tolliver (a drop-off in talent, yes, but not in hustle or defensive ability).
Rumor has it that Anthony Randolph has put on 10 pounds of muscle, and the coaches have been grooming him to possibly start at center next year, after the underwhelming performance of Darko Milicic as the full-time starter this past season.
Love will get all the minutes he needs as the starting 4. Webster will likely play behind Wes Johnson at the shooting guard position. Johnson is reportedly working with Kobe Bryant this offseason, and has been working non-stop on his ball handling. If true, we could see major improvement from Wes.
I'm assuming that Beasley will start the year, at the very least, as the starting SF, with Williams backing up both forward positions, getting starter's minutes off the bench.
Thankfully for the Wolves, all they need to worry about is getting as much talent as they can until they start winning, and that's what seems to be happening. Balancing the roster can happen with a smart coach.
Who is the head coach?
I think it's safe to say, even for David Kahn, that Rambis is not the head coach of this team, and won't be pacing the Wolves' sidelines next season.
The way Kahn handled it was not the best way. Not even the second or third best way. The way he left Rambis, his family and all the fans wondering up until the day of the draft was one of the bigger blunders of Kahn's time here.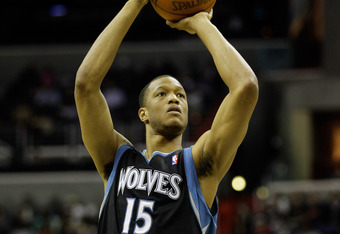 Rob Carr/Getty Images
So who will it be?
There have been a few rumors, but those are nothing but rumors.
I would not be surprised to see Sam Mitchell. One of the longest-tenured players the Wolves have ever had, he has shown leadership qualities since his days as a co-captain with KG back in the late 90s and early 2000s. While this is all speculation, it would not be surprising to see Mitchell and David Kahn sitting together for an interview sometime soon.
Another option is a much younger one: Wolves assistant J.B. Bickerstaff. While he would likely become the youngest head coach in the league, just watching him over the years leads me to believe the players already trust him.
Back in the Randy Wittman days (for those of you who were somehow able to watch that dreadful era), every time Wittman would go on one of his yelling episodes (which happened frequently), the players would always go to J.B. for the actual coaching portion of their criticism.
He was the only assistant that was held onto when Kurt Rambis was eventually hired. Now that Rambis is all but gone, JB should definitely get a look by the front office of Minnesota.
How good will Ricky Rubio be at the next level?
I've heard all the shots at Rubio.
His statistics are horrible! He was benched in Europe! That's the only reason he's coming over!
If the media, and every fan, would stop for a second and look at what actually happened with his time in Barcelona, they would see how blinded those opinions truly are. I'll make this short.
Rubio started every single game for Barcelona before he got hurt. His team was on a roll once he healed up, winning every game. So once he was healed, he spent the last nine games coming off the bench. It happens all the time, at every level of basketball.
In regards to his numbers, obviously they're lower in Europe. That's not what worries people. His numbers went down when he switched teams. But they went down for a very simple reason: he went to a team that already had a winning recipe.
The team was centered around former NBA player Juan Carlos Navarro's scoring ability. He was the one who had the ball in his hands. The style of offense relegated Rubio to a jump shooter. He basically brought the ball up, then handed it off to Navarro once he crossed half court.
This style really took away from Rubio's effectiveness. But this isn't about Europe.
Rubio's game is very Americanized. He thrives with the ball in his hands, has a great crossover, is very good at getting into passing lanes and generating steals and is obviously a great passer.
This particular team has plenty of scorers, and having a guy like Rubio should make his talents most useful. As long as he works on his jumper, just like most rookies need to, there isn't any reason that he can't thrive at the next level.
Now, the word "thrive" means different things for different people, when it comes to Rubio. Some see him as a starter at best, while some see him as a future All-Star.
I'm one who believes, if he continues to work hard, that he has the potential to achieve the latter.
 
What needs to be done to improve defensively?
Kurt Rambis was originally hired because he was supposed to instill a defensive-minded strategy on a team full of offensive-oriented players. In two years, that never really happened.
Is it because he didn't know how to coach it? Possibly. But this roster is obviously made to score. Rubio won a Defensive Player of the Year award in his Spanish league, so that is a start.
If they do end up starting Randolph at center, while he may have trouble with the bigger centers, he is still a good defensive guy who can block a lot of shots.
Michael Beasley is a good defender, but he only seems inspired to show it when his shot is on. With the slew of ankle injuries a season ago, he never got back into the rhythm that he was into early in the year. Hopefully now that he is all healed up, he can get back into that mindset of playing defense as well as he can. 
How much improvement should be expected in the W-L column?
This team, barring injuries, is very clearly better than the team from a year ago. There are too many "ifs" that can be brought up to estimate a number of wins for next year, not to mention the very real chance that Kahn makes another move or seven.
Nobody is expecting our very own version of "The Big Three", as far as wins go, but they should look for a much more exciting team.
With Rubio here, David Kahn finally will have the chance to implement the style of play he has been preaching about since he got hired.