Texas Rangers Interested in Carlos Beltran and Francisco Rodriguez
June 27, 2011
Jim McIsaac/Getty Images
While the New York Mets contemplate whether to become buyers or sellers at the 2011 MLB Trade Deadline, they may already have a team interested in helping to make that decision easier in the Texas Rangers who have shown interest in Carlos Beltran and Francisco Rodriguez according to SI.com Jon Heyman. 
The Rangers witnessed a good showing from Beltran this weekend in Arlington, as he went a combined three for 12 at the plate with all three hits coming in the Saturday game. He drove in three runs, scored three runs and also threw in his second triple of the season during the Mets rout of the Rangers on national TV, 14-5.
Coming into the season, Beltran was projected as the starting center fielder, but moved to right field realizing it was the best decision for the team and has now appeared in a team-leading 76 games there.
He has also been stellar with the bat, hitting.278/.372/.480 with 10 home runs, 21 doubles and 49 RBI. When it was assumed Beltran would not be a major player in this Mets lineup, he has proven people wrong by becoming an energized form of his old, productive self.
If the Rangers interest is true, Beltran may get the opportunity to move back to where it all began for him: Center field.
Despite having not played CF this season the for the Mets, Beltran would join a Rangers lineup that has seen its best players go down to injury and their replacements not taking full advantage of the opportunity for additional playing time.
For example, looking at this past series against the Mets, the Rangers trotted out three different center fielders in the three-game series.
Josh Hamilton started Friday; Craig Gentry on Saturday; and Endy Chavez on Sunday. Add Beltran to that mix and they've got the makings of a consistent centerpiece in their outfield for a post season push.
Francisco Rodriguez on the other hand would be getting just what he alluded to earlier this week when he stated, "If I am going to be traded, obviously I want the opportunity to close out games… and [if] it's going to be for two months, I can go out there and help them out."
It looks like it would be in the Mets' best interest to trade the troubled reliever before he triggers the 55-games finished vesting option for $17.5M and the Rangers may be willing to help the Amazin's out.
The Mets would most likely need to pick up a good portion of his remaining contract to move him and they could conceivably get at least two mid-level prospects in return from Texas in a deal.
That's not exactly bad considering he'd cost the Mets $17.5M to continue closing out games in 2012.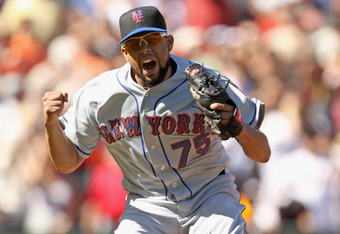 Ezra Shaw/Getty Images
The Rangers definitely have legitimate interest in both stars and they have every right to looking for outside help.
It's been known the team wants to move Neftali Feliz from the closer's role to the rotation and the over-40 club of Darren Oliver and Arthur Rhodes could use an upgrade via the single-season saves leader in K-Rod.
The answer of who will replace Rodriguez in New York is a little more troubling to answer and I take my best stab at answering that here, but this should be the least of the Mets' worries at this point.
Their No. 1 motive right now should be getting their collective heads above the .500 mark and staying there for the remainder of the season.
Without these two very vital pieces to the Mets current club, it may be hard to think of the Mets as a true Wild Card contender.
But barring any setback from David Wright's, Ike Davis' and Johan Santana's comeback from the DL and if Sandy Alderson can make one or two very strategic deals at the deadline, the 2011 New York Mets may be a postseason-bound squad without the services of our starting right fielder and All-Star closer.
Christopher Howland is a New York Mets Featured Columnist for Bleacher Report. He is also currently interning with Rotoworld.com of NBC Sports. Follow Chris on Twitter  @ChrisHowland5