New York Mets: A Midseason Review
June 27, 2011
Rick Yeatts/Getty Images
Tucked away in New England, hidden off the coast of Massachusetts, lies a true baseball sanctuary. Players in their late teens and early twenties play their hearts out on the field, showing their true dedication to the game they love and chasing the dream of reaching the big leagues.
Ladies and gentlemen, this is the Cape Cod Baseball League. Teams from across the Cape put on a show for residents and vacationers to enjoy throughout the summer. Some of these players even reach the ultimate goal of playing in the majors. The list of Cape Cod League alumns includes Tim Lincecum, Chase Utley and Lance Berkman.
Watching these guys play with such heart reminds me of a team a couple hundred miles away that has been displaying similar heart and fortitude. Sure, the team is hovering around .500, but the team finds itself in the wild card race after being projected to finish at the bottom of their division. This team has been hit by the injury bug multiple times, but continues to find a way to get it done. The team I'm referring to is the New York Mets.
The Mets are coming off two historic collapses, followed by a season where they established themselves as the laughingstocks of baseball. Although they haven't completely shaken off their laughable miscues (See: Game Winning Balk), they have proven to be a scrappy team that wants to win.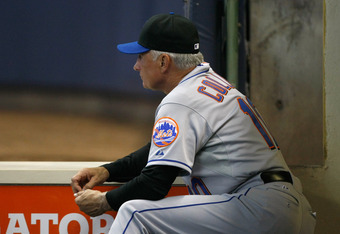 Scott Boehm/Getty Images
Wanting to win shouldn't be that big of an accomplishment, but in recent years Mets players have seemed disturbingly nonchalant in the face of underachieving seasons. Nobody would blame these Mets for folding and accepting this as a rebuilding year, especially with star players missing large chunks of the season. But this roster full of minor league call ups has shown a resilience that has been missing these past few years.
It is most likely true that Terry Collins, in his first year as Mets manager, is the direct cause. Needless to say, if the Mets are able to close the five-game gap between them and the Wild Card-leading Braves and make the playoffs with a team of AAA players, Terry Collins is hands down the Manager of the Year.
Look at it this way. Would any of the players on the Mets current active roster be considered upgrades for any other contending team? Besides Jose Reyes, who is playing out of his mind right now, who else would any other contending team take? Possibly an aging Beltran, a suddenly shaky K-Rod, Angel Pagan having a bad season?
So what is keeping this team not only afloat, but contending? They have a team full of role players fitting nicely within their respective roles, with a handful of players playing at levels above what they were expected.
Lets look at the pitching staff first. With Johan Santana out indefinitely, Mike Pelfrey was called on to be the ace of the staff. Although he hasn't performed at that level, he has put together a solid season. R.A. Dickey and Jon Neise have also submitted solid seasons thus far.
But the saviors of the staff have been Chris Capuano and Dillon Gee (whose last name is not as easy to pronounce as it looks). Capuano has been superb. A journeyman lefthander who was previously only a No. 4 starter at best, Capuano is far from overpowering, but has been able to consistently quiet opposing bats with his mid 80s fastball and changeup. Dillon Gee, an early call-up, has been the undisputed ace of the staff at this point, racking up an 8-3 record. The rookie could not have been expected to perform this well, but his play has clearly won him a permanent spot in the rotation for the foreseeable future.
The bullpen is the clear weakness for the club. It has been hot and cold, but Terry Collins has managed it relatively well. As per his zero-tolerance policy, he has shipped multiple pitchers off to the minors after they proved they couldn't perform at the major league level. Currently, the Mets have a somewhat passable collection of pitchers anchored by Francisco Rodriguez, who has pitched well until a recent rough patch in which he blew two saves and openly discussed his desire to be traded to the crosstown rival Yankees. I say let him go. Even with a weak bullpen this team has proven they can overcome the odds and that someone will step up when it is needed.
The injury bug has not been kind to the Mets' lineup. Neither has the Mets' own third baseman David Wright, who managed to sideline two of the Mets best three hitters this season after fracturing one's back diving to tag a runner and breaking Ike Davis's shin after colliding with him on an infield pop-up. Both of Wrights' actions take skills unique to Mets players to accomplish.
It was like Wright was tired of trying to hurt Davis with his errant throws from third and decided to take matters into his own hands when he ran across the diamond straight into Ike Davis on what should have been a routine out. Wright did his best to derail the Mets, but the fill-ins have filled in admirably.
Justin Turner, who began the season in Triple A, has given the Mets some late-inning heroics. Ruben Tejada, known exclusively for his glove, has actually provided some production from the plate. Lucas Duda and Jason Pridie have played well when they have been called upon. Daniel Murphy, returning from injury last season, has shown that he still has a reliable bat. Jose Reyes is without a doubt the MVP of the team and possibly the National League. The lineup does have its weak spots, namely Jason Bay. I'd rather see Jason Bay headbutt a wall at full sprint again than watch him ground out to short three times a game.
Whether the Mets are buyers or sellers at the trade deadline is too early to tell. There are questions about the front office's ability to resign Jose Reyes after losing hundreds of millions of dollars to Bernie Madoff's Ponzi scheme and possibly losing more to a lawsuit. The way Reyes is playing, he'll obviously demand big money, money the Mets might not have at the moment. If Davis and Santana make it back this season, and with Wright returning soon, the Mets might even be able to make a push for the playoffs.
Regardless of whether they do or not, I must say I see a lot of similarities between the Cape Cod Baseball League players and these Mets. They both play with heart. They both want to win. And they both are playing for the love of the game of baseball. That's something that you couldn't say about the Mets the past few seasons. The Mets players look like they're actually having fun scrapping out victories against more talented teams. And that's what the game is all about in the end, having fun. Luckily for the Mets, they are not only having fun, but winning games as well.