UFC 132 Preview Predictions: Why George Sotiropoulos Is the Safest Bet to Win
June 29, 2011
Mark Nolan/Getty Images
With all the drama and excitement that surrounded UFC On Versus 4 this past week, MMA fans barely have a chance to catch their breath before Dominick Cruz defends his UFC Bantamweight title against Urijah Faber at UFC 132 this Saturday night.
The fight card presents numerous betting opportunities with five of the fights on the card handicapped at near even odds. Even the main event between Cruz and Faber has the champion as a slight favorite at minus-135.
But despite all the great prices on the competitive fights, as an MMA bettor, I'm always looking for at least one fight to bet on that is a safe-money option. And in my opinion, the best safe-money action on this card is on George Sotiropoulos to beat Rafael dos Anjos.
A bet on Sotiropoulos will not come all that cheap, the best price you can find on him currently sits at minus-240. But if you compare some of the other fights on the card that's a decent price on a fighter who should have no trouble with the opponent he's about to face.
What about Bader over Tito, you ask?
Yes, everyone knows that Ryan Bader is going to beat Tito Ortiz Saturday night, but the cheapest price on Darth Bader is a hefty minus-483. It's not worth putting up $483 to win $100, even against Tito.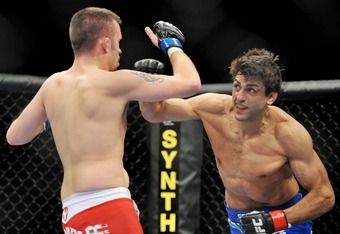 Jon Kopaloff/Getty Images
I think the chance of Sotiropoulos out-striking Dos Anjos is very strong, and he should be able to negate the jiu-jitsu skills of Dos Anjos if the fight ever goes to the mat.
Sotiropoulos may not beat Dos Anjos in a grappling match, but he should have enough ground game to stay out of trouble until they stand up again.
Let's not forget that Sotiropoulos was ripping up the Lightweight division before he ran into the striking skills and take-down defense of Dennis Siver. Dos Anjos will not pose the standing threat that Siver did, and that will make all the difference in this fight.
Dos Anjos has dropped three of his six UFC fights and is coming off a tough loss to Clay Guida.
He's had trouble against skilled strikers who are able to keep the fight standing, and it's safe to say that if I know that, Sotiropoulos will climb into the Octagon with that in mind.
This fight has unanimous decision win for Sotiropoulos written all over it, as he looks to climb back into the elite of the division. Despite the setback to Siver, Sotiropoulos is still one of the best at 155 and will remind the world of that this Saturday night.
And as my safe-money bet, if he doesn't remind the world of that, it's going to be a long night for me.