Miami Heat Going in a Different Direction Without James Jones or Mike Bibby
June 30, 2011
Kevin C. Cox/Getty Images
LeBron James, Dwyane Wade and Chris Bosh were the centerfolds for the Miami Heat's season-length hardcourt paperback edition.
They were the ones to watch and the ones to depend on during the first, second, third and fourth quarters of any game you were tuned to. Bosh was supposed to pull down the rebound, Dwyane Wade would get into open court and LeBron James would leap to the heavens to bring down a dunk on his opponent's unwilling skull.
At least that was how things were supposed to always play out.
The biggest problem with the Miami Heat's style of play is that they did not always have the personnel to make the strategic moves necessary to carry out Erik Spoelstra's game plan. Speed in transition is a great positive to have, but only if you have more than two men ready and willing to commit to executing it.
In some instances, Miami was just plain slow and when they had the advantage over their counterparts, they could not exercise it. James Jones was not one of the men with solidarity in the organization as it is made apparent changes must take place. He has opted out of his contract with the Heat, and the franchise may be looking in other directions as well.
It may not be etched in stone that his departure will take place, but drafting Norris Cole seems like the nail in the coffin to any member of the team that does not have the speed and strength to become progressively useful in Spoelstra's system, the system that he tried to instill last season.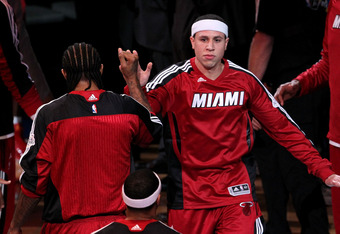 Tom Pennington/Getty Images
Mike Bibby is another player who may feel the thrash of rejection.
His efforts as a three-point shooter were sprinkled around the playoffs, but nothing consistent enough to make it seem as if losing him would be a liability. Bibby never had much of an impact on the games he excelled in so I suppose Miami could shop him to teams with a need for a veteran guard and an occasional scorer.
Jones was crowned the NBA All-Star Three-Point Shooting Champion, but after the break was over, the team's use for him seemed to decrease. He only played a for a few seconds shy of two minutes in Game two against the Chicago Bulls and did not play a minute after.
Maybe he was tired of waiting for his time to come. Opting out of his contract does not relay itself as a business strategy, because there will likely be a hard cap in the future Collective Bargaining Agreement for the league. Jones is honestly looking for another avenue to expose his talents to fans and cannot be blamed for that.
He could sit around and wait to become 100 percent dispensable or find a way out while he still has a few ounces of trade value.
Pat Riley and Erik Spoelstra are going to work together to mass produce the agility necessary to drain efficiency from the Big Three, more or less Chris Bosh.
Also Featured On: leaguejunkie.com
Klaibourne On Twitter: @nyhlaabee