United in Manchester: The Night I Told David Beckham Where To Go
July 1, 2011
Ross Kinnaird/Getty Images
It was one of those nights. A charity spectacular involving everyone who is anyone in sport in the northwest of England.
When it comes to fundraising for sick and terminally ill children, there are no bigger supporters than the celebrity world. So the presence of sporting heroes like Manchester United boss Alex Ferguson (pre-knighthood and BBC fallout), Old Trafford stars David Beckham, Paul Scholes and Nicky Butt, and cricket star Freddie Flintoff was no surprise.
In all, 30 celebs were due to mingle with the 300 paying guests in a spectacular evening based on the popular BBC TV programme A Question of Sport. And 29 of them turned up on schedule at the welcoming desk in the reception area of Manchester's plush Ramada Hotel.
As a member of the committee's reception team, my role had been to meet and greet the big names and escort them upstairs in the lift to the main event.
But as the other celebs were introduced to their already half-stewed tablemates upstairs and the main festivities began, poor Becks was conspicuous by his absence. And my meet-and-greet companion Bernard wasn't hanging around for him.
''He's obviously not coming,'' he said. ''I'm going upstairs—you can wait for him if you want."
.
Perfect! This was primarily a blokey sort of event and, apart from wanting to see Posh Spice's fella close up (they weren't married at that time), I felt a lot happier in a less beery environment.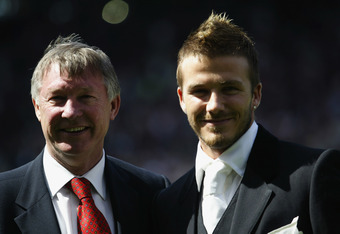 Gary M. Prior/Getty Images
''I'll give him another few minutes,'' I said, looking at my watch and realising the Manchester United midfielder was extremely unlikely to turn up now.
For the next few minutes, I stood there people watching—and wondering what I would say if Becks actually did show up.
Then it happened. There was no dramatic entrance. In fact, it was extremely hesitant. He looked distinctly shy and embarrassed as he came through the main entrance of the hotel.
I made a beeline for the Old Trafford hero, who looked in dire need of a relaxative.
''Hi David,'' I said. ''I'm here to…''
I never got to complete the sentence because something else was on his mind.
'''How do I get to the hotel car park?'' he asked edgily.
''Where's your car?'' I said.
''Out there,'' he replied, pointing vaguely in the direction of Blackfriars Street. Well, I hardly expected it to be in Birmingham.
''You just go up to the lights and turn left,'' I said. ''The entrance is 100 yards down on the left. You can't miss it.''
I could see the message hadn't gone in. Bending a ball into a net from 35 yards was clearly a much simpler challenge than bending a car around a corner from not much further.
But his confusion didn't surprise me, as this was in the days when "y'know" constituted roughly 60 percent of the total Beckham vocabulary.
''No problem, I'll come with you,'' I said, heading for the exit door with England's most fanciable footballer in tow, clearly relievedmhe wouldn't have to use his brain.
Gleaming at us from across the road was a luxurious BMW sports car. (Okay, it could have been something else; I'm no expert on motors. And this was a decade or more ago.)
The whole scenario was surreal. There was I with the opportunity to land a world exclusive about anything I could get the great man to talk about. And to make the job easier, he didn't even know I was a journalist.
The first problem as we headed for the lights, which were fully 80 yards from the hotel, is that I had no idea what to ask him. Also, he was highly reluctant (or perhaps incapable at that time) of amalgamating two syllables into a single word.
As we waited for the lights to change, there followed a yes-no interlude interspersed with inane question from Ms. No Idea What To Ask.
I don't recall my conversation during the few minutes—but I remember every word he said to me. Both of them. And he used them perhaps a dozen times.
Before you could say "y'know," we were at the entrance to the underground car park, to be met by a barrier and a key-card machine.
''I'll get the barrier raised for you,'' I said, leaping (or was it lumbering?) out of the car and heading nowhere in particular.
Where's the lift up to reception?'' I wondered, looking back in the gloom at Beckham sitting at the wheel of his BMW.
Somewhere in the darkness, a door opened and a white apron and hat emerged from the kitchen area, with a man inside them.
''Can I help?'' asked the chef as he lit his cigarette, trumping Beckham's maximum array of continuous words in a single spurt.
''Uhh, how do I get the barrier raised?'' I asked, immediately playing my trump card with a triumphant "David Beckham is trying to get in.''
''DAVID BECKHAM?''
''Yes. That's him there,'' I said, pointing to the BMW with the hotel's entire catering staff (who had appeared from nowhere) following my finger.
The barrier went up as if by magic, and Becks purred into an empty space to the sound of a collective round of applause from the assembled Red and Blue whites.
And the only story I got was this one.