Kobe Bryant: What His "Innovative" Knee Surgery Means for Lakers, Himself
July 1, 2011
Harry How/Getty Images
The afro on Kobe Bryant's head has long been gone, as he's no longer the young, high flying player he once was.
Kobe Bryant isn't twenty-something anymore. He's not as fast as he once was, and he can't consistently throw down over taller defenders like he once did either.
Kobe Bryant will be 33 years old in August, and he isn't getting any younger. The clock on Kobe's career is seemingly ticking faster and faster as Bryant is preparing for his 16th NBA season—a season that he may not even start until October of 2012 due to the current NBA lockout.
He's battled through broken fingers, busted ankles and depleted knees just to make it through past seasons. Seeing as the Lakers appeared in three straight NBA Finals from 2008-2010, Kobe has never really had the chance to properly rest and allow his body to heal in recent years.
With Kobe Bryant and the Los Angeles Lakers being eliminated earlier than expected in the Western Conference semifinals in early May, Kobe now has the chance to do something he hasn't been able to do in years: rest his body.
In a further attempt to properly heal his body, Bryant underwent a unique surgery on his right knee last month in Germany. It's no secret that Bryant's right knee has been bothering him for years now, as this was Kobe's fourth procedure on his knee since 2003.
The procedure that Bryant recently underwent wasn't simply a standard procedure. The procedure Bryant underwent was a "derivation of platelet-rich plasma therapy," meaning that blood was drawn from another part of Bryant's body, swirled down to its base of plasmas, and inserted into Bryant's right knee in order to strengthen it and help it heal quicker.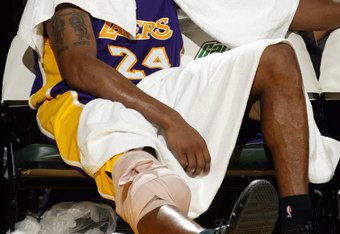 Otto Greule Jr/Getty Images
According to the L.A. Times article, procedures like this one "are viewed as either an emerging solution to knee problems or a financial gamble on unproven science."
Bryant has seemingly gone to desperate measures to make sure that his body is rested, charged and ready to go come October of this year—or whenever the next NBA season may start.
Perhaps Bryant has taken this step because he knows that he can play at a higher level than he already does on a consistent basis, claiming "there's another level that I feel like I can get to."
Going on his 33rd birthday, Bryant is only 174 minutes of NBA playing time from surpassing Michael Jordan in all-time minutes played. In short, Bryant has been through more than his fair share of wear and tear.
While anyone in their right mind would acknowledge that Bryant is certainly on the back nine of his career, there's still one thing that rings true: Kobe Bryant isn't done yet.
Going into his 16th season, Bryant is one NBA title away from tying the immortal Michael Jordan with six total championships. With only three or possibly four NBA seasons left in him, Bryant knows that the time to win is now or never. There is no tomorrow for Bryant, who is one of the most motivated individuals in the history of the NBA, which perfectly explains why Bryant underwent this "different" procedure on his right knee.
If Bryant ends his career with only five NBA titles, it will eat away at him for the rest of his retired life. He'll always question what more he could have done to win another title (or more) during his playing days. Because of that, Bryant is making sure that he leaves no card unturned, that he has no regrets when he retires and that he has no "What if?" thoughts in his head later in his life.
Instead, Bryant is spending this particular offseason preparing again to do the one thing that we, as NBA fans, are so accustomed to seeing him do: win.