Washington Capitals Are Heavy Stanley Cup Favorites After Day One of Free Agency
July 2, 2011
Len Redkoles/Getty Images
During free agencies and trade deadlines of the past, Washington Capitals' General Manager George McPhee has often earned himself the name, Sleepy McPhee. 
Not this year. McPhee just got serious.
After three consecutive years of postseason failure and disappointment, McPhee has finally realized what the flaws in his organization are, and he is now doing whatever it takes to fix them.
On Day 1 of the 2011 NHL free agency frenzy, McPhee took a no-nonsense approach to fixing the makeup of his roster.
Maybe McPhee realizes that every team, even one as young and as good as the Capitals, has a limited window of time in which to make a serious run at the Cup, or maybe McPhee is just tired of his team losing.
Either way, GMGM made a number of excellent signings Friday afternoon when free agency began and a few others in the days leading up to free agency.
The major flaw of the organization, as evidenced in their postseason failures, is a lack of grittiness and lack of consistent secondary scoring.
McPhee addressed that issue very effectively today.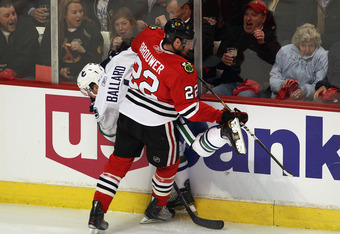 Jonathan Daniel/Getty Images
The Capitals' GM traded Washington's first-round draft pick on the draft day floor in exchange for negotiating rights with forward Troy Brouwer.
Brouwer has not yet been signed, but the Caps' front office submitted a qualifying offer, so they maintain negotiating rights with him and the ability to match any offer sheet that could come his way. Brouwer will likely end up in the District.
Brouwer posted 17 goals and 36 points during the 2010-2011 season and although he had no points this last postseason, he was good for four goals and four assists during Chicago's 2010 Cup run.
Brouwer also dished out a bone-crushing 262 hits this last season, good for fifth in the league. He is also capable of eating-up lots of ice-time, averaging 15:06 TOI.
Brouwer adds a lot of speed, grit, secondary scoring and net presence to the Washington roster.
On Wednesday morning, fan-favorite forward Brooks Laich was signed to a six-year contract extension worth $4.5 million a year.
While some may feel that this a hefty contract for the Caps to take on, it shows that McPhee is willing to do whatever it takes to ensure his team is full of gritty, battle-hardened two-way players who work hard every shift.
Noah Graham/Getty Images
Laich consistently plays all 82 games of the season—he's a really durable guy considering he works so hard and gives 110 percent night after night in the games and day after day in practice.
Laich recorded 16 goals, 48 points and a plus-14. He also posted 113 shots, 207 shots (second only to Ovechkin on the Capitals), 54 blocked shots, 38 takeaways and 18:25 TOI per game.
Also, as a true two-way forward, Laich averaged 2:59 PP TOI and 2:18 SH TOI. 
Laich is worth every penny of the $4.5 million a year he was offered. He's also really valuable because, as a natural center, Brooks can play down the middle if the Caps are in need of another pivot.
To start off free agency, Washington's front office brought former Capital and Maryland native Jeff Halpern back home with a one-year deal worth $825,000.
Halpern is a valuable grinder and defensive specialist with a good set of hands and valuable contributions to make on the forecheck. He's great on the cycle and at working the puck down low and in the corners. 
As Washington lacks players who are good in the corners and give a lot of effort in puck battles along the board, this is a great signing and really improves Washington's lineup. Halpern also serves as a bit of an upgrade for the recently let-go Boyd Gordon.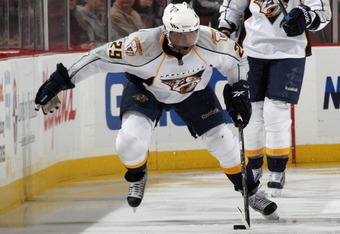 Bruce Bennett/Getty Images
Halpern posted 11 goals and 26 points to go along with a plus-6 this last regular season. Halpern also operates at 56.9 percent effectiveness on the draw, stood in front of 53 shots and spent an average of 2:20 on the ice while a man down.
Getting Halpern is a great move by McPhee because he costs less than Gordon and puts up a lot more points while still being efficient in his own end. He also brings much-needed veteran presence to the Capitals' locker room.
Also, with an average of 12:43 TOI per game, Halpern could play on the third or fourth line.
A couple of hours after bringing Halpern home, McPhee inked forward Joel Ward, formerly of the Nashville Predators, to a four-year deal worth $12 million per year. 
This move is really a stellar one for McPhee. 
In Joel Ward, the Caps, who lack depth down the right side, get a bona fide two-way forward to solidify the bottom six.
Ward had 10 goals and 29 points this last season but then exploded in the playoffs with seven goals and 13 points over the course of 12 games. He also blocked 57 shots and had 51 takeaways along with 67 hits. 
Jim McIsaac/Getty Images
Ward also averaged 1:30 power play ice-time per game and 1:52 in shorthanded ice-time. Ward is a big rig who plays well at both ends of the ice—exactly what the Caps need.
They also get a guy who knows how to battle for goals and for wins in the playoffs, when it actually matters. So not only do they get a guy who can perform in any situation, but a guy who can do that without disappearing in the playoffs.
With overall TOI averaging just above 17 minutes, Ward is capable of being a great top-nine forward—although with the amount of talent on Washington's roster, he will likely be on the third line.
The Capitals' management must really see something special in this player to be willing to ink him for four years. Washington tends to be a franchise that only tries free agents on for a season or two, saving the longer-term contracts for their own home-grown stars. 
However, I really like this signing and is one of the best pickups McPhee has ever made in free agency. Ward really just puts Washington over the brink into serious Stanley Cup contention.
Lastly, around the same time Joel Ward was inked, former Canadiens blueliner, Roman Hamrlik signed a two-year deal worth $7 million. The Czech Republic native was the first overall pick in the 1992 draft and will be a great addition to the Caps roster.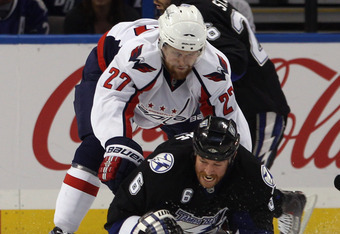 Bruce Bennett/Getty Images
Although, I must say, I don't know what McPhee had in mind when he signed Hamrlik. Hamrlik is excellent in his own end and good at moving the puck.
He was the fourth best shot-blocker in the league last season, but only amassed 66 hits. For a team looking to upgrade its grittiness, this signing is a surprise. 
Having more shot-blocking in front of goalies Michal Neuvirth and Semyon Varlamov will be incredibly valuable, but Washington's defensive corps does not boast an intimidating amount of physicality.
Scott Hannan is likely on his way out of the District after the Hamrlik signing. Hannan will be missed as he was a great veteran presence on the back end—he could always be heard communicating clearly with his defensive partner in all situations and was rumored to be a great locker room presence.
Perhaps I am biased because of I loved the old school, piss 'n' vinegar style of defensive play Hannan brought to the Caps. Hannan hardly ever let anyone anywhere near the crease and when someone tried, they were promptly put on the ice by the veteran defender.
Hamrlik blocks a lot more shots than Hannan, but Hannan really brought that intimidating physicality and no-nonsense attitude that Washington so desperately needs in front of its netminders.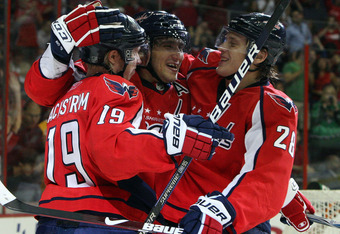 Jim McIsaac/Getty Images
Perhaps GMGM thinks Karl Alzner is the go-to physical presence and shut-down, stay-at-home defenseman. Also, Carlson—the other half of the Carlzner pairing—has shown himself to be adept at shutting down star players, as well as creating scoring chances in the offensive zone.
Carlson and Alzner are really a great pairing because they are both good in both ends.
Mike Green has also begun to become more responsible defensively, and John Erskine has really come into his own as a solid top-six D-man over the last two seasons.
So, perhaps letting Hannan walk in favor of signing a shot-blocking expert who may also be part of the solution to Washington's ailing power play is a good idea.
Now, according to capgeek.com, the Caps have 13 forwards under contract, not counting yet-to-be-signed Troy Brouwer and seven defensemen under contract, also not counting yet-to-be-signed Karl Alzner with only $2 million available in cap space.
Either Brouwer or Alzner walks, or the Caps are planning to trade a big-name player to make more cap space and more room for the new type of player the Caps are seeking.
My guess is there is a trade on the way. Owner Ted Leonsis stated that the Capitals would be involved in trading, and I don't think the Semyon Varlamov deal was what Leonsis meant by that.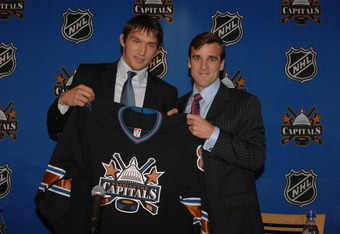 Mitchell Layton/Getty Images
I suspect that Alex Semin is being shopped around, as the Caps are beginning to look like they have one too many top-nine caliber right wingers on the roster.
Trading Semin would free up $6.7 million under the salary cap and allow McPhee to sign both Alzner and Brouwer and still have a nice amount of wiggle room.
As much as I would love for the S.O.B. (Semin-Ovechkin-Backstrom) line to continue to be an option in Washington—they definitely earned the Son-Of-A ...... title—it looks like McPhee really needs to make some cap space.
Also, if Tom Poti is able to continue playing—he may not be able due to injury—then the Caps would have eight defensemen under contract (if Alzner is signed) which could indicate that one of the blue liners could be moved. Perhaps Green is being shopped around. 
Or maybe the Caps are just going to have a ridiculous amount of depth next season, which is always very valuable during a deep playoff run.
So, after only one day of free agency, this roster is looking fundamentally different even though the same core players are here. 
It seemed that what needed to most reforming were the Caps' bottom two lines, and McPhee definitely changed up those lines a lot today.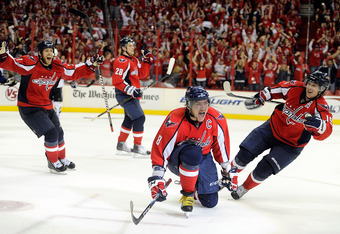 Greg Fiume/Getty Images
The forward lineup could look something like this:
Ovechkin-Backstrom-Knuble
Brouwer-Johansson-Semin
Chimera-Laich-Ward/Fehr
Hendricks-Halpern-King/Beagle
The defensive corps are interesting because the top-line pairing now seems to be Carlson and Alzner and the bottom pairing seemed to be Erskine and Schultz fairly regularly.
The question is who pairs up regularly on the other line? Don't forget that the Caps still have Dennis Wideman under contract for the next year—an incredible steal for McPhee at the trade deadline by the way.
Hamrlik, Green, Wideman and Poti are all capable top-four defensemen—most of these guys are capable of top-line play.Tom Poti is more of a top-six player but the point is that Washington has a lot of good hockey players on the back end of the roster and a limited amount of spots. 
Is it possible that one of the better guys becomes a No. 5 or No. 6 defenseman? It wouldn't be unheard of on a Cup-winning team.
To wrap up this analysis, after today's moves and the deals made in the days prior to the opening of free agency, George McPhee really looks like he has made some incredible moves to solidify his team as what is absolutely sure to be the Stanley Cup favorite and team to beat in the East for the upcoming campaign.
This is looking like a team with a lot of combined experience; a lot of speed; tons of grit; plenty of winning attitude; plenty of depth and capable third- and fourth-line contributors and scorers; and the right amount of veteran leadership and role players to push this team to the Stanley Cup finals and give it a great chance of winning once there.
McPhee saw what needed to be done and he went out and got things done. And he's probably not done yet. Look for a few more minor additions with the signings of Alzner and Brouwer and also keep one eye peeled for a blockbuster trade.
Merry Hockey-Christmas, Caps fans.
Leave comments about what you think of Washington's new lineup.