Pittsburgh Penguins: Making Sense of the Jaromir Jagr, Max Talbot Fiasco
July 6, 2011
Dave Sandford/Getty Images
Five days have passed since the opening day of free agency and Pittsburgh Penguins fans have had time to digest the images of former Penguins star Jaromir Jagr and fan favorite Max Talbot signing with sworn rivals, the Philadelphia Flyers.
Like many fans, I hoped that the long weekend could give us some time to cool off and have some beer and burgers before making anymore brash statements like the ones vocalized upon hearing Friday's double-punch news. But even now, after the buzz has worn off, many people are still fuming, asking "Why?"—much like Evgeni Malkin's response to Talbot when he said he would no longer be a Penguin.
Pens fans, as much as it hurts for some, it's better off this way.
The Jagr news could be considered the biggest shock because of how long the anticipation of Jagr's return brewed in the minds of Pens fans. This was all because of a phenomenon known as Jagr Watch.
Upon hearing the news that Jagr was showing interest in returning to Pittsburgh, Pens fans set up camp in front of their computers and iPhones, waiting to hear that Jagr would officially return and ultimately retire as a Penguin.
Even members of the media joined in on the festivities.
The buildup of imagining Sidney Crosby lifting the Stanley Cup and handing it Jagr, the one-two-three punch of Crosby, Malkin and Jagr regaining dominance on the once-dead power play and seeing the No. 68 lifted into the rafters, made the news of Jagr signing with the Flyers that much more difficult.
Pittsburgh was already "all in" in the idea of Jagr returning.
The initial reaction was immediate betrayal. How could Jagr, Mario Lemieux's former right-hand man, drag the Pens organization along into thinking he was interested in the team when it really boiled down to money, not righting the wrong he left behind.
Though there was more to his decision other than money.
In a recent NHL.com article, Jagr also felt he would have a better opportunity to play more minutes, including on the power play, with Philly. He also liked that he would play with right-handed centermen.
The more Jagr opened his mouth to the media, the clearer it was that Pittsburgh could have been handed a blessing by losing the Jagr Sweepstakes. Expecting more minutes when he's played his last three years in the 56-game KHL season could be more than his 39-year-old body can handle.
On top of that, would Dan Bylsma give him the minutes he expects? There would have been almost no doubt that Jagr would have joined Malkin on the second line and when Malkin was healthy, most of his wingers played between 11 and 17 minutes per game.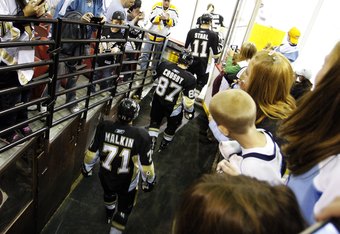 Justin K. Aller/Getty Images
In my previous article addressing the original Jagr rumors from May, I emphasized the Pens are at a different place from when Jagr was last on the team. The focus is now on the young talent, Crosby, Malkin and Staal and there is no way Jagr would take any kind of precedence over them.
If that bothered him, and it very well could have, then it certainly is best he move on.
Seeing Jagr sign with Philly was a sure blow to the gut, but the Pens can't miss what they didn't have and lost nothing in the process.
Free agency quickly got worse when Talbot's decision to join Jagr in pursuing greener pastures in Philly was announced.
The Talbot Allegiance argument has been unceasing since he officially joined the Flyers and regardless of the side fans have taken, most understand losing Talbot doesn't mean losing a great deal of on-ice talent.
I was among the many who mentally wished Talbot goodbye and good luck when the final horn of Game 7 against the Tampa Bay Lightning sounded. Deep down, everyone knew it was his time to move on, but it wouldn't be an easy task for the many who still kept his two goals in Game 7 of the 2009 Stanley Cup Final alive in their hearts.
On the opposite end, I noticed many people were angry over the Talbot fuss. "Why are we even concerned about this? Talbot only scored 10 goals in two seasons, if he wants to move cross-state, good riddance," many would say.
The anger is understandable, but unnecessary.
While Talbot's skill seemingly petered out since his shoulder surgery, can you blame Pens fans for holding on to him when he has been a major factor in some of the Pens' finest moments in recent seasons?
I'm talking about the now ironic "shh" moment against the Flyers in Game 6 of the 2009 quarterfinals, the tying goal against the Red Wings in the 2008 Stanley Cup Final and, yes, his two goals in Game 7 of the 2009 Stanley Cup Finals.
Talbot scored five career Cup Final goals for the Pens. Only Lemieux (10) and Stevens (six) had more for the Pens. Moreover, the Pens were 11-1 in the postseason when he scored.
Those stats don't and won't go away quickly or easily. Talbot became the symbol of good things in the playoffs...when he showed up, that is.
Talbot lost his importance and clutch-ness with a little time and what remained was the character Pittsburgh grew to love since he first broke into the league. Things get complicated when you become a fan favorite because so many are willing to sacrifice a lack of talent because of heavy involvement in charity and an uncanny ability to bond with fans.
Many might disagree with that, but as humans, this is normal. People become fans of players for different reasons and while some reasons might not be as "true" to the game of hockey as others, who are we to say which is "correct?"
Looking specifically at his worth to the lineup, there wasn't much there other than his penalty killing. Talbot will most likely be missed for his persona in the locker room and based on Crosby's and Malkin's reactions to his departure, there certainly is a reason for fans to miss him as well.
But Philly?
For many, it also feels like a betrayal, but keep in mind Talbot owed nothing to the Pens the second he became a free agent. How could he betray the Pens if he was no longer a part of the team? Despite his comments that his heart was in Pittsburgh, his mind was on the money and the length of the contract so he went for the best offer.
This is a signature business deal and we understand the NHL is, first and foremost, a business. If Talbot was so quick to respectfully let go of loyalties associated with Pittsburgh, then fans can do the same with him. We may never know the real reason why Talbot went to Philly, especially with rumors that Chicago matched Philly's offer, but the deal he signed certainly numbed the pain.
In his first two seasons, Talbot will make $2.5 and $2.25 million, respectively. The Pens signed Tyler Kennedy to a two-year, $4 million deal. In his last season with the Pens, Kennedy had more than double the goals Talbot did in his last two seasons.
This is the definition of a steal.
When you take away the emotional element, losing Talbot was a great decision by Ray Shero.
In the end, seeing Talbot in a Flyers jersey is an emotional thought for Pens fans, though I do hope Pens fans don't waste their time booing him when he makes his first appearance at Consol Energy Center with Jagr on Dec. 29.
We should all know what booing a "hated" player can do to motivate that player. And make no mistake, Talbot will be motivated when he visits his first home the first time, surely anticipating the hatred that will exude from the city. Rather, cheer that much louder for players like Crosby, Malkin, Paul Martin and Zbynek Michalek, players whose contracts have shown how much they want to be in Pittsburgh.
Those are the players we want on our team.
For those who still feel attached to Talbot and identify themselves as solid Pens fans, I am reminded of a girl who clings desperately to her first love. It's going to happen, but in time, the sentimentality will pass.
Instead of focusing on the drama instigated by Jagr and Talbot, I urge Pens fans to step away from their emotions and look at what the Pens have: the roster that found so much success despite massive injury stints hardly changed.
Most importantly, Crosby and Malkin will be returning to the lineup healthy. That's more than $17 million in talent the Pens are gaining.
How many teams can say they added that much talent to their roster for free?
Laura Falcon is a Featured Columnist for the Pittsburgh Penguins.    Follow her on Twitter or email her at lfalcon@mail.umw.edu with any comments or questions.