David Haye, CM Punk and the Death of Reality in Sports
July 6, 2011
Scott Heavey/Getty Images
I no longer know what is real.
For the past several months David Haye told anyone that would listen that he would apply unrelenting pressure on Wladimir Klitschko in their July 2nd heavyweight championship boxing match. A great deal of pomp and circumstance led up to the fight to create a reality that fans would be treated to an angry clash between two giants at the highest level of the sport. On fight night the hyperbole meant nothing as a methodical Klitschko tracked down a seemingly confused and timid Haye. 
After the fight Haye produced a broken little toe as the explanation as to why he fought so poorly. As boxing is a hurt business this claim seemed as significant as the prefight hype.
In 2009 boxing contender Cristobal Arreola fought Vitali Klitschko, older brother to Wladimir Klitschko, for the WBC heavyweight title. Arreola was soundly beaten and after the fight gave a tearful account of his loss. The emotion on display was part of the realness which has attracted so many fans to Arreola.
The WBC decided that they would suspend Arreola for the profanity used in the interview as they somehow found profanity more offensive than the extreme violence displayed in the ring. The WBC was trying to limit and control the realness of Arreola. Of course the suspension itself lacked realness as there are several sanctioning bodies in boxing all of which would have allowed Arreola to fight.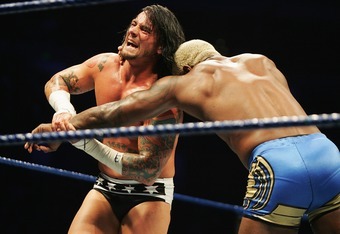 Gaye Gerard/Getty Images
I do not follow wrestling but was attracted to the numerous stories about WWE wrestler CM Punk delivering an on-air speech which seemed real and seemed to anger the WWE. The speech had many criticisms of the WWE and seemed to cross a line before Punk's microphone was cut off during his diatribe. Many wrestling fans were arguing the authenticity of what Punk said as it seemed he was speaking from the heart and not a script.
In days following the event the general consensus is that Punk was allowed and even encouraged to say what he wanted with the understanding that the WWE officials would cut him off when he went too far. It was a planned reality. It was a strategy by the company to create a sense of legitimacy by having real world events creep into their scripted broadcast.
The WWE is an athletic soap opera with a script. Boxing is a real sport without predetermined outcomes. Yet somehow the WWE feels more real at the moment.
This is compounded by the events on June 25th when boxing middleweight titleholder Felix Sturm was given a gift decision against Matthew Macklin. Many observers felt Macklin clearly won the fight but he still suffered the loss. The fight was real but the decision seemed predetermined and boxing seemed momentarily fake.
Boxing is not the only sport suffering from this.
The UFC runs WWE-style promos leading up to their fights wherein we are led to believe that everything is personal and it is just coincidence that two men who hate each other are scheduled for a fight.
The NFL works tirelessly to fix, control, and mold the image of its players for infractions that range from animal abuse to being accused of assaulting women.
The NBA suspends, fines and forces apologies that seem utterly insincere when a player utters a bigoted slur. During the 2010-2011 NBA season Kobe Bryant called a referee a name best not repeated. He gave a weak non-apology and was later forced to give a trite apology.
Back to wrestling's Punk who also delivered a similar slur to a fan that was caught on tape. Punk immediately took to Twitter to apologize. His apology seemed sincere, was self deprecating, and, in a word, real.
Back in boxing reality has been bent to an extreme by Manny Pacquiao and Floyd Mayweather Jr. Several months ago Pacquiao and his representatives said they were in intense negotiations which ultimately failed regarding a potential fight with Mayweather. Mayweather and his people later claimed the negotiations never happened on any level.
Negotiations are an actual thing and are not a matter of opinion such as which fighter is greater. Either the negotiations occurred or not. Yet both sides stick to their version of reality with equal sincerity.
Real sports no longer seem to be real.
Muhammad Ali and Arthur Ashe were two athletes who were extremely outspoken on a number of social and political issues. They are beloved to this day, numerous years after they left their respective sports of boxing and tennis. One has to wonder if the powers that be in organized sports would even allow them to openly speak out if they were active today.
As sports becomes increasingly packaged what is real becomes increasingly difficult to decipher. Further, as was the case with Haye, the actual product rarely lives up to advertising. 
Maybe it is me. Maybe I need to change my viewing habits. I can turn to real sports for fake drama and then I can turn to the fake WWE for reality.