Liverpool FC: Charlie Adam Is Now a Red, What Does That Mean for the Team?
July 6, 2011
Shaun Botterill/Getty Images
Those that have called Liverpool's pursuit of Blackpool schemer Charlie Adam the "Transfer Saga of the Summer" have obviously not been paying attention to Cesc Fabregas continuing to flutter those voluptuous eyelashes at Pep Guardiola. But ask any Liverpool fan and they'll tell you what a pain in the neck this has been. Ever since the Scottish midfielder's left foot sent fantasy managers scampering for a transfer, Kenny Dalglish has had Adam firmly in his cross-hairs.
The 25-year-old had only been at Blackpool for two seasons, yet in this remarkably short amount of time he flourished under Ian Holloway. In February 2009 Adam joined Blackpool on loan from Rangers, the third consecutive loan spell the midfielder had been on following his arrival at Ibrox in 2003. He was sent off in his first match, but did enough that spring to engineer a permanent £500,000 move to Blackpool (a club record fee).
Following a rather impressive 2009-2010 season, Adam scored a free-kick in the playoff final against Cardiff to help the Tangerines to a 3-2 victory and secure their promotion to the Premier League. Last season he was named captain and led an early season charge that saw the club make a strong impression on the English top flight. It may have been his two performances against Liverpool (which resulted in two victories for Blackpool) that saw the Reds make a £4.5 million bid which was subsequently rejected in the winter transfer window.
Adam had a transfer request rejected by the club at that time, as Holloway convinced his captain to stick around in an attempt to secure the club's survival in the top flight for another season. It wasn't to be and finally for £7.5 million Liverpool have their man. The Scottish play-maker joins £16 million rated Jordan Henderson at Anfield, in an overcrowded central midfield that looks on paper at least to be superior to that of Manchester United, Chelsea and Arsenal.
At the time of writing on August 13th Kenny Dalglish can pick from Steven Gerrard, Lucas Leiva, Raul Meireles, Alberto Aquilani, Jay Spearing, Jordan Henderson, Charlie Adam and Jonjo Shelvey in central midfield. You could argue that Liverpool were well stocked in the middle at the end of last season, but this is simply ridiculous.
So what exactly is Dalglish's master plan? Tactically speaking there are many options available but it is glaringly obvious that someone has to go. Unfortunately it seems that Juventus couldn't justify stumping up Aquilani's asking fee, yet somewhere they've found £13.5 million (plus Felipe Melo) to bid for Meireles. Despite being one of the better players last season it seems that Dalglish is ready to listen to offers for the Portuguese player, who's box-to-box dynamism and cultured touch seemed to be perfectly suited to a pass-and-move style of play.
With all these players in the middle of the park you could be forgiven for thinking that Dalglish is attempting some sort of "English Barcelona" model, where a fast-flowing tiki taka will provide ammunition for Andy Carroll and Luis Suarez to finish. All of Meireles, Adam, Henderson and Aquilani have a decent touch and an eye for a pass, while Steven Gerrard retains his vision and spring-loaded right foot despite his advancing years. The defensive duties will clearly fall on Lucas and Spearing, therefore on paper all looks rosy does it not?
I can't help but feel that either we have grossly miscalculated, or that Dalglish has something up his sleeve, similar to the 5-3-2 formation that surprised the league to such devastating effect back in the middle of last season. A failed £15 million bid for Stewart Downing does show that King Kenny is aware of the dearth of talent on our flanks and is looking to recruit. However, with all these pass-mongers now on our books perhaps Liverpool will be keeping the ball on the deck for the time being, and Andy Carroll's large forehead will be restricted to corners and free-kicks?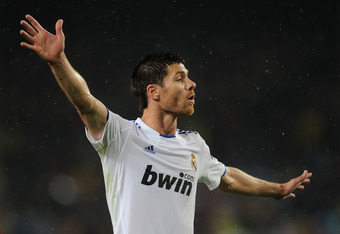 Jasper Juinen/Getty Images
The frustration that Liverpool fans feel is fully justified, as we've seen the likes of Ashley Young, Gael Clichy and Connor Wickham slip through our fingers with barely a squeak heard from Dalglish or Damien Comolli. But the club is obviously keeping their cards close to their chest, which suits me just fine as the targets we have secured have been wrapped up quick snap (remember how smoothly Suarez was imported).
If Dalglish thinks we need a winger, left-back or striker, I have the utmost confidence that we'll secure one. Thinking back to Rafa Benitez's fumbles in the transfer market Liverpool fans held by our mantra of "In Rafa We Trust".
Well right now there is absolutely no reason not to give Kenny Dalglish the same confidence.