Mike Pelfrey: New York Mets Pitcher Is One of a Few the Team Could Do Without
July 6, 2011
Jim McIsaac/Getty Images
It's sort of unfortunate that Mike Pelfrey made it into this piece.
After his impressive 15-9, 3.66 ERA 2010 season, I—and I'm sure many of you—thought he had finally turned the corner and become a legitimate major league pitcher.
We were wrong.
Yes, he has pitched some excellent games recently. For example, on July 6, he went six strong innings without allowing a run and from May 5 through June 18, he posted a solid 3.48 ERA.
But Pelfrey is just way too inconsistent. There are days where he will throw complete gems, such as the July 6 game. But then, there are days where he absolutely blows it, allowing five, six or seven runs in three or four innings.
He began the season with a 10.80 ERA in his first three starts and though he has brought that number down to 4.64 overall (which still, really, is not all that impressive for a No. 1 starter) and has posted a 3.88 ERA since his horrendous first few games, I still don't think he is a solid fit for the team.
He has given up four or more runs in nine of his 18 starts this season, or 50 percent of the time—which is a rate worsted by no other starter on the team. Dillon Gee (of all people) comes close…however he's not the team's de facto ace, which is important to remember.
That is, an ace should do better than Pelfrey has done. Much better.
Johan Santana should be back this year, which will bump Big Pelf back to No. 2 in the rotation, which might help relieve him of some of the stress and anxiety that surely are causing his numbers to ail.
Knowing that, however, does not diminish the fact that Santana is still more than a month away from returning, which means we have to put up with Pelfrey's up-and-down antics for, well, another month.
Sometimes, I think it just might be wise to trade Pelfrey—there has to be some team out there that could use him to chew up some innings.
Or, hey—perhaps they should try sending him to Triple-A Buffalo. It worked for Steve Trachsel back in 2001. Sort of.
Alas, Pelfrey is not the only player on the Mets that the team should consider dropping. No, there are others, for example…
Willie Harris should not be playing for the New York Mets right now. He is just not performing at an acceptable level.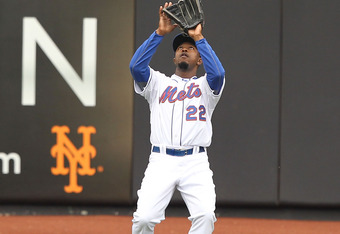 Al Bello/Getty Images
His issues are many: His .240 batting average, .306 slugging percentage and 82 OPS+ are all too low. He does not walk enough and his strikeout total is much too high.
Throughout his career, he has never been a great player, though in the past he showed signs of being solid. In 2007, for example, he hit .270 with 17 stolen bases and the following year, he slugged 13 home runs.
However, he struggled mightily in 2010, hitting only .183 with a .362 slugging percentage and a .291 on-base percentage (one of the lowest of his career) in 224 at-bats. Unfortunately for the Mets, who took a gamble by signing him, some of his 2010 struggles have carried over into 2011.
Granted, he is just a backup, and he certainly is not performing as poorly as the Colorado Rockies' Ian Stewart (who, currently, is hitting .060 in 50 at-bats)—but still, he is not playing up to par and there must be someone out there who can do better than him.
The Mets have an internal option in Kirk Nieuwenhuis, a 23-year-old outfielder who is currently hitting .298 with six home runs and 14 RBI for their Triple-A affiliate, the Buffalo Bisons.
There are also some outfielders who remain unsigned that could be options, if the Mets are willing to work out a deal: Ryan Church, Jose Guillen and even Kevin Mench are available, though Guillen would likely be asking too much if the Mets approached him.
Doug Pensinger/Getty Images
And, of course, there is always the option of working out a trade, though I cannot imagine too many teams would be interested In Mr. Harris.
(When I originally began this piece, Scott Hairston was the focus; however, he has improved recently by hitting .310 in his last 42 at-bats, so I switched from Hairston to Harris. That's not to say there is not somebody better than Hairston out there, too.)
Finally, there is Jason Pridie. I really supported the guy when he first came up, because I saw him play for my hometown team, the Triple-A Rochester Red Wings when he was in the Minnesota Twins' farm system.
But I must say, I have grown weary of his .228 batting average, .286 on-base percentage and .346 slugging percentage. He started off his tenure with the Mets well by hitting .300 through his first 40 at-bats, but he has since slowed down drastically.
He has not hit a home run since May 6 despite being a respectable power hitter and in his last 15 games he has not driven in a single run, for crying out loud.
But, I have a bias toward liking Jason Pridie. I don't want to see the Mets dump him for good, I would just like it if they'd send him back to Buffalo for a while.
And though I understand Pridie and Harris are just bench players and there are surely bigger fish to fry, I am of the opinion that a strong bench will lead to a strong team—and neither Pridie or Harris (or Scott Hairston [or Lucas Duda]) have been particularly strong this year.
I could also throw out arguments for getting rid of closer Francisco Rodriguez, former top-prospect Fernando Martinez and even David Wright. Rodriguez has struggled mightily in recent games, however. I still think he has enough in him to make a great rebound, which is why I didn't put him in this article. The same goes for Wright, who I think could be in for a big rebound once he returns from his injury.
Well, I think three grievances are enough for now. What do you think? What are your thoughts on Pelfrey, Harris and Pridie? Who else should the Mets part with?