Reggie Bush: Bush a Target for St. Louis, Indianapolis?
July 7, 2011
Larry French/Getty Images
Reggie Bush isn't set to hit free agency until 2012, but the Saints drafting of Mark Ingram with their second pick in the first round of the 2011 NFL draft suggests that they are willing to part ways with him.
Bush is due $11.8 million in 2011, and it's clear that his injury history and lack of No. 2 overall pick production isn't deserving of that salary. Bush will likely have to re-structure his contract, or be traded.
However, the Saints don't seem ready to release Bush, and Bush has expressed interest in retooling his contract to stay in New Orleans, according to Pro Football Talk.
But it's not unrealistic to expect a trade. With a crowded backfield in New Orleans consisting of undrafted free agent stud Chris Ivory, Pierre Thomas and newly acquired Mark Ingram, Bush isn't promised many touches.
Enter the St. Louis Rams.
A fanbased blog known as the The Who Dat Dish speculates a potential Rams-Saints trade. Keep in mind that there is no official rumor, but the trade would make sense for both teams assuming the value was right.
Adding Reggie Bush to a talented (yet aging) back-field featuring Steven Jackson could be just what the Rams need to help out 2010 Offensive Rookie of the Year Sam Bradford in a growing offense.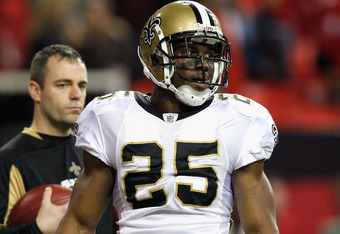 Kevin C. Cox/Getty Images
Bush's ability to catch out of the backfield and make plays in space is unquestionably exceptional. He's just not a true No. 1 back like the Saints had hoped when they took him No. 2 overall in 2006.
In a two-back system, Bush would complement Jackson quite well and give Bradford another target to improve a young offense that made heavy strides in 2010.
From a fantasy perspective, Bush could end up as a valuable flex option in a more spread-out Josh McDaniels attack, providing he can stay healthy.
Keeping it in the Midwest, we head to Indianapolis, where ESPN's Paul Kucharsky has speculated that Indianapolis could show interest in acquiring the shifty runner, as well, assuming he is released.
Fellow 2006 draftee Joseph Addai has yet to start a full season for Indianapolis, while the Colts have been through guys like Addai, Domonic Rhodes, Jarvarris James, Donald Brown and Mike Hart, still not coming away with a suitable replacement for former star back, Edgerrin James.
The Colts' zone-blocking scheme fits Bush's abilities perfectly, and having one of the best quarterbacks in the league in Peyton Manning surely couldn't hurt his chances of getting plenty of catches out of the backfield.
Overall, the key to Bush being a reliable fantasy option is obviously staying healthy. It's not like he hasn't produced, especially for PPR leagues, in the past.
Whether Bush goes to Indianapolis, St. Louis or latches on with Detroit or Seattle (both also rumored in the past), his value rises assuming he can keep a clean bill of health. We'll have to wait patiently for the lockout to be over to find out if any of these rumors are true.