Leafs GM Brian Burke Calls Cap Circumvention a Problem: My Advice—Deal with It
July 8, 2011
Bruce Bennett/Getty Images
Toronto Maple Leafs GM Brian Burke has been publicly outspoken against cap circumvention since the last collective bargaining agreement was put in place. Players like Danny Briere, Ilya Kovalchuk, Pavel Datsyuk, Mike Richards and Jeff Carter have all been signed to these types of deals. The last one to get under Burke's skin was the Brad Richards deal.
Burke told James Mirtle of the Globe and Mail:
"We lost out on the Brad Richards sweepstakes for two reasons," said Burke, who is believed to have offered the player a six-year, $42-million deal. "One, we didn't offer as much money as other teams and more importantly we didn't structure the contract like other teams did."
The Rangers signed Richards to a nine-year deal worth $60 million, but what people miss is that Richards is owed $1 million for each of his last 3 seasons.
For the Rangers, it would be advantageous to sign Richards to this long-term deal that is heavily front-loaded for two reasons. The first is that it lowers the average cap hit per season. While Toronto would have had Richards for a $7 million cap hit, the Rangers only have a $6.5 million cap hit because of the length of the contract (cap hit is measured by the average salary of the contract).
The second reason is that after Richards' 6th year, the Rangers can buy him out for a low price. The buy out rule is two-thirds of the player's salary for double the time. So instead of the Rangers taking a cap hit of $6.5 million for the last three years of his contract, they could buy him out for a cap hit of $6 million for the 7th, 8th and 9th seasons of his deal and then $333,333 for the next three years.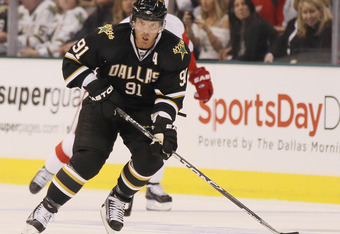 Elsa/Getty Images
CapGeek.com has a nice breakdown of Richards' salary and buyout possibilities.
Burke has long been against this practice in the NHL and will not do it for his own team, which is ironic because the Maple Leafs are one of the teams that can afford to do this. We can argue about whether Burke's failure to bring in Richards is due to his stubbornness to offer this kind of contract, but it doesn't matter (personally I think it was a blessing in disguise because the Leafs are not in a "win-now" position. Neither are the Rangers but I digress).
The bigger issue here is what Burke is to do next year while the current CBA is still in place. The CBA runs out at the end of the next season so the problem will be fixed by the time free agency starts next year, whenever it happens. During the Ilya Kovalchuk fiasco with the Devils, Burke testified in favor of the league against these types of contracts. Burke should be applauded for his stance on this subject.
He sees that this is unfair and chooses to not take part in this practice. He talked to James Mirtle of the Globe and Mail after Kovalchuk's case:
"I don't mind being on an island. I've done it consistently throughout my career where I believe there's a principle involved. Until the league reached this settlement, in my mind, these deals constituted cap circumvention and I have steadfastly refused to do them."
There is little doubt that the NHL will change this policy against long-term contracts. But until this happens, Brian Burke has to deal with this. Imagine if the Leafs were in a position to win and Burke passed on Richards because of his personal beliefs against these contracts? Would Leafs fans accept that? I don't see how that would be tolerated by Leafs nation, one of the most passionate fan bases in the NHL.
Burke made the decision to stay away from these types of deals because of his personal views and he has been put in a situation where he can stay away from these deals because the Leafs have been in a rebuilding process.
We can argue all day about these types of contracts but the fact of the matter is that general managers have been using these contracts and the players are going to be willing to accept them as long as they are on the table. If Burke had been in a position where this type of deal was necessary to match another team's offer and he failed to because of his beliefs, Leafs fans would be calling for his job.
Is Burke's stance on these contracts honorable? Absolutely, and I applaud him for it.
But, like the unwritten rule about restricted free agents, don't touch another general manager's property. Burke can do what he wants with his own team, but let other general managers do what is necessary for themselves.
So Brian Burke, let it be until next season, because then, with your help, these types of contracts will be forgotten and you will be a major reason for it. But for now, deal with it.
One more thing, I had a commenter on another article say that these long term contracts will be null and void with the new CBA. I can't see that happening. How can players like Roberto Luongo, Henrik Zetterberg, Ilya Kovalchuk, Mike Richards and Jeff Carter (as well as others I can't remember off the top of my head) just become free agents? I feel these contracts will be grandfathered in. Let me know what you think.
This is my first article after July 4th, so I just want to say to everybody reading this to always keep the military in your prayers and in your thoughts. They are the reason we enjoy this lifestyle and they keep us safe by putting their own lives on the line. They are the heroes.
Thanks for the read and feel free to comment