Toronto Maple Leafs Trading for Steven Stamkos: It's Never Going to Happen
July 10, 2011
Justin K. Aller/Getty Images
Despite the Toronto Maple Leafs' recent acquisitions of centers Tim Connolly, Matthew Lombardi and Phillipe Dupuis, Brian Burke and his management team will continue the seemingly never-ending search for a legitimate, young, baggage-free No. 1 center to build the franchise around.
I very recently published an article on Bleacher Report called, "Toronto Maple Leafs: Current Roster Depth Will Be Key to Future Playoff Success."  Briefly, I praise Burke's dogged pursuit of quality depth in every position within the organization, including coaching and management, not just players.  The general idea is that the depth will lead to sustained, long-term success for several different reasons—one being the increased flexibility when it comes to making a trade.
I wish to elaborate on my stance on trade-flexibility.
With a glut of NHL-ready players at both center and defense, players that may become expendable by the trade deadline (though hopefully long before then), include Grabovski, Bozak, Gunnarson and Komisarek—at least in my mind.  There may be others as well—feel free to post your suggestions in the comments section.
Enough assets have been acquired that Burke has given himself the opportunity to make an upgrade where he sees fit, as he has been consistently doing for the last two years.  I can't recall a trade he has made in Toronto that did not improve the team in either the short or long term. 
And I would not be surprised to see another one in the very near future.
This is all well and good, but unfortunately, as things always seem to do in Leaf land, this is the point where things usually begin to spiral out of control and into the realm of maniacal fantasy.
The Leafs still have a need at the No. 1 center position—though the situation is not nearly as dire as it was before the signing of Tim Connolly. 
When Brad Richards signed with the New York Rangers, a major blow was dealt to the Leafs' chances of finding someone to feed Kessel for goals on 40-50 occasions this coming season, all the while making up for his defensive shortcomings.
So if there is depth in certain positions, what better way to acquire a No. 1 center than to draw from it?
Unfortunately, though I am quite pleased with the depth acquired, the Leafs would have to give up the best players they have for a truly elite talent up the middle, plus picks. And I'm not referring to Bozak, Gunnarson, Komisarek and Grabovski, who I mentioned earlier may be used as trade bait this season.
Think Schenn, think Kulemin, think Kadri, think Kessel, think Reimer. 
Can the Leafs squad survive parting ways with, say, three or four of the aforementioned, plus first round picks, for a guy like Stamkos?  Or Malkin?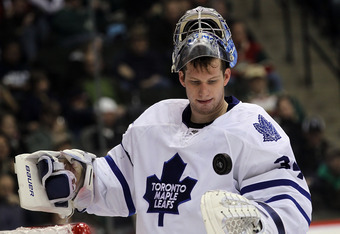 Bruce Bennett/Getty Images
The answer, quite simply, is, "NOOOOO!"
Your best defenseman, your best forward, your best young prospect, your best goal scorer and the one man on whom many say your entire playoff hopes are riding this season. 
If any combination of three or four of these pieces were to be dealt away, the acquisition of Stamkos would do more damage to the Leafs than good.
To those who I am starting to fill with blue and white hot rage, simply take a timeout at this point to gather your thoughts and be prepared to tackle this situation with objectivity.
Ready to continue?
While keeping a finger on the pulse of reality, it is abundantly, painstakingly, bash-you-over-the-head obvious that any trade for a No. 1 center at this point would render the Leafs' playoff chances more impotent than they have been at any point during the drought that has plagued this franchise since the lockout.
If only acquiring a top flight center and making the playoffs was as easy as swallowing a little blue pill...
And I am not alone in this assessment.  Brian Burke and his all-star front office staff are of the exact same opinion.  Otherwise a trade would have been made already.
Make no mistake—I am fully suggesting that if Burke wanted to acquire Stamkos (or a Malkin or Parise or Carter or M. Richards), he has the pieces necessary to complete a deal.  As do many other teams in the NHL.  Unfortunately, the asking price would simply be too high.
One of the basic rules of economics is that people face trade-offs.  At some point, Burke and co. faced this situation re: Stamkos.  They chose the core foundation of the franchise over one player.  One absolutely amazing player, I might add, but one player nonetheless.
If a trade was made and Stamkos was acquired, Leaf fans would suffer through another five years of absolutely tanking.  If Burke's plan was to tank and acquire top five picks for a number of years in a row, Phil Kessel would never have wound up in Toronto.  Therefore, the logical conclusion is that Burke will never sacrifice the entire foundation of the team to acquire Steven Stamkos.
Now, back to the reason I decided to write the article in the first place.
As I said in my previous article, depth has been steadily flowing into the Leafs' system.  Unfortunately for everyone involved, there just isn't enough depth at this point to part ways with the components required in a hypothetical deal for an elite center. 
If Burke continues to add quality depth, then perhaps one day he will be in a better position to deal for one.  This is exactly what I wished to impress upon you all with my last article.  But that time is not now.  And by that time, the target may not even be Stamkos.
So, now that we've put the Stamkos rumours to rest (STOP THEM ALREADY!!!), I hope we can all continue on with our summer in relative peace and harmony as Leaf fans.
Thanks for reading!