July 9, 2011
I'll admit it; I'm genuinely excited for tomorrow night's TNA Destination X pay-per-view.
In a rare month in which both major wrestling promotions are offering up intriguing PPV events, Destination X looks to be—on paper at least—an exciting show with some highly anticipated matches.
It also marks the first time in several years that the annual event actually focuses on the X Division.
Ever since the Hogan/Bischoff era of TNA began, longtime fans have felt slighted by the lack of focus on what was once the bread and butter of the company. For the past year and a half, the outcry for a more prominent role for the X Division has continued to grow louder.
One of the most common complaints about the current TNA product has been its focus on former WWE stars like Mr. Anderson, Kurt Angle, and the Hardys (well, at least before the Victory Road debacle).
This PPV does not feature any of the above.
The focus has been placed squarely on the X Division.
The show will feature the return of several stars from the past as well as the debuts of some fresh new talent, plus it also marks the return of the six-sided ring for one night.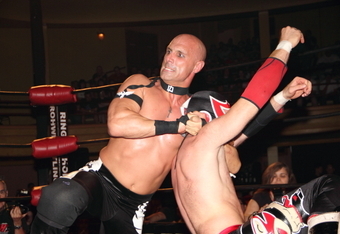 Daniels, fresh off a successful stint in ROH, looks to restablish himself as a major player in TNA when he takes on AJ Styles.(Photo courtesy of S. Finkelstein - getlostphotography.smugmug.com)
Fans were upset when Hogan and Bischoff took the six-sided ring out of the Impact Zone and replaced it with the standard four-sided ring, and while it really is just a ring and doesn't make a ton of difference, it was also something that made TNA unique.
Destination X represents an opportunity for wrestling fans to put their money where their mouths are.
It is no secret that some of the powers-that-be at TNA have not been huge supporters of the X Division in the past—rumors that Bischoff and company were planning on killing off the division entirely were going around regularly for several months.
Ironically, the complete lack of direction and attention that the X Division has gotten over the last year and a half has become one of the most compelling storylines currently in TNA . Castoffs like Brian Kendrick, Alex Shelley, Max, and Jeremy Buck have formed a united front against Eric Bischoff, Hulk Hogan, the current X Division Champion Abyss, and the rest of Immortal.
After being placed on the backburner for most of 2010 and 2011, the X Division will get a chance to shine under the PPV spotlight, and if the show is a success, it could potentially lead to an increased focus on what has been called the foundation of TNA.
While TNA does not officially release their PPV buy rates, it is apparent that the numbers haven't been very good lately. The rating for Impact Wrestling on Spike TV has consistently hovered somewhere around the 1 mark for quite some time with no significant increase or decrease in viewers.
Shiima Xion, who has been making noise in EVOLVE lately, has a chance at winning a TNA contract on Sunday. (Photo courtesy of S. Finkelstein - getlostphotography.smugmug.com)
While it may not necessarily be in a rut, TNA has been stuck in the same place for much of the Hogan/Bischoff era.
If Destination X manages to pull in enough buys, we could see a shift towards more of the high-risk, no-limit X Division style each and every week on Impact Wrestling.
Of course, that is a very big if.
In an era of illegal streaming and instant results, the business of PPV in professional wrestling has been tepid at best. With the WWE offering up a very intriguing Money in the Bank PPV the following week, wrestling fans may be spending their dollars elsewhere.
Regardless, it will be interesting to see how the brass at TNA reacts if Destination X turns out to be a success. It seems as if they are giving the reinvention of the X Division one major chance as well as giving their fans a chance to speak with their wallets.
If anything, it looks to be a really good show.
The event—headlined by AJ Styles vs. Christopher Daniels—promises to live up to the "wrestling matters" slogan that TNA has been using ever since the rebranding last month.
Rob Van Dam and Jerry Lynn will finally wrestle each other again, nearly one year after Lynn had to pull out of their scheduled match at Hardcore Justice due to a back injury.
Everyone's favorite competitor on The Price is Right, Brian Kendrick, faces a tough test against "The Monster" Abyss in the X Division Championship match tomorrow. (Photo courtesy of S. Finkelstein - getlostphotography.smugmug.com)
It is a rivalry that dates back to a time long before the X Division. Lynn and Van Dam competed in some of my all-time favorite matches during the mid-90s in ECW, and this long-awaited rematch should be one of the highlights of Destination X.
Brian Kendrick, who has become one of the most entertaining (and ridiculously out there) characters in TNA, will attempt to free the X Division Championship from Immortal's grasp when he takes on Abyss.
Austin Aries, Low Ki, Zema Ion (aka Shiima Xion), and Jack Evans will compete in a four-way match for a TNA contract. The series of triple-threat matches to determine who would compete in this PPV match has been one of the highlights of Impact Wrestling over the last month.
While none of these men may be major names to the casual wrestling fan, all four of them have the ability to steal the show on Sunday night.
Aries, Low Ki, and Evans are all 10-plus-year veterans who are trying to secure deals with a nationally televised promotion while Ion has been one of the most talked about young talents on the independent scene this year.
Alex Shelly, Robbie E, Amazing Red, and Shannon Moore will take to the air in an Ultimate X match to determine the No. 1 contender for the X Division Championship. The Ultimate X has produced tons of memorable matches and moments over the years and has consistently been one of the most exciting match types of the decade.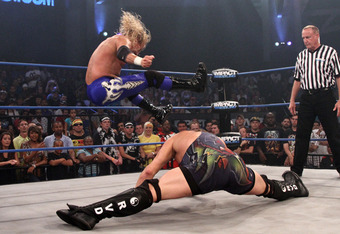 The latest, and perhaps the final, chapter of the RVD/Lynn feud could be one of the highlights of Destination X. (Photo courtesy of TNAwrestling.com)
Doug Williams has issued an open challenge for the PPV. Generation Me are scheduled to compete against unannounced opponents.
Will TNA make more waves by bringing in some more top talent from the independents for these matches?
Samoa Joe will do battle with Kazarian in what could be the sleeper match of the night. There isn't a ton of buzz around this bout, but both of these guys have the skill to step up their games and put on a show stealer.
And of course, the main event of AJ Styles vs. Christopher Daniels has the potential to be a match of the year for TNA. Without question, these two are looked at as the flag bearers of the X Division, and they have a chance to go out there and show not only the fans, but the higher-ups at TNA as well, that they deserve that main event spot.
On paper, Destination X is an exciting show. It is something much different than what we have come to expect from Orlando over recent years.
Will it be enough of a success for TNA to devote more time and energy into bringing the X Division back from life support?
The answer to that question, it seems, is in your hands.
Like the new article format? Send us feedback!