St. Louis Rams: Is There Any Hope for WR Mardy Gilyard in St Louis?
July 9, 2011
Dilip Vishwanat/Getty Images
I still remember how excited I was when the St Louis Rams selected Cincinnati wide receiver Mardy Gilyard with their fourth-round selection. 
98 selections earlier they drafted Oklahoma quarterback Sam Bradford, a move that excited the most pessimistic of Ram fans.  Now here they were three rounds later selecting a useful weapon that had the potential to wreak havoc on defenses for years to come. 
Looking back on it, I had every right to be excited about the selection of Gilyard. 
Before the Pros
Gilyard wasn't considered to be much of a future NFL prospect coming out Flagler Palm Coast High School, receiving a 2-star recruit rating despite being named to first-team All-State in Florida his senior season. 
After signing with the University of Cincinnati, he failed to make much of an impact his first two seasons: spending one as a cornerback and redshirting the other (due to academic issues).  In his third year at Cincinnati however, he began to breakout. 
After collecting 36 receptions for 536 yards and three touchdowns, people in Cincinnati began to see something in the receiver: a man who made a habit out of getting open, making big plays, and getting around defenders.  In his fourth season as a Bearcat he emerged as one of the most productive receivers in all of college football, catching 81 passes for 1,276 yards and eleven touchdowns.  By the time his senior season rolled around, Gilyard was considered to be a future NFL star in the making.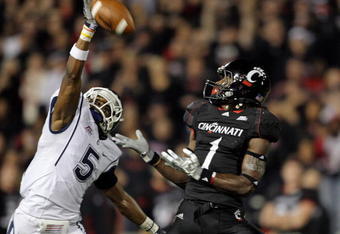 Andy Lyons/Getty Images
After he had another 80+ catch, 1,000+ yards, and 10+ touchdown season in his final year in Cincinnati to go along with the MVP honors during the 2010 Senior Bowl, it was evident Gilyard was going places. 
Concerns Arise at Combine
While anyone can watch a highlight reel of a player and praise said player for constantly making big plays, NFL scouts are more interested in breaking down the weaknesses of players. 
"Where does this guy need to improve?  Are these weaknesses coach-able?  Do these faults outweigh his strengths?"   
While there was no doubt Gilyard had enough upside to be selected somewhere in the middle of the draft, the scouts ripped apart his abilities and how they would translate to the NFL.  Their biggest gripe was his hands; they were far too inconsistent, he relied too much on using the body, and because of it he would fail to be a reliable receiver.  NFL.com's combine breakdown of Gilyard was probably the most dead on:
Gilyard has adequate height but lacks the bulk you like to see in a starting receiver and isn't a good blocker. Is quicker-than-fast and top-end speed is only adequate—won't blow by many pro DB's. Hands are inconsistent. Makes too many body catches.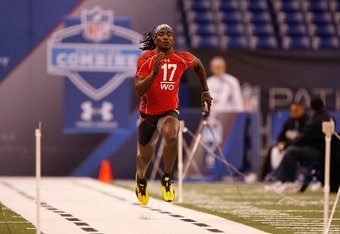 Scott Boehm/Getty Images
While the analysis was disheartening, it was to my understanding that every prospect had their weaknesses.  While there was reason to believe that Gilyard wouldn't be great, there was no reason to believe he wouldn't be successful.  Watching him play, he seemed to have a knack for making plays, regardless of who he went up against. 
Rookie Season Disaster
If there were any receivers out there looking for consistent playing time in 2010, St Louis was the place to be.  Losing their two best receivers early, mixed with the fact that they started an undrafted rookie (Danario Alexander) for a few games speaks volumes for how much depth they lacked at receiver.  I, along with every other St Louis fan, believed Gilyard would receive more than a fair chance to showcase his abilities throughout the season. 
It was never that easy.
Gilyard showed up late to camp due to school requirements and he seemed to fully catch up.  He struggled to adjust to the speed of the NFL and to master Pat Shurmur's West Coast playbook.  He showed some promise as a kick-returner, one of the roles the Rams drafted him to fill, but he struggled to make any sort of impact as a receiver, racking up a measly 63 yards on six receptions. 
The worst of it all was that Gilyard showed absolutely zero signs of potential as a receiver, often times looking lost or a step behind everyone during his limited playing time.
"Sophomore Slump or Comeback of the Year"
Gilyard's second season with the Rams has already gotten out to a frustrating start as a couple months ago rumors emerged that the wide receiver requested a trade.  His agent quickly dispelled the rumors, stating that his client wished to remain in St Louis and make a contribution to the team. 
With the lockout in full effect, it appears Gilyard will once again fail to receive a fair shot at learning a full playbook before the start of the season.  While it appears the Rams aren't too high on the receiver, chances are this could be his last season to make an impression in St Louis. 
The one thing Gilyard does have working in his favor however, is the implementation of Josh McDaniels' spread offense, an offense that utilizes a number of different receivers and allows them to get open with ease.  Gilyard played in a similar offense in college where he thrived, and if he can find himself in an offense that allows him to get the ball in open space and run with it, he could emerge as a useful slot-receiver. 
In order to get to that position though, he will need to beat out plenty of other receivers.  With the Rams drafting Austin Pettis and Greg Salas in the third and fourth rounds in this year's draft, Gilyard has a tough road ahead of him. 
Only time will tell where that road will lead.