MLB Hall of Fame: Is It Time the Governing Body Restructures Voting Procedures?
July 15, 2011
Jim McIsaac/Getty Images
Next week on July 23 and 24, Roberto Alomar and Bert Blyleven will be enshrined into what's considered baseball's highest pantheon: Major League Baseball's (MLB) Hall of Fame.
Since 1936, only 205 former major league players have ever been elected to baseball's Hall of Fame . That would equate to much less than one percent of all former MLB players having ever been enshrined.
Of the 205 players elected to date, the Baseball Writers Association of America (BBWAA) has elected 111 candidates, or 54 percent. Conversely, 94 major leaguers, or 46 percent, have been elected through other means (in all of its forms) such as the Veterans Committee, Old-Timers Committee, Centennial Commission and other special election committees, to name a few.
For those not familiar, "qualified" members of the BBWAA vote annually by submitting a maximum of 10 eligible prescreened players whom they would consider worthy of induction. In order to be elected, a player must receive 75 percent of the voters' ballots.
Players may be removed from such future ballots should they receive less than five percent of the voter ballots by the BBWAA, or if a player remains on the ballot 15 times without ever being elected.
Players must have played at least 10 seasons of MLB and been retired for at least five years—the five-year retirement rule began in 1954—to be deemed eligible.
For players as recent as Bert Blyleven and Jim Rice (class of 2009), it's been a long wait to see if either, 14 and 15 years respectfully, would ever be enshrined.
There are at least 15 players who have been voted into MLB's Hall of Fame in their 10th year or later: Don Drysdale, Joe Cronin, Duke Snider, Bob Lemon and Bruce Sutter are just a few.
So, why did it take so long, and just how does the BBWAA make their final decision on inductees?
In his first year of eligibility (1998), Blyleven received only 17.5 percent of the voter ballots needed for election. The following year 14.1 percent, an obvious decrease from the previous year. Yet, Blyleven was finally elected in 2011 in his 14th year by the BBWAA at 79.7 percent. Rice, in his 15th and final year, with 76.4 percent of the voter ballots.
So, what's changed? Blyleven threw his last major league pitch on October 4, 1992, and Rice had his last at-bat on August 3, 1989.
The inconsistency in voting by the BBWAA goes back for generations. Consider a few of the following examples of this since its inception in 1936. Players back then went on the ballot upon retirement, which you would think keeps a player fresh in the minds of qualified writers.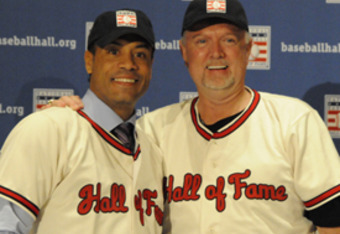 Dazzy Vance, a 1928 MVP and Triple Crown award-winning pitcher, who led the league seven consecutive years in strikeouts (1922-1928), three-time league ERA leader and four-time league leader in shutouts, received one voter ballot in his first year of eligibility, but was later inducted in 1955 after 16 ballot attempts by the BBWAA with 81.7 percent of the voter ballots.
Joe DiMaggio, a 13-time All-Star with two batting titles and three MVP's was on the ballot for four years before he was inducted. In DiMaggio's first year on the ballot, he received a whopping 0.4 percent of the ballot votes and was later voted in for induction by the BBWAA in 1955 with 88.8 percent of the voter ballots. 
How was it possible that DiMaggio didn't get more consideration his first year of eligibility?
Another example of this might be Jimmie Foxx, a three-time MVP, nine-time All-Star and only one of 13 individuals in the history of MLB to win the coveted Triple Crown award. Foxx received 9.3 percent of the voter ballots his first year of eligibility by the BBWAA. It would later take six more ballot attempts for Foxx to be inducted by the BBWAA in 1951 with 79.2 percent of the voter ballots. 
Sure, there are certain milestones that the BBWAA and others tend to focus on like 3,000 hits, 500 HR, batting average, 300 wins, 3,000 strikeouts, multiple All-Star appearances, awards, etc.
So, what about the players who fall into the gray area? Those who have never reached one or any of the milestones typically viewed as Hall of Fame credentials by the BBWAA? 
There are presently 14 hitting Hall of Fame players, excluding pitchers, that have never even reached 2,500 hits, 400 home runs and have less than a .275 batting average. Only four of those players have been elected via the BBWAA. Others have been selected by other means, in all of its forms.
With these erratic, often times unpredictable nomination trends, what criteria are the BBWAA members in search of? 
Clearly, there's no specific criteria set forth by the BBWAA or the Hall of Fame that makes one eligible. Those qualified enough to hold that prestigious vote seem to be left relying on their own personal opinion in determining one's fate—deeming a player worthy.
Should a body similar to that of the Veterans Committee, possibly made up of former players, baseball experts—to the likes of Bill James—and/or other living Hall of Fame members be established with rules and regulations for enshrinement?
Sources:
Baseballhall.org
Baseball-reference.com
BBWAA with 10 or more years of membership