Evaluating the Phil Kessel Trade: Who Came out the Winner?
November 3, 2011
Nick Laham/Getty Images
Way back in the June of 2006, Phil Kessel was selected by the Boston Bruins fifth overall coming out of the WCHA's (Western Collegiate Hockey Association) University of Minnesota. 
At the time, Phil Kessel had racked up 18 goals and 51 points for second on the team behind Ryan Polutny. Those stats, however, aren't shattering, but here is a behind-the-scenes look at what Phil Kessel has accomplished that many hockey fans have not known or forgotten that have helped reach the NHL when he was just 19 years old.
Behind the Scenes (Some Things You May Not Know)  
Phil Kessel has always been a gifted hockey player. As a 16 year-old, Kessel was gifted with soft and amazing hands, a knack for scoring goals, turning heads with blazing speed, breaking records and being highly touted as the "Next One."
 In his first year of being in the US Under-18 Development Program with Michigan, Kessel was lighting the goal lamp up, firing an astounding 52 goals and 30 assists in his freshmen year.
The following year, he matched his previous record with 52 and 98 points. His scoring totals broke a US National Development Program record (but that was broken by Patrick Kane the following year).
To this day, Kessel still holds the record for most career points with 104 goals and 180 points, but living up to the expectation of being called, "The American Crosby" might have taken a toll on him.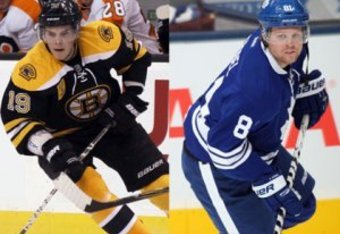 The next year was critical for Kessel's future and his draft stock. Being ridden as the potential No. 1 overall pick in the upcoming draft, would he go to the University of Minnesota or head to the Ontario Hockey League's Saginaw Spirit, which held his OHL rights? 
Kessel eventually chose to go to the University of Minnesota. Some would say that hurt his chances of becoming the No. 1 pick that year. However, that year he put up great numbers with the Minnesota Golden Gophers, accumulating 18 goals and 51 points, earning him the Rookie of the Year honors.
Come December, Kessel was announced to the United States World Junior Team. Tallying just one goal and 10 assists, people and scouts started to question if he was the "real deal". The electrifying Kessel didn't bring his electricity. He was pushed around, and scouts were disappointed about his inablility to go to the dirty areas and just play a perimeter game at the big stage.
With that, Kessel's stock dropped with a tremendous performance by Erik Johnson, Jonathan Toews and Jordan Staal at WJC. Despite having his stock drop, according to the NHL's final draft rankings, Kessel remained among the top players, being ranked third among North American skaters.
At the 2006 NHL draft, the Boston Bruins were selecting fifth overall and took Kessel, envisioning him to be their next superstar.
In his rookie year, he posted a respectable 29 points, and then ascended to 37 points in his sophomore season.
Some wondered whether Kessel could survive the toughness of the NHL and be successful, but in his third season he tallied 60 points (including 36 goals) which eventually put those questions to rest.
The next next two seasons, he combined for 119 points, and over half of them of them were goals. He put up 64 points in his first full season as a Leaf and has yet to reach his full potential.
On The Other Side
In order to get Kessel, the Leafs had to give up something in return. A first-round pick and second-round pick in 2010, and a first-round pick in 2011. Eventually, the picks turned in Tyler Seguin (second overall), Dougie Hamilton (nineth overall) and Jared Knight (32 overall).
Tyler Seguin, a gifted scorer and playmaker, played junior hockey with the OHL's Plymouth Whalers. In his first year, he tallied 67 points in 61 ga­­­mes but fell short of being named rookie of the year to Evgeni Grachev.
The next year, in his draft year, he exploded out of the gate. This was crucial to his draft stock because at that time he was the consensus No. 1 pick ahead of Taylor Hall. That year, he battled Hall for the right to be the No. 1 pick.
Some said that he should be rated ahead of Hall because Hall played on a better team in the Windsor Spitfires. However, at the end of the year he led the league in points (tied with Taylor Hall) with 48 goals and 106 points.
Then Seguin was finally recognized for his accomplishments by being named OHL's Most Outstanding Player. But would that be enough to be picked No. 1 in the following draft?
That June, Seguin was selected second overall by the Boston Bruins. In his rookie year, he played the year on the fourth and third lines, collecting 22 points. Some scouts compare Seguin to Jason Spezza when he reaches his full potential. So does this bode well for the Leafs?
Dougie Hamilton played junior hockey with the Niagra IceDogs, and Jared Knight plays for the London Knights. Dougie Hamilton is already being compared by scouts to Brent Burns of the San Jose Sharks.
He currently leads all defensemen in points, and Jared Knight is playing with a strong London Knights team who are currently tops in the CHL. The potential power forward should do well in the years to come in the Boston organization.
Outlook
So who came out the winner? Well, Phil Kessel currently leads the NHL in points with 20 and leads the league in goals with 10 and plus/minus with 9 (as of November 3 2011).
Tyler Seguin is doing his part as a sophomore and leading the Bruins with 11 points. I would say Kessel gets my vote as he is a premier 40-goal scorer and and is a lock for at least 30 goals per season.
Whether Tyler Seguin can outdo that is anyone's guess, but he does have a lot of potential. Give this trade till the end of the year to get a real evaluation of who wins.