Chicago Blackhawks: Projecting the 2011-2012 Starting Forward Lineup
July 19, 2011
Jonathan Daniel/Getty Images
The Chicago Blackhawks are more or less finished making additions to their team. We may see one or two more minor moves before September, but most likely this is the team the 'Hawks will take into next season.
Now we're left to speculate what the starting lineups will look like. And mark my words, it won't be easy. The Blackhawks have a plethora of bodies to fill only a few open spaces, especially at the forward position.
In this article I will project what the 'Hawks' forward lineup will look like on October 7, the first game of the regular season.
So let's get started.
First, the no-brainers. Toews is the first-line center, with Kane flanking him on the right wing. Big surprise there.
But who plays with Toews and Kane on the left wing? See, things have already gotten somewhat difficult.
This is a spot we've see players come and go from, mainly because it is such an important position to the Blackhawks. That line is so much more dangerous when Toews and Kane have a big, tough winger who can create space and crash the net. Remember when Byfuglien filled that role? That line was arguably the scariest unit in the 2010 Stanley Cup Playoffs.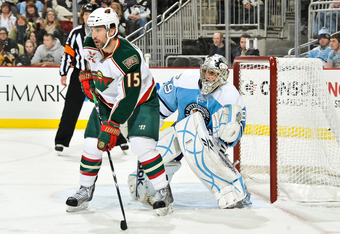 Jamie Sabau/Getty Images
Unfortunately the Blackhawks haven't had a winger like that to play with Toews and Kane since Byfuglien. We've witnessed players like Troy Brouwer, Viktor Stalberg, Ben Smith and others all try to no avail to fill that void. Yes, Patrick Sharp has insane chemistry with Toews and Kane, but that leaves the first line without any physical presence or toughness. Besides, sometimes you need someone who can get the dirty goals and compliment your skill players.
This why Andrew Brunette is a no-brainer for the first-line left wing spot. He's made his career on scoring goals around the net and being a rough, physical player. He would be the perfect complementary player to Toews and Kane. He would provide them plenty of space and be at the net to finish any opportunities they create.
For the second line, Hossa will man the right wing and Sharp will have to make an indefinite shift to center. Many of you are probably screaming at me for suggesting that, but its a matter of necessity. Hossa needs someone with elite skill to feed him the puck. Kruger is barely NHL-ready right now, Ben Smith isn't suited for anything more than a fourth line role at this point and Frolik simply isn't a centerman.

Moving Bolland up means taking him out of a role he excels playing in as a checker and forcing him to take on the role of an offensive playmaker, something that isn't the strongest component of his game. Let's face it: Sharp is the only viable option the Blackhawks have right now.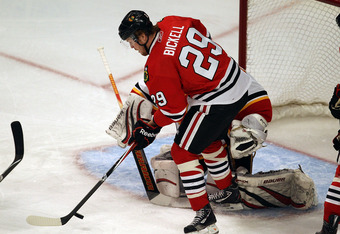 Jonathan Daniel/Getty Images
But look at it this way: the Blackhawks won a Stanley Cup with Sharp playing center and he's arguably a better two-way player when he plays with a centerman mentality. No he won't score as many goals, but maybe that's a good thing.

The drop in Sharp's defensive play last season because of his eagerness to contribute offensively was blatantly obvious. Maybe a permanent move to center will help Sharp once again be the talented two-way force he was back in the 2009-2010 season.
As far as the second line left wing goes, you might as well pull a name out of a hat. There's no more legitimate top-six forwards, so Quenneville will either have to promote someone from the third or fourth line or fill it with a prospect who he thinks can handle a top-six NHL role.
Michael Frolik could potentially move up, but he seemed very comfortable playing alongside Bolland on the third line during the playoffs. Besides, I think the Blackhawks want to keep Frolik on the third line to help ensure that it remains offensively dangerous.
Rostislav Olesz is another option, but its uncertain whether or not he'll even make the team, never mind earn himself a top-six spot. If he does make it out of camp, Olesz has a defensive-minded game that would be more suited for the third line. Not to mention he lacks the offense to play with Sharp and Hossa.
Jeremy Morin is a possibility, but we haven't seen enough of him to know that he could handle that role. He also lost half a year of development due to injury last season and will need to make it up. I see Morin spending the first half of next season in Rockford.
Ben Smith could be the guy. We saw him in a top six role in the playoffs and he showed that he can keep up. But Smith isn't quite ready for that role permanently. 
In my opinion, its a dogfight between Stalberg and Bickell. Both of them are big, have 20-goal potential and need to learn how to use their size more effectively. I think Bickell should get the first look. He has the size to create space for Hossa and Sharp, can crash the net, play physical and give the second line some toughness.
 Now the third line. Bolland was born to be a checking-line center, so that's where he will stay. He'll be flanked by Frolik and Olesz. Frolik has shown that he can excel in a checking role and his chemistry with Bolland should keep the line dangerous offensively.
Olesz should be able to provide a power forward element the third line hasn't had since Andrew Ladd left. And who knows, maybe playing alongside talented players like Bolland and Frolik helps Olesz net 15 to 20 goals.
The fourth line is where the guessing gets tough. This what's left to work with: Viktor Stalberg, Jamal Mayers, Daniel Carcillo, Ben Smith, Marcus Kruger, Brett McLean, Jeremy Morin, Rob Klinkhammer, Kyle Beach, Jimmy Hayes. Let's narrow it down.
Morin and Kruger aren't suited for NHL fourth-line roles. They should be getting top-six minutes in Rockford next season, so they're out.
Unless Kyle Beach has completely fixed himself in a single summer, I have my doubts that the organization will even give him serious consideration, so he's out.
Jimmy Hayes only has seven games at the professional level under his belt. He needs at least half a season in Rockford to truly prove that he's ready for the NHL, but he could definitely be an option down the road.
Rob Klinkhammer would fit nicely. He's a big body that plays physically and with an edge, is responsible defensively and could contribute a little bit offensively. He's a long shotConsidering the number of players the 'Hawks have but he has a chance. Even if he doesn't make the roster, he'll be near the top of the list to get called up.
Brett McLean was signed to replace Jeff Taffe as the Rockford veteran, but if he has a great camp I could see him filling a spot on the fourth line.
That leaves Stalberg, Mayers, Carcillo, Smith. Stalberg adds some speed and offense, which will make the line a real threat. Quenneville will give Smith the first crack at the fourth line center job. Mayers and Carcillo will alternate as the team's designated enforcer, although Mayers will be dressed more often than Carcillo because of his reliability and Quenneville's familiarity with him.
So this is what the forward lineup will look like:
Brunette/Toews/Kane
Bickell/Sharp/Hossa
Olesz/Bolland/Frolik
Stalberg/Smith/Mayers
Carcillo (healthy scratch)
Call-up list: Marcus Kruger, Jeremy Morin, Rob Klinkhammer, Brett McLean, Jimmy Hayes, Kyle Beach
This lineup gives the Blackhawks arguably the best four-line scoring team in the NHL, with four potential 30-goal scorers (Toews, Kane, Sharp, Hossa), four potential 20-goal scorers (Brunette, Bolland, Frolik, Bickell), two potential 15-goal scorers (Stalberg and Olesz) along Carcillo, Mayers and Smith, who could potentially net between five to 10 goals each.
In addition, the dispersal of two-way forwards throughout the lineup would make each line equally as capable defensively.
There would also be a sizable, tough forward on each line making the Blackhawks a physical team regardless of which line is on the ice. This will also create more space for offensive opportunities.
Obviously there are a few concerns.
First, Bickell is obviously not a top-six forward and doesn't fill the second-line hole very well, but until the 'Hawks acquire a legitimate top-six forward, center or winger, Bickell is the best option in my opinion, because Sharp and Hossa need someone big to create space for them.
Second, the 'Hawks have some question marks when it comes to depth scoring. Frolik, Bolland and Bickell need to score around 20 goals and Stalberg and Olesz need to net 10 to 15. They can't get snake bitten. Scoring must be done my committee, the Blackhawks cannot only rely on their top four for offense.
Finally, once again the Blackhawks will have to find some chemistry with the new players, which could possibly take a while, just as it did last season. Quenneville will need to make sure he doesn't juggle lines too much too often and give his players a chance to familiarize themselves with each other.
But in the grand scheme of things, these aren't huge problems. Yes, they're missing a top-six forward but their depth makes up for it. Yes, they might run into a problem with depth scoring, but their top end is enough to carry them through a drought. Yes, they need to find some chemistry, but they have the skill to win them games until they do.
The Blackhawks have one of the best forward lineups in the NHL heading into next season. They have a mix of everything and that should make them extremely dangerous.
Stay tuned for the projections of the starting defense lineup.