Big Ten Breakdown: Penn State Nittany Lions, Part 1 (Overview and Offense)
August 1, 2011
Jamie Sabau/Getty Images
Team Overview
2011 will be Joe Paterno's 46th year as head coach of Penn State. In that time, he has compiled 401 wins and 39 winning seasons.
However, four of his six losing seasons have come within the last 11 years. Moreover, the last decade has been Joe Pa's worst in terms of winning percentage.
In the 1960s, his Nittany Lions won .8019 percent of their games. His winning percentage in the '70s was .8250. In the '80s, he went .7479. In the '90s, it was .7561. This last decade saw Penn State go .6391.
Much of that could be blamed on the early part of the decade, during which PSU had three losing teams. Since 2005's resurgence, Penn State has posted a more respectable .7533 winning percentage, which is tied for 12th in the country (and 10th among BCS teams) over that time. It is also the third-best winning percentage amongst Big Ten schools, after Ohio State and Wisconsin.
Still, when one considers that Michigan, one of the two traditional Big Ten juggernauts, has been relatively lousy over much of that time, one might have expected Penn State to have been neck-and-neck with Ohio State for the last five years.
After all, Pennsylvania is the third-most productive state within the Big Ten footprint at developing FBS football players. The only other BCS program within the state's borders is Pittsburgh—and speaking as a Pitt graduate, the Panthers cannot recruit head-to-head against PSU. Also, Penn State has always recruited heavily in New Jersey and New York (they signed the quarterback from my high school team), fairly fertile areas without any dominant, local BCS teams.
In effect, the Nits should more-or-less own a fairly productive area as a recruiting home base.
Thus, Penn State does not have the inherent recruiting disadvantages of Iowa, Wisconsin or Minnesota.
Despite this, and despite the impressive legacy that Joe Pa has built, these days, Penn State is rarely mentioned as a serious contender for the national title and is only occasionally mentioned as a Big Ten title contender.
If it seems like I'm presenting PSU or Joe Paterno negatively, that is not my intention. Nonetheless, there is a slight disparity between the Nits' actual record and how well they could be doing.
Of course, every time people start to think that way, Penn State pulls a rabbit out of its hat. The last time was 2008, when an 11-1 Lions were one close loss away from a national championship bid. Before that was 2005 when another 11-1 PSU went to and won the Orange Bowl.
So, here we are again. Yes, Penn State will win at least seven games in 2011, but is that the best they will do? Or will they surprise everybody yet again, and pull out another 11-win season?
Either way, don't count Joe Pa out quite yet. 
Offensive Overview
2010 scoring offense: 24.5 PPG (ninth in the conference); total offense: 372.2 YPG (ninth); rushing YPC: 4.14 (eighth); passing efficiency: 121.30 (10th).
Average scoring offense conference ranking over last five years: 5.8.
Best scoring offense conference ranking over last five years: First (2008).
Worst scoring offense conference ranking over last five years: Ninth (2006 and 2010).
Returning starters: QB Rob Bolden, QB Matt McGloin, FB Joe Suhey, WR Derek Moye, WR Justin Brown, WR Devon Smith, TE Garry Gilliam, OL Quinn Barham, OL Johnnie Troutman, OL Chimaeze Okoli.
Open Positions: RB, OL.
Offensive Breakdown
Penn State runs multiple offenses depending upon their personnel.
When they have a traditional pro-style quarterback, they tend to run a pro-style offense. When they have a more versatile, dual-threat quarterback, they go with the Spread HD. Regardless which offense they employ, PSU is a run-first team.
As dominant Penn State defenses are the norm (last year being the exception), the difference between an average PSU team and a double-digit-win PSU team has generally been the offense.
Over the last 10 years, the most efficient Penn State offenses (and thus, the most successful Penn State teams) have had a dual-threat quarterback under center.
Specifically, I am referring to Michael Robinson in 2005 (though the 2005 offense did not yet employ the Spread HD) and Daryll Clark in 2008-09. The combined record of those three teams was 33-5. Their average PPG was 34.05.
By comparison, the 2006-07 teams had a pocket passer (Anthony Morelli) as quarterback. Those teams went 18-8 and averaged 26.3 PPG.
I would also include the 2001-2004 teams, which employed a pocket quarterback (Zack Mills), but, by and large, those offenses were so bad and antiquated that it would be unfair to include them in this comparison.
Quarterbacks
Heading into 2010, Penn State had a quarterback competition. The aforementioned Daryll Clark had graduated; the job seemed to be between sophomores Kevin Newsome and Matt McGloin, and true freshman Paul Jones (who enrolled a semester early to participate in spring practice).
Then, spring practices turned to summer practices and true freshman Rob Bolden—who hadn't enrolled early—was rumored to be the most impressive of the candidates.
Come September 4, it was indeed Bolden who started the season under center.
Considering his lack of experience, he did fairly well, but then he was injured against Minnesota, which opened the door for Matt McGloin. Bolden sat out the following week against Michigan. He came back against Northwestern, but saw limited snaps the rest of the way. Bolden didn't see the field in the final games of the season against Michigan State and Florida.
Unfortunately, McGloin was unimpressive in both games, throwing five interceptions in the Outback Bowl.
Then came the offseason and the transfer talk. I won't document the whole sordid story, as it is right here for the reader's approval. On top of that, Kevin Newsome also considered transferring, but thought better of it.
So, here we are. It is August; summer camp will be up and running within days, and Penn State still has a quarterback controversy.
Outside of the unlikely scenario that Newsome or now-redshirt freshman Paul Jones will jump over everybody, the starter will likely be Bolden or McGloin. In fact, Joe Paterno has said as much.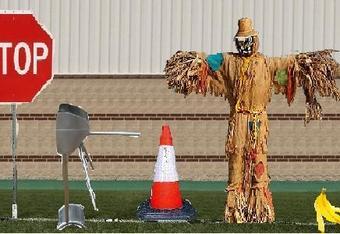 McGloin is an interesting story. He is a former walk-on, who had nary an FBS scholarship. Due to the lack of development of Newsome, McGloin found himself in the aforementioned quarterback battle at the beginning of 2010.
McGloin is a pocket quarterback and, as one can predict with a walk-on FBS quarterback, he is not blessed with speed, velocity, agility, size or arm strength. What he presumably has is determination, work ethic and a will to win.
On the other hand, Rob Bolden was heavily recruited. Rivals ranked him the second-best dual-threat quarterback of the 2010 class. He has size, speed, agility and a monster fastball (though his arm strength is average for an FBS quarterback).
With Bolden under center, the Spread HD can be fully implemented. With McGloin, it will be pro sets.
Of course, one has to question Bolden's character. After all, the public transfer fiasco was poorly handled. The fact that Bolden's father, and not Bolden, was the primary culprit is neither here nor there.
Meanwhile, McGloin's character is spotless.
My opinion is that there is a ceiling with McGloin under center, whereas Bolden can lead Penn State to greatness.
Either way, Joe Pa needs to make a decision—and soon. Along with the offensive line, quarterback play could be the only thing that stands between PSU and a trip to the inaugural Big Ten conference championship.
Big Ten Position Group Ranking: 6
Running Backs
Franco Harris. John Cappelletti. Curt Warner. D.J. Dozier. Blair Thomas. Ki-Jana Carter. Larry Johnson. These are some of the great running backs that Penn State has produced. 
And Evan Royster gained more yards than any of them.
Certainly, a large part of securing individual collegiate records is not only talent, but timing. None of the backs listed above was the undisputed starter for three full seasons. Still, Evan Royster's accomplishments are many and Penn State will have some big shoes to fill.
The two most likely candidates to receive the majority of the carries are true sophomore Silas Redd and senior Stephfon Green.
Green has seemingly been in Happy Valley forever. He came to Penn State as a lightly recruited defensive back out of New York. After redshirting in 2007, he popped up on the depth chart in 2008 behind Evan Royster.
He was fairly impressive as a freshman, carrying the ball 105 times for 578 yards and four touchdowns. However, ankle injuries kept knocking him out of action and limiting his effectiveness. Due to those injuries and the abilities of Redd, Green's role over the last season-and-a-half has diminished.
As a senior, this will be his last chance to shine.
Meanwhile, Redd came to Penn State as Rivals' fourth-best running back in the country in 2010. He burned his redshirt last year and was Royster's backup, logging 77 carries for 437 yards and two touchdowns.
He is a decidedly different back than Royster, who was patient, disciplined and steady. On the contrary, Redd is flashy and much more likely to break off a big play than Royster (or Green, for that matter). In effect, he is a perfect back for the Spread HD offense.
Needless to say, PSU runs the football enough that both Green and Redd can share carries. Nonetheless, historically, Joe Pa's teams have gone with one feature back and that is unlikely to change.
Filling out the depth chart are senior Brandon Beachum and sophomore Curtis Dukes. Beachum missed last season with an ACL tear, while Dukes will likely finish his career backing up Redd.
Senior and Penn State legacy Joe Suhey will be the starter at the least glorious position on the modern football field—fullback.
This will be Suhey's third year as a starter. He has served in the traditional modern fullback role—battering ram—and been a quality receiver. In his career, he has 38 receptions for 376 yards.
Behind Suhey is another Penn State legacy, junior Mike Zordich. To say that PSU football is in the blood of the fullbacks is an understatement.
In closing, the fullback position is in good hands, but the tailback position will be a battle. Nevertheless, this is not like the quarterback competition. The coaches don't have to decide on a starter as soon as possible. In this case, having Redd and Green push each other will likely only improve their effectiveness.
Big Ten Position Group Ranking: 6
Wide Receivers/Tight Ends
Penn State returns all but three players that caught a pass in 2010. Those three missing players are notable, but overall PSU will have a very solid receiving corps.
The top returning receiver is senior Derek Moye. Moye has led Penn State in receptions, yards and yards-per-catch for both of the last two seasons. At 6'5", he is the type of receiver that a quarterback looks for when he gets in trouble.
The one complaint against Moye is that he tends to disappear in big games (though that could be said for the entire Penn State offense for the last two seasons). Over the last two seasons, he has played seven games against Top 20 defenses. In those games, he has accumulated 19 receptions, 260 yards and two touchdowns. If he is going to be a big play receiver, he has to step up against big-time defenses.
The second receiver is junior Justin Brown. Brown is another big body at 6'3", 215 lbs. He is solid, if unspectacular. Last year, he had 33 receptions, 452 yards and one touchdown.
Finally, junior Devon Smith is the third receiver. He is small (5'7"), but fast. He will likely double as the punt returner. Last season, Smith had 27 catches for 363 yards and one touchdown.
After the top three, the receiving corps is talented but unproven. The fourth man, who might have pushed for more playing time, was sophomore Curtis Drake. However, he broke his leg for the second year in a row. Last year, he missed the entire season. This year, he might miss the entire season again, though he has different ideas.
The rest of the depth chart will be filled out with sophomores Brandon Moseby-Felder, Christian Kuntz and Shawney Kersey. Between the three of them, they have four career receptions to their credit.
At tight end, Penn State has a lot of young players that have yet to distinguish themselves.
Last season, Garry Gilliam began the season as the starter before tearing his ACL in the Big Ten opener. He is a sophomore now, but it remains to be seen if he will be healthy enough to play in 2011.
When Gilliam went down, the door opened up for true freshman Kevin Haplea, who likely wasn't ready to receive prime-time snaps.
Combined, Gilliam and Haplea had four catches in 2010.
Both Gilliam and Haplea were essentially replacing now-senior Andrew Szczerba, who was the probable starter, but back troubles kept him out of the regular rotation. Those same back troubles were around this spring. As back troubles are a tricky business, one can only guess if he'll be able to contribute with any regularity. If he can, then he will be one of the top two tight ends.
If not, then Haplea or Gilliam (if he is healthy) should step in and take over the starting role. Both will be much improved this season, though health and, in effect, depth will be an issue.
If Penn State has to dig into the roster, then they will play sophomore and former offensive lineman Nate Cadogan and junior walk-on J.D. Mason.
Overall, PSU has a nice corps of starting pass catchers. However, depth could be a problem, especially where it concerns the tight ends.
Big Ten Position Group Ranking: 4
Offensive Line
Penn State has had an offensive line problem for the past two seasons. That offensive line problem will continue into summer camp and, along with the quarterback situation, will be the Nits' most urgent problem.
Following the 2008 campaign, the offensive line play has been marred by inconsistency.
In 2009, they had the second-best team YPC in the Big Ten. However, they were seventh-best against ranked teams.
They also had the second-best team passer efficiency rating in the conference. Against ranked teams, they were 10th.
There were many contributing factors to this, including quarterback, running back and receiver play, in addition to play calling. However, the single biggest contributing factor was a line that, according to blackshoediaries.com, at times resembled a stop sign, turnstile, traffic cone, scarecrow and banana peel.
Moving forward to 2010, the Nits had a lot of problems, so it's difficult to put a huge amount of blame on an inconsistent line.
Penn State had the eighth-best rushing team in the conference; they were seventh-best against ranked foes. The passing offense also seemed to play "up" to ranked foes. All of that hardly matters when you consider that they lost every game they played against ranked opponents and only averaged 13 PPG in those games. But again, you can't entirely blame the line for that, though the line didn't help.
Moving forward, this year's line has the second-fewest returning starts in the Big Ten.
It is difficult to project who will be starting on September 4, but following spring practice, the starting five was as follows (from left to right): senior Quinn Barham, senior Johnnie Troutman, junior Matt Stankiewitch, sophomore John Urschel and senior Chima Okoli.
Other players that will compete for playing time include senior DeOn'tae Pannell, junior Mike Farrell and sophomores Eric Shrive and Ty Howie. 
A number of other freshmen and sophomores fill out the depth chart, but if Penn State winds up digging that deeply into their roster, then either an underclassman really stepped up, or one of the front-runners for the job fell on his face.
About the only players that I would confidently pencil in as starters are Barham and Okoli. 2010 was the first year starting for both of them and they performed fairly well. Barham started all 13 games and Okoli became the starter after Lou Eliades went down in the fourth game.
As established starters and seniors, they will need to be the leaders on this inexperienced offensive line.
Paterno has heaped praise on his bookend tackles, but his praise for the rest of his line has been sparse to non-existent. According to Paterno, "I don't know what to tell you. I mean, we don't have the first thing on the offensive line right now. We've got a couple good tackles...Stankiewitch hasn't played much at center. We don't have any depth there. We don't have a good solid first string offensive line yet."
Needless to say, that is hardly confidence-inspiring, especially given the Nits' recent struggles on the line.
Of the players competing for the open positions, most of the players have some—generally spotty—experience.
Troutman started multiple games in 2009, as well as the last 11 games of 2010. He has all the talent and all of the inconsistency in the world. He also has a bit of a history with boneheadedness in the form of wacky weed and a recent DUI. In the end, he may be buried too far in Joe Pa's dog house to come out and play this season.
Stankiewitch had two starts in 2009, but as Paterno said, he has mostly played guard. This spring was his first time playing center.
Pannell came in and competed as a true freshman in 2008. He became a starter as a sophomore, but inconsistency hurt him. Last year, he showed up to camp out of shape and played sparingly after starting the first two games. Now, Pannell is a senior and it will be his last time to showcase the promise he showed as a freshman.
Farrell started one game in 2010 in relief for an injured Okoli. Urschel started against Indiana in 2010.
Neither Shrive nor Howie have any notable experience to speak of.
In 2011, the quarterback will be the difference between a successful offense and a dud. However, the offensive line might be the difference between a successful quarterback and mediocrity.
Big Ten Position Group Ranking: 9 
Be sure to check out past installments of Big Ten Breakdown, beginning with the most recent, the Northwestern Wildcats.