Arsenal Transfer News: Stick to Your Guns, Arsene; Summer Simmers for Wenger
July 18, 2011
Clive Mason/Getty Images
Summer 2011-2012 for Arsene Wenger and his squad may prove to be the most decisive yet. Forever on the cusp of greatness, Wenger has some big decisions regarding who stays, who goes and who is coming in to grab the team by the scruff of the neck and elevate them to the titles they deserve.
As everyone following the back pages knows, Arsenal's summer so far has been dominated by two sagas: Cesc Fabregas' proposed move to Barcelona and Samir Nasri's flirtations with both sides of Manchester as a result of not signing a new contract with the Gunners.
The ubiquitous nature of these rumours has frustrated fans, especially Fabregas', but no one can be more frustrated by it than Wenger. Xavi's inappropriate comments over the situation provoked an outburst from the manager and rightly so.
It's about time there was a clear statement from Fabregas himself stating his intentions. Wenger has done all he can, but he can't say anything to stop the speculation until Fabregas does himself.
I for one am leaning towards the sentiments of Lee Dixon, who beautifully summed up his opinion in a tweet: "If you don't wanna wear the badge with pride and integrity, you can f@*k off."
The magic word here is loyalty.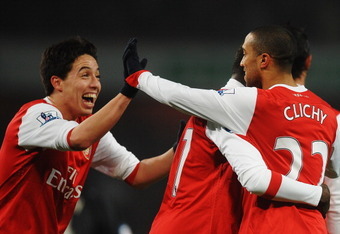 Laurence Griffiths/Getty Images
This is something which I feel Wenger is searching for. He doesn't want a player who may decide to quit a couple of years down the line once Wenger has converted him to a world-class international. He wants players like Gervinho, who announced that signing for Arsenal was a dream come true. Whilst the true feelings of a player are never reflected in the media, you'd expect most players to possess the morality and intellect to know that what they say may come to haunt them unless they truly mean what they say.
Gael Clichy has been the victim of this. He was quoted as saying in the Daily Mail:
"I really believe that if you are a player who thinks only about money, then you could end up at Manchester City."
Do Arsenal want to be affiliated with such fickle players like the French fullback?
This is where Wenger has to stick to his principles and continue the good work he has been doing.  The beautiful game otherwise will be tainted by too many filthy rich clubs and their greedy players. Clubs should be cultivating their squads by unearthing talent from their academies, promoting loyalty, rewarding allegiance and condemning selfish greed.
This is a slow process. But it is a process that will undoubtedly pay huge dividends when the end result comes to fruition. Patience is all that is required.
Of course, Wenger isn't without his faults. One of the main problems fans have with him is that he seems reluctant to let go of certain members of the squad who just haven't shown their worth. Nicklas Bendtner, Manuel Almunia, Denilson Pereira Neves and Abou Diaby—to name a few—are all guilty of this.
Yet he does not cash in on them and either promote the reserves to give them a chance or—the preferred option—spend the money on better players.
The flip side to this, though, is that Wenger should be applauded for keeping faith in these players, giving them confidence to go and out prove that their manager was right in doing so. Unfortunately this hasn't been the case, and surely Wenger must realise that now is the time to let them move on. There are only so many chances a player can waste.
It remains to be seen who else Wenger has targeted to bolster the squad, but we can trust him to do what is best for Arsenal FC.