Brad Friedel Wishes Nelson Mandela Happy Birthday as Spurs Prepare for Pirates
July 18, 2011
Gallo Images/Getty Images
Brad Friedel, the ageless American goalkeeper, wished Nelson Mandela a very happy 93rd birthday yesterday before engaging in the usual prematch verbals in the build-up to tonight's clash between Tottenham Hotspur and South African champions Orlando Pirates in Nelspruit.
Asked to give a message to the camera by the South African Broadcasting Corporation cameras in a quiet corner of the luxurious Palazzo Hotel next to Montecasino—South Africa's answer to Las Vegas—the 40-year-old didn't hesitate. He rarely does.
In South Africa for the first time, on the date set aside as Mandela Day by the United Nations, he said simply: "Congratulations, Mr Mandela, on your 93rd birthday. Everyone at Tottenham Hotspur wishes you well."
And he remembered another South African luminary, too. He played with former Kaizer Chiefs legend Doc Khumalo at Columbus Crew in the late 90s and was quick to ask after his old friend.
It's the mark of the man that he is so calm in front of potentially awkward camera shots and that he knew how to handle the latest Madiba landmark, as he has handled tricky shots 82 times between the sticks for the United States, not to mention 426 games for Liverpool, Blackburn Rovers and Aston Villa.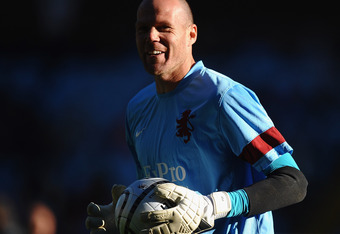 Laurence Griffiths/Getty Images
Now retired internationally—he missed out on the USA's World Cup challenge in South Africa last year—Friedel explained his offseason move to Tottenham easily:
"After all those years at Blackburn I made the move to Villa but my contract was expiring and when Harry Redknapp made an offer, I took it.

"It was easy. They're a good club, going places, with a great squad. The older you get, the easier it is to fit into different atmospheres.

"I've found the Tottenham changing room very easy to come into, the players seem very genuine and they've made me very welcome. It's a great group of lads, a great atmosphere and the camaraderie between the players is very good."  
But Friedel—left on the bench for Tottenham's tour-opening 1-0 loss against Chiefs at Polokwane on Saturday—finds himself down the pecking order, behind Brazilian No 1. Heurelho Gomes and former Chelsea stopper Carlo Cudicini, the Italian who once offered to play for England.
So he's happy to be No. 3 at White Hart Lane? In a word, "No." He said firmly, bald head gleaming in the African winter sun:
"I'll be fighting for the number one spot with Carlo and Gomes. It's friendly rivalry but it's real. I will work to be No 1.

"The manager sees us train. He decides who to pick. I won't be taking it easy at Spurs. I'll be that was as long as my body holds out... I know that will be sooner rather than later, but that's how it is. This is no holiday."
Nobody in a white shirt will be taking a holiday over the next five days in South Africa, according to boss Redknapp. After treble-winners Pirates at the Mbombela Stadium tonight, Spurs go to Ellis Park in nearby Johannesburg on Saturday to play the winners of the Orlando Pirates vs. Kaiser Chiefs Soweto derby showdown in Port Elizabeth on Thursday.
Friedel, an All-State basketball player in his youth, confesses: "It's good preseason work for us. We won't be taking it easy. It's a tough season ahead. We didn't quite make the Champions League last season, I'll leave it to the manager to say what our aims are this season, but for me, every game, every result is important."
Though he hasn't seen enough of South African teammates Steven Pienaar or Bongani Khumalo to pass judgement, Friedel, aware teammate Pienaar faces his boyhood favourites tonight, insists: "You don't win any awards in preseason, but you need to get yourself ready, get your sharpness up."
Neal Collins is a Featured Columnist for Bleacher Report. All quotes were obtained first-hand.
Who is Neal Collins (www.twitter.com/nealcol)? See www.nealcollins.co.uk.