Al Jefferson for Andre Iguodala: Trade Made in Heaven
February 22, 2017
Philadelphia 76ers Status Quo
The Philadelphia 76ers have been stuck in a rut since 2003. That was the last year they made it out of the first round of the playoffs, on the back of Allen Iverson.
Since then, they have had three playoff berths over the span of 11 seasons, all ending in first-round defeats. This year. however, may have signaled a turnaround, with a promising young squad brimming with talent. 
Problems remain, however, with Andre Iguodala not quite living up to the expectations set out for him and with Philadelphia's top scorer, Elton Brand, getting older by the second.
While they have a handful of young, talented guards and wings on the roster, the 76ers also lack a strong center to anchor them in a playoff run. Their two main options, Marreese Speights and Spencer Hawes, have failed to show much improvement over past seasons.
Utah Jazz Status Quo
The Utah Jazz have a similar problem. A perennial playoff team, the Jazz missed the playoffs for the first time since 2006 after losing their Head Coach Jerry Sloan and trading franchise point guard Deron Williams to the New Jersey Nets.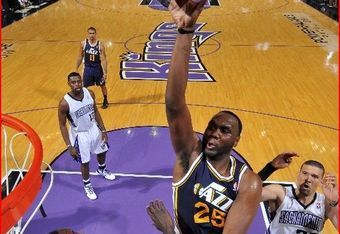 The Jazz have reason to be optimistic, however, as the have one of the youngest rosters in the league, filled with potential. Except most of that potential remains primarily in the power forward and center positions, with Enes Kanter, Derrick Favors, Paul Millsap, Al Jefferson and Mehmet Okur all competing for minutes.
The Jazz have to get their young players minutes while still keeping their proven veterans happy. The Jazz's main problem lies on the wing, however, where they lack rebounding, defense and playmakers.
Both teams' problems can be resolved with a simple trade that can turn two struggling squads into contenders:
Philadelphia Receives:
Al Jefferson
2012 First Round pick (from Minnesota)
Utah Receives:
Andre Iguodala
How it Benefits Philadelphia
The Sixers need some talent in their frontcourt that also has youth, because Brand is not getting any younger or any better. Jefferson would be the perfect fit. Jefferson's strengths are Philadelphia's weaknesses and Jefferson's weaknesses are Philadelphia's strengths.
Philadelphia is a strong defensive team who lacks a real scoring presence, which Jefferson can provide with ease. He can get 20 and 10 any given night and is easily capable of 24 and 11 in the right environment. He would be a huge improvement from both Hawes and Speights, and allows them to fit more soundly into a reserve role.
Where Jefferson struggles is on defense, but the Sixers wouldn't lose much as neither of their previous centers were premier defenders. What Jefferson does bring on the defensive end is shot blocking, a category that Philadelphia found themselves close to the bottom of the league in.
While moving Iguodala is hard, the 76ers have enough young talent on the wings to fill in for him, with Evan Turner, Thaddeus Young, and Jodie Meeks coming into their own. Plus, the Timberwolves would give them a nice lottery pick in a deep draft to replace any voids that Iguodala might leave.
This trade is also a better option for Philadelphia than other rumors that have been floating around. Trading for Lamar Odom would force either Brand or Odom to play the five, which doesn't suit either of them well.
It also puts a time limit on Philadelphia's success as Odom and Brand will only be able to produce for a few more years. A trade for Kaman would have similar difficulties, plus the added risk of continued injuries.
A straight up trade for Monta Ellis would surely solve the 76ers offensive problems but would create disruption on the roster. Ellis would take away playing time for Philadelphia's young talent that would play better D.
It would disrupt defensive schemes more than Jefferson because of the defensive talent at that position they could otherwise play.
How it Benefits Utah
The Jazz found themselves near the bottom of the league in both defense and rebounding, a rarity in Utah. Millsap and Jefferson combined for the third highest rebounding duo in the league, so the problem was not the frontcourt.
With Kirilenko struggling with injuries, and past his prime, the Jazz did not receive the rebounding help from the 3 spot they have in past years, which Iguodala would be the perfect solution for. He also would provide the defense the Jazz have missed since AK47 passed his prime.
While Jefferson will be missed on offense, Iguodala will help fill the void, as well as allowing Kanter to exhibit his heralded offensive game. Okur is still in good enough shape to play starting minutes if Kanter shows he needs time to develop. It also helps add some much needed perimeter shooting for the Jazz.
The trade also allows them to keep fan favorite Paul Millsap, who has a better value contract and is more valuable on defense. Iguodala's passing abilities also help disguise the drop off in talent between Williams and Harris. It mitigates the need Utah felt in finding a better franchise point by adding another great distributor.
Giving the draft pick to Philadelphia is well worth it for the Jazz, because although it is a protected lottery pick, the Jazz have already acquired a lot of young talent the past two years and now need to focus on developing them into impact players. Plus they still maintain an even high protected pick from Golden State.