Ben Roethlisberger: Why James Harrison Was Right With Manning Comparison
July 20, 2011
Joe Robbins/Getty Images
Recently, James Harrison stated in an interview that Ben Roethlisberger should stop acting like he was Peyton Manning.
This was in reference to the fact that Big Ben threw two costly interceptions in the Super Bowl, both of which were questionable throws.
This did not sit well with many media experts who cried that Roethlisberger was better than Manning and that Manning should aspire to be more like Big Ben.
"Look at the rings" cried the legions of Pittsburgh fans and their media friends. "Roethlesberger has more he must be better."
Well, actually no. In this case the Big Ben lovers are wrong. While Roethlisberger is a fine quarterback he isn't anywhere near as good as Manning. 
The rings don't tell the whole story. How Big Ben has a better defense, better coaching and a strong run game to lean on.
In short, Roethlisberger has a better team. Don't believe me? OK, here is a test. Who would you take, Rashard Mendenhall or Joesph Addai, James Harrison or Clint Sessions, Troy Polamalu or Antoine Bethea?
Chances are you selected the Steeler's player and it's not just at those positions either. In fact the only position I would say the Colts have an edge at is receiver, but the Steelers aren't shabby there either.
So we can all agree that the Steelers are a all around more talented team and have been for the last few years, right? We can also agree that Super Bowls are won by a team.
So if the Steelers are a better team, actually much better team, than the Colts then they should win more and have a better shot at winning the Super Bowl.
This is not a knock on Ben, he has helped his team win their two Super Bowls during his tenure, but he hasn't been the driving force. 
Let's look at his Superbowl performances in three games his combined stats are 55 completions on 81 attempts for 642 yards with three touchdowns and five interceptions.
Twice he has thrown two interceptions, never has he had more touchdowns than interceptions, and his 22.6 quarterback rating in Super Bowl XL was the worst by a winning quarterback ever.
In his favor he did lead his team to a game winning touchdown in Superbowl XLIII, but in Super Bowl XLV when he tried to mount a game winning drive he failed to get a first down and turned the ball over on downs.
Not very impressive for a guy who's legacy has been built on clutch, efficiency, and winning Super Bowls. 
Now let's look at Manning.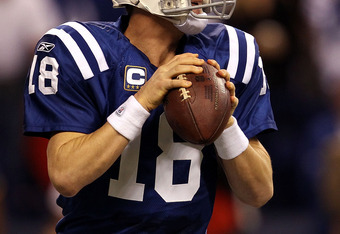 Jonathan Daniel/Getty Images
In two Super Bowls his stats are 56 completions on 83 attempts for 580 yards with two touchdowns and two interceptions. Unlike Big Ben he has been named Super Bowl MVP.
Like Roethlisberger, Manning also lost his team a Super Bowl on a late-game drive.
Down by a touchdown, Manning threw a pass intended for Reggie Wayne that was intercepted by Tracy Porter who returned it for a touchdown that for all intents and purposes ensured the win for the Saints. 
Here's my opinion on this: Even though Manning played in one less Super Bowl than Roethlisberger he had better stats, he was more efficient, and he was the reason his teams played well.
Except for Super Bowl XLIII Roethlisberger has ranged from sup par to awful in his Super Bowl appearances and even in XLIII he wasn't off the charts.
So even though Roethlisberger has a better team that can reach and win more Super Bowls, Manning plays better when he actually gets his less talented team there.
Their numbers in the rest of the playoffs are similar as well.
Manning: 62.2 completion percentage, 4,808 yards, 27 touchdowns and 17 interceptions.
Roethlisberger: 61.2 completion percentage, 2,861 yards, 16 touchdowns and 12 interceptions.
Both have pretty good numbers and both have had good  and bad games in the playoffs. It's just that it seems the rest of the Steelers find a way to in spite of Roethlisberger while the Colts lose if Manning is off.
Now regular season stats and accolades.
Ben Roethlisberger: 63.1 completion percentage, 22,502 yards, 144 touchdowns, 86 interceptions, rookie of the year (2004), one Pro Bowl.
Peyton Manning: 64.8 completion percentage, 54,806, 457 touchdowns, 198 interceptions, 11 Pro Bowls, six-time AFC player of the year, eight-time All-Pro, four-time NFL MVP.
Yeah, Manning kind of blows Big Ben out of the water in that category.
So if we look past the shallow "number of rings" argument it seems Manning is a far better quarterback. Not that Roethlisberger is bad, he is actually very good and one of the top five quarterbacks right now, but he just isn't anywhere near Manning.
Manning is just as good in the playoffs, better in Super Bowls, and a ton better in the regular season. All the stats point to Peyton as the better player, and honestly, I have to say he is.