Liverpool FC: The Alberto Aquilani Transfer Speculation Has to Stop
July 21, 2011
Valerio Pennicino/Getty Images
If I had a $5 bill for every time someone has said that Alberto Aquilani should be sold, I would be able to buy out his contract myself and employ him as a butler.
We all know how packed Liverpool's central midfield is crowded at the moment, but it seems that a very important fact is being ignored. In order to sell anything, someone has to have the means to purchase it.
The list of players that haven't made the grade at Anfield is a long one, but since the Italian midfielder is the most expensive of the lot, he has received the lion's share of headlines.
After returning to Liverpool following a loan spell at Juventus, Aquilani stated his desire to get to work and prove himself in England.
We know that Kenny Dalglish has already made up his mind on what he wants his team to look like, and this summer he has gone about his business as quickly as possible to secure all his targets.
There are comments abound on how we all want Liverpool to look like when the 2011/2012 Premier League season kicks off. Juan Mata running down one of our flanks is one of the more fanciful daydreams, and I'd like to highlight this in particular.
With Dalglish at the reigns, there is a greater likelihood of John Terry lacing up in the Anfield dressing room than the Spaniard arriving.
The purchases of Jordan Henderson, Charlie Adam and Stewart Downing have shown that Kenny's eye is on proven Premier League performers that are relatively young and British.
He's not going to break the bank to bring in a light-weight schemer that will need time to adjust and could turn out to be more Albert Riera than David Silva.
Simply put, Aquilani isn't going anywhere unless someone comes up with the cash for his transfer fee and more importantly the means to meet his wage demands.
Juventus couldn't meet the asking price, and it looks like Fiorentina's pockets aren't deep enough to pay his reported £70,000 per-week salary.
(On a quick side-note, apparently Joe Cole makes £90,000 per-week. Are you kidding me?)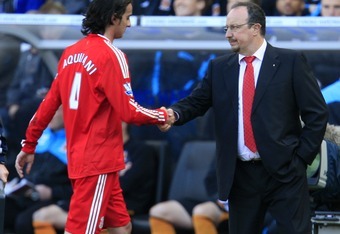 Jed Leicester/Getty Images
Instead of sulking and falling into a depression, Aquilani has come through the beginning of preseason as one of Liverpool's more impressive performers.
The player himself has stated his desire to fight for a place in the first team and prove himself in England. His agent has gone on the record with hints of a stay in England, and Dalglish rates him.
And then there's words from our enigmatic owner:
"One missing link last year: Acquilani (sic)"
Everyone at Liverpool Football Club is aware that as our current situation stands, if a concrete offer somewhere north of £11 million came in for Alberto Aquilani, it would be a done deal.
But there has been nothing in Damien Comolli's inbox that suggests this. So please Liverpool fans, can we cut down on the calls for his sale and focus on the positives at this point.
Liverpool's central midfield is in better shape than Manchester United's.
To challenge for honours in the modern game you need a good squad, not just a solid starting XI. One more talented midfielder can't hurt.
When we play Wigan at the DW stadium and it's 0-0 in the 70th minute, we need someone that can come in and thread the needle through a 10-man defence (because Joe Cole can't).
This is hilarious.
Just like Lucas Leiva before him, Aquilani has suffered from the, "You're just not Xabi Alonso" syndrome, which has unfairly inflated supporter's expectations based on the departure of our favourite No. 14 to the Bernabeau.
We all know the stories of how "cold" or removed Benitez was towards his staff, and we will probably never know why he bought an injured player then never played the Italian once he was match fit.
What we do know is that Aquilani is fit, he's had a stellar preseason and in all probability, he isn't going anywhere this summer.
I'm not saying we should all go out and buy an Aquilani kit (not even available through the official LFC store anyway), but we should calling for him to be sold.
As a forward-sitting semi "No. 10", Aquilani could profit from the distribution of Adam/Raul Meireles/Steven Gerrard and provide flicks and feints for Luis Suarez and Andy Carroll to play off of.
Kenny Dalglish has the means to get the best out of his players, and with the knowledge and support Steve Clarke and Kevin Keen, Aquilani could be a valuable asset in our drive to get back into the Champions League and win some trophies!