Yankees Trade Rumors: Why the New York Yankees Should Look at White Sox Pitching
July 21, 2011
Jamie Squire/Getty Images
The Chicago White Sox currently have a 47-51 record.  Realistically, they have absolutely no chance in the AL Wild Card, as they trail the New York Yankees by 11.5 games.  While the White Sox are 4.5 games behind the Cleveland Indians and Detroit Tigers in the AL Central, winning the division seems unlikely, as well.
Exhibit A: The Minnesota Twins. The Twins have enjoyed a nice stretch. Minnesota currently trails the White Sox by a half of a game.  The Twins are 14-6 over the past 20 games, while the White Sox are 9-11 over the past 20 games.  These two teams are going in different directions, so I can easily see Minnesota leap-frogging Chicago in the AL Central standings.  If this can happen before the trade deadline, Chicago might move to sell some players for value.
It would be very tough for the White Sox to get ahead of three other teams in the division.  Even if Chicago has a decent stretch ahead, it would be very tough for the team to reach first place with so many unknown variables.  For example, it might not matter if Chicago swept Detroit in a weekend series, as the Twins and Indians could have swept or won their series as well.  It would be tough for Chicago to make up those 4.5 games on a first place team, let alone three potential first place teams.
It does not look like the New York Yankees have many options on the trade market for a good starting pitcher.  They may be pleased with Bartolo Colon and Freddy Garcia after their last two starts, but the team needs to take a serious look at options that the White Sox might be able to offer.  If they do make a move, they would then be able to use Colon or Garcia as experienced depth options, in an unfortunate case of injury.
Option one on the White Sox pitching staff is John Danks. This 26 year old might not be expendable right now, but he is definitely worth a try.  After a dull start to the season, Danks has rebounded, posting a 0.88 ERA in his last five starts (30.2 innings).  This brought his season ERA from 5.00 to 3.92.  After an amazing 2008 season, in which he posted a 3.32 ERA in 195.0 innings and 33 starts, Danks has posted a 3.77 and 3.72 ERA in 2009 and 2010 with over 200 innings in both seasons.  He has shown the ability to give his team effective innings, so the Yankees need to see how they could get this guy.
Edwin Jackson is always a guy that I thought of as being overrated. Whenever I imagined his pitching, I always went back to his Tampa Bay Rays days, when he had a 5.76 ERA in 2007.  But, after looking at his stats for the White Sox, it has become obvious that Jackson has grown into a much different type of pitcher.  In 2010, with 75.0 innings, he had a 3.24 ERA with the White Sox.  This year, Jackson has a 3.97 ERA and is on pace to throw over 200 innings this year. It might be worthwhile for the Yankees to inquire about Jackson.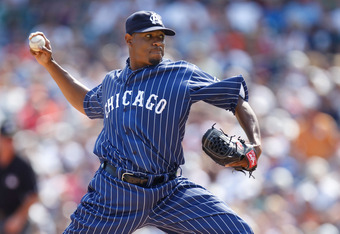 Gregory Shamus/Getty Images
At age 32, Mark Buehrle has shown some inconsistencies in past seasons. He is not the same pitcher he was in 2005, but he has surged this season. Buehrle has a 3.38 ERA in 130 innings. And he's an impending free agent.  Given Buehrle's struggles in 2010, he's pitched as well as anyone could have expected.  He is enticing for a team like the Yankees, who are looking for a rental player and do not want to commit too much, in terms of years, money, and prospects.
I like a match-up with the Chicago White Sox because the team seems to be going nowhere right now and is barely treading water.
I do not necessarily think a deal is going to happen, mainly because Kenny Williams has never been a seller as the GM of the White Sox, even after its horrible 2007 season.
In terms of prospects, it would take the most to get John Danks, a moderate amount for Edwin Jackson, and the least amount for Buehrle.  Here is what I think could potentially happen: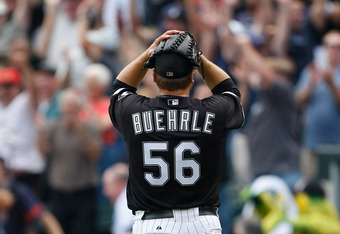 Scott Boehm/Getty Images
White Sox Acquire:
Jesus Montero
Hector Noesi
Adam Warren and/or David Phelps
Yankees Acquire:
John Danks
--------------------------------------------------------------
White Sox Acquire:
Hector Noesi
David Adams
Andrew Brackman
Yankees Acquire:
Edwin Jackson
---------------------------------------------------------------
White Sox Acquire: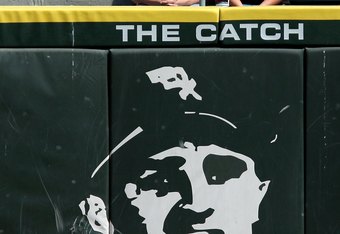 Jonathan Daniel/Getty Images
Hector Noesi
Andrew Brackman
Adam Warren or David Phelps
Yankees Acquire:
Mark Buehrle
I do not see any of these deals as very harming or draining to the farm system. They might not even be enough to acquire these pitchers, as Kenny Williams might not be very willing to sell.  Overall, the Yankees would have a good chance at retaining Jesus Montero and the Killer B's. Sorry, I do not regard Brackman as a Killer B.