Strikeforce: Dan Henderson vs. Fedor Emelianenko–Why Fedor Should Fear Hendo
July 22, 2011
The highly anticipated Strikeforce heavyweight matchup between two of MMA's legends will take place on Saturday, July 30, 2011 as Dan "Hendo" Henderson is set to face Fedor "The Last Emperor" Emelianenko.
Neither of these fighters has ever been knocked out and both possess heavy hands and are experienced, decorated and accomplished grapplers. This poses the question of how this fight will unfold.
Another big question is how Henderson will perform against the natural Russian heavyweight, being that he usually fights at middleweight and light heavyweight.
Originally, this fight was scheduled as a catch-weight of 220 lbs; Henderson said he would fight at or about 206 lbs, forcing Emelianenko to drop 10 lbs and cut from his natural weight of 230 lbs down to 220 lbs.
Emelianenko says that he is in great shape for this fight and should weigh in at or close to 100 kg or about 220 lbs making this fight a bit more even in the weight-class department.
Personally, I think it is going to help improve his overall athletic performance. Emelianenko's size is very deceiving as he moves like a welterweight and hits like a Mack truck.
Henderson will only gain a pound or two to make heavyweight and will "drink lots of water" to do so. He is also the naturally larger of the two and plans to use his superior Greco-Roman wrestling positioning to control Emelianenko on their feet or on the ground, wherever the fight goes.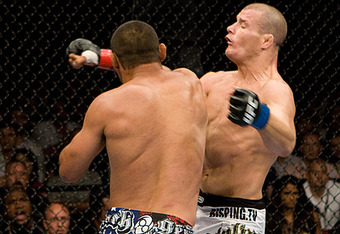 During a media conference call earlier today, Henderson said that moving up to 206 was not so much a decision on his part as it's tough for him to gain weight.
"I don't believe that that was a decision at all. It's tough for me to gain weight. I did plenty of weight-lifting for this and plenty of eating so, I don't know what else I'm supposed to do. [Laughs]
"I'm not gonna you know, feel outmatched or small in there. I'm planning on going out there and not fighting right through the middle of his power and lifting his weight around, but at the same time be able to move him around."
Positioning is going to play a big part for "Hendo" in this fight as he looks to set up his big right hand, known as the "H-Bomb". Of course, knocking Emelianenko out is easier said than done and the same goes for Henderson.
Should Emelianenko fear the devastating "H-Bomb"? Henderson doesn't think so.
"I don't know if he fears me at all. He probably shouldn't if he's in there wanting to win."
"I think we both know that we're both dangerous and need to be careful out there, but I'm not afraid of him and I'm pretty sure he's probably not afraid of me."
While I agree with Henderson in regards to either fighter not being afraid of the other, he also stated a very real truth; they both should be careful.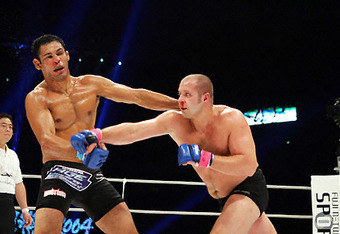 In his fairly recent fight with Fabricio Werdum, Emelianenko was not careful–in fact you could say that he was careless–and got caught in a basic, but perfectly executed triangle choke which forced "The Last Emperor" to tap at 1:09 in the first round.
According to Emelianenko, holding the heavyweight title is important to him and is something he hopes to achieve. What is most important to him though is to be a "master of the sport" and "to be at the top" of his game.
I think that if Emelianenko is at the top of his game, the heavyweight title should come fairly easy. However, in his fight before last he was submitted and while he hasn't been knocked out cold he did lose his last fight by TKO, making him more susceptible to being KO'd or TKO'd by Henderson.
This left many fans wondering if "The Last Emperor" was on his way to losing his throne. There was also talk of Emelianenko not fighting often enough or fighting quality opponents which led them to question whether or not he was worthy of his crown.
Henderson is definitely a worthy opponent and might just be the end of Emelianenko if he's not at the top of his game.
When asked if he believes that his talent is "God given", Emelianenko replied that it is a mixture of talent and hard work.
"Of course, I trained a considerable amount and I prepared and developed my strengths and talents as much as I could, but certainly I feel that God has blessed me with the ability to be successful in what I do and I believe that has a great deal to do with it as well."
Emelianenko is extremely humble; as is Henderson, but when they step into the cage it's all business.
What's next for Emelianenko if he doesn't pull this off? Only the future will tell.
"Right now I'm not thinking of any potential opponents in the future or wins or losses. I'm not thinking about what might be or who might be my opponent in the future. Right now I'm just thinking about this fight and after this fight we'll sit down and figure out what the next move is."
Losing two fights in a row has not affected Emelianenko's confidence in any way.
"It hasn't affected my confidence at all. If God has given us a certain path for my life, then I have to go down that path and feel confident about it."
If he loses, it may be back to the drawing board or it may be the end of the road for Emelianenko, at least inside of the Zuffa organization.
This is a win-win situation for Henderson should he be defeated by the Russian MMA royalty as he is still the Strikeforce light heavyweight champion. Should he win, he doesn't plan on using his victory to make his way back into the UFC; instead he would like to defend his belt once again.