Nebraska Cornhuskers 2011 Position Preview: Quarterbacks
July 22, 2011
Eric Francis/Getty Images
Over the next five weeks leading up to the start of the 2011 college football season, I will be taking a position by position look at the Nebraska Cornhuskers as they prepare for their first season in the Big Ten.
As all football discussions do, I am going to start with the quarterbacks.
Quarterback is one of the biggest question marks for Nebraska going into the upcoming season. It is also one of the most important positions if Nebraska wants to win the inaugural Big Ten Championship.
The first quarterback to be covered is Taylor Martinez.
Martinez was the first freshman to ever start a season opener at quarterback for the University of Nebraska. After a fast start, an ankle injury caused him to miss two starts in the second half of the season. In the postseason, he was disappointing in the Big 12 championship versus Oklahoma and in the Holiday Bowl versus Washington.
During the offseason, rumors of Martinez transferring surfaced after arguments with head coach Bo Pelini and Martinez's father became public. Despite these rumors, Martinez is returning to Nebraska for his sophomore season.
Throughout spring practices, Martinez took most of the reps with the first team offense. In the Red-White Nebraska Spring game, Martinez threw for 52 yards with four completions on 13 attempts with an interception. Bo Pelini has named him the initial starter for fall camps and for the season opener vs Chattanooga.
Martinez needs to play well in his sophomore season for Nebraska to be successful, but coming off a controversial offseason and an ankle injury, his play seems to be up in the air. If Taylor can recover from his injury and improve on his passing, the Husker offense should improve drastically from last year.
With junior signal-caller Cody Green choosing to transfer after being a backup for his first two seasons, the next quarterback in line is redshirt freshman Brion Carnes.
Last season, Brion Cranes, the nephew of former Nebraska great Tommie Frazier, ran the practice squad while redshirting. 
While sharing reps with Cody Green running the second team offense, Brion Carnes proved that he wasn't content with holding a clipboard. Many people believe that Green transferred after Carnes began to pass him as the second quarterback on the depth chart behind Martinez.
In the Red-White game, Carnes arguably performed better than any other quarterback. The freshman completed 11 of 15 passes for 173 yards and two touchdowns, including a touchdown pass for the white in the fourth quarter.
If Martinez doesn't perform as well as the coaching staff expects him to in preseason practices, don't be surprised if Carnes makes a push for the starting spot. Bo Pelini proved last year that he isn't afraid to start a freshman over a former starter. Irregardless, Brion Carnes looks to be a solid backup for the upcoming year.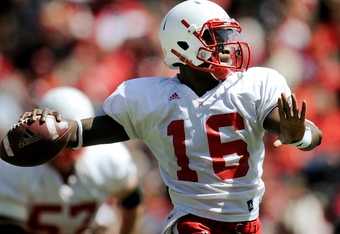 Now we moved to one of the most hyped recruits for the Big Red in recent memory, Bubba Starling.
As an incoming freshman, Bubba Starling has an important decision to make. After being drafted fifth in the MLB draft by the Kansas City Royals, he must choose whether to come play football for Nebraska or to go play professional baseball.
This decision has Husker fans on edge, wondering if they will ever see the 4-star quarterback prospect play in Memorial Stadium.
A point of optimism is that Starling has reported to offseason conditioning over the past couple of weeks. If he does report to play football for the Huskers in 2011, he may be given a shot at playing time because he could leave for baseball after any season.
Other notable quarterbacks on the roster include Nebraska product Ron Kellogg III and Jamal Turner, who was moved to receiver half way through the spring (and showed why in the spring game), but Turner may move back to quarterback at some point in his career.