2011 Copa America: Five Quick Thoughts on the Uruguay/Paraguay Final
July 24, 2011
Ian Walton/Getty Images
In a much unexpected and fascinating final, Uruguay beat Paraguay 3-0 in Argentina.
Here are a couple of early observations:
1. For an arguably defensive tournament, the final was a relatively fast-paced, wide-open game.
Paraguay came into the final without winning a single game, and Uruguay entered along with claims that they are apt to play an overly defensive style from time to time (with Luis Suarez and Diego Forlan as two of their forwards itching for counter-attacks, its a sensible approach), but a rightful handball, penalty appeal came within the first 10 minutes, and two of Uruguay's goals were scored in the first half.
The final was not quite the defensive, anti-football game some expected.
Paraguay surrendered the bulk of possession to the better skilled team, so Suarez and Forlan ran all over the field, and Paraguay looked for counters and long balls to equalize.
With the referee only calling the most atrocious of fouls (mostly committed by Uruguay), there was a good amount of offensive, attack-minded, free play.
Even with Uruguay up early and dominating the game, there was always a sense that Paraguay could find its way back into the game.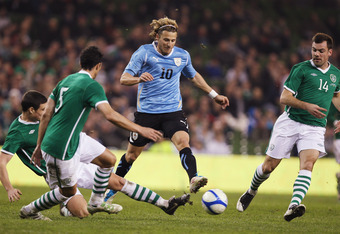 Ian Walton/Getty Images
Uruguay tired in the second half, and a Paraguayan shot barely missed the net because of a few Uruguayan goalkeeper fingertips and an unforgiving crossbar. With Uruguay struggling to put the game away and ceding more possession to Paraguay, the game never felt quite over until the 90th minute (and third goal for Uruguay).
Favorites Argentina and Brazil weren't needed in this final in order to offer an entertaining match.
2. It was a joy to watch a Uruguayan team in top form.
Spain isn't the only team that has bought into a style of play, tactics, player understanding and chemistry.
Uruguay executed its game plan to perfection. The entire team understands coach Tabarez's 4-3-3 tactics, defensive shape, and player roles.Their movement, both offensively and defensively was a marvel, and their success could not an over-abundance of individual skill collected on one national team.
For the final, Uruguay was an example of a team better than its parts, and a large part of that came from the players' understanding of the system they were expected to play and their individual roles in it.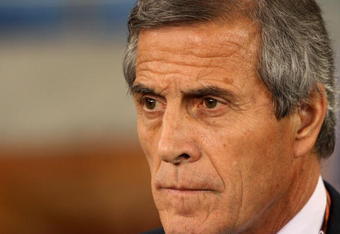 Doug Pensinger/Getty Images
The fact that all of these players don't come from only one or two teams (like Spain), underscores what a difficult feat the coach and team have accomplished. Other national team coaches should take note.
3. The Uruguayan defense plays a dangerous game.
Three yellow cards in the first half, another in the second, demonstrate the hard-nosed, biting and often times overly cynical, professional tackles Uruguayan midfielders employ; they walk a fine line.
But unlike a Dutch team that couldn't compete and resorted to fouling as a way to stop Spain, Uruguay's style of play comes from a high-pressure, high-lined defense, that complements the energy and desire of a team that wants to play their game. 
They recognize how susceptible the team is to counters, and they use the fouls appropriately. They keep the other team from gaining any sort of rhythm, and they protect a defense that can be exposed if they turn the ball over. Their defensive choices make sense.
Still, it's a style that earns yellow cards and suspensions, something a team with limits to its depth can't afford over the length of a tournament. The fact that its most important players were available for the final shows how much went right for this team.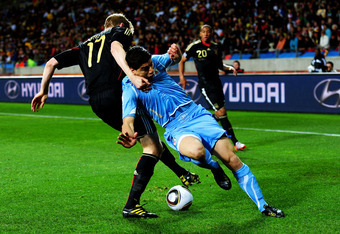 Laurence Griffiths/Getty Images
It's exactly what didn't go right for them last summer.
4. It's a shame Uruguay peaked at the 2011 Copa America and not at the 2010 World Cup, and it's unlikely they'll be able to repeat this performance in 2014.
So much of Uruguayan success hinges on the play of Diego Forlan, and to a lesser extent Suarez, Lugano, Pereira, and even substitute Cavani.   
By 2014, it's unlikely Forlan (now 32), will be the force he is now. There's little chance a player will rise that can fill his shoes by then (or for another generation). The same could be said for a number of players on this squad. In the International game, much like the Olympics, timing is everything. 
It's clear Luis Suarez needed one more season to come into his own, and the team as a whole needed just a little more time to perfect its game.
In particular, the midfield and defense realized they needed to take on more of the possession and distribution duties and not rely on Forlan to drop into the midfield to relieve pressure.
Last summer was a year too early, and that's unfortunate.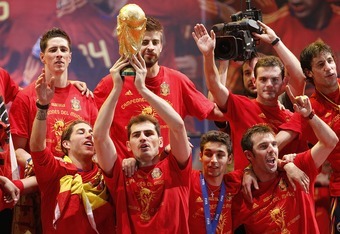 Angel Martinez/Getty Images
5. I want Spain and Uruguay to play in a game that counts, right now, with these teams.
It would either be a miserable display with both teams nullifying each other, or a game for the ages.
To be sure, it would be a lesson on how the right tactics, style of play and individual skill come together to win games.
Would the high-pressure, possession focused World Champion Spanish team dominate, or would the attack minded, equally high-pressure, offensive line for Uruguay keep the Spaniards honest?
Could the Uruguayan defense break up the Spanish attack, or would they break under Spanish pressure, earning two many cards to play their rough and tumble defensive approach?
Most would give the game to Spain, but I think it would be a closer contest than many could imagine. Both will play in 2013, but by then, there's little chance both teams will be the same.