How I Got My Wife to Love the New York Yankees and Major League Baseball
July 26, 2011
Andrew Burton/Getty Images
I grew up right outside the bright lights and big city of New York for 18 years of my life.  I remember watching Derek Jeter bust his face and bleed profusely just to make a play against the Red Sox, begging my parents to get Yankee tickets so I could see my favorite ballplayer, Don Mattingly, play before he retired in 1995, and of course, I remember the four World Series from 1996 to 2000. 
As you can tell, baseball, and in particular baseball in New York, has been a big part of my life for a long time.  However, something in my life happened recently and I knew changes would have to be made.
I got married.
Marriage is awesome, but my wife is far from a tomboy, and I knew I would have to make some efforts to get her into liking Major League Baseball, and loving the Yankees.  Here are some tips I would recommend:
1.       Establish a Story. 
My wife enjoys a good story, and every story has heroes and villains.  In my case, I play out the whole Red Sox-Yankees rivalry.  I point out how Kevin Youkilis holds the bat funny, and then she and I  agree to despise Youk as long as we shall live.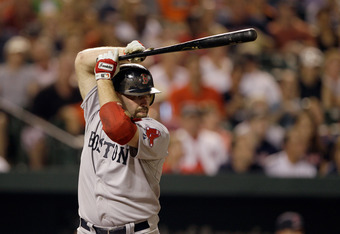 Rob Carr/Getty Images
I point out how Mariano Rivera is a legend worth the price of admission and that he does charity work, not only have I built Mo up, I've also effectively made Mo the hero.
2.       Keep an Eye Out for Likable Characters.
Last year, my wife and I watched the World Series together.  She noticed a long-haired pitcher that she probably mistook for the ball-boy or lead singer for the San Francisco Giants cover band of Nirvana. 
Whom she saw was Tim Lincecum, and she instantly saw him as the "tragic figure."  She has not forgotten Tim, and made us come home early from time spent with friends a few months ago to watch him pitch against the Cards on ESPN.  (Disclaimer:  I realize those friends may be reading this, our apologies)
3.       Point Out the Details. 
My wife is much more detail-oriented than I am.  She can recall every little detail of the first few conversations we had, I just remember that there was coffee involved. 
This played to my advantage when she asked me why I liked a game where "a guy throws a ball, and another guy swings a bat." 
Baseball purists know this is the furthest thing of the truth.  The conversation goes from sacrifice bunting, to pitching from the stretch vs. the windup, to knowing whether a pitcher should throw a curveball in the dirt and get the batter to chase, or blow him away with a high fastball. 
This has been highly effective as our conversations have gone from "Yankee Stadium is big" to "first base is open, do you walk him here?"
4.       Teach History. 
My wife wants to know how a steak got in our fridge, I am just rejoicing that's it's there.  With that being said, I have to establish history with my wife and explain the "why" behind baseball. 
Throughout the past few years I've talked about the 1994 Strike killing baseball in Montreal, Aaron Boone's ALCS winning home run in 2003, and why Derek Jeter getting 3,000 hits is important history. 
This helped over the past month as we said "bye, bye" to HGTV and "hello" to watching Derek Jeter chase 3,000.
Bachelors of the world, marriage is sacrifice, but with the right amount of work and effort on your part, you can enjoy baseball together.