2011 NFL Free Agency: Top 10 Available Running Backs
July 26, 2011
Streeter Lecka/Getty Images
Arian Foster could be on this list technically, but he's not going anywhere. After him, there are a slew of solid running backs available for the picking in this year's NFL Free Agency pool, yet there is still only a handful of true potential feature backs.
See which guys made our top 10 that will be looking to get a big payday as free agency opens up on Tuesday:
1. DeAngelo Williams (Carolina Panthers)
Carolina doesn't seem to be sold on giving him the franchise tag, but could give him the transition tag. He could get some decent money and a sure starting role if he is allowed to seek one. At this point it's a toss-up, although the Panthers have the option, so it's hard to imagine them letting such a talented running back walk away for nothing.
On the flip-side, Williams has been attached to the Miami Dolphins and Denver Broncos in rumors.
2. Ahmad Bradshaw (New York Giants)
Bradshaw is an excellent back who can do it all and is a home run threat anytime he touches the ball. However, fumble issues lost him playing time to Brandon Jacobs, and remain a mild concern for anyone interested in him. The Giants may pay him big money to stay, but he'll definitely garner a lot of interest.
3. Cedric Benson (Cincinnati Bengals)
Benson isn't the fastest of backs and dropped down to 3.5 yards per carry in 2010, but he's still a big bruiser that runs hard and can carry an offense. Because of his knocks, there's a great chance he's back in Cincinnati, although a team like Miami could lure him away.
4. Michael Bush (Oakland Raiders)
Bush is a bruiser with decent speed that truly has never been allowed to become a great running back. With Darren McFadden finally stepping up in 2010, Bush will look elsewhere for a starting role if the Raiders don't match his offer.
5. Mike Tolbert (RFA) (San Diego Chargers)
Tolbert is a big, bruising back with exceptional agility and speed for a man of his size. He's great in short yardage and near the end zone, as well. The Chargers have already made it known that they have no intentions of letting him go.
6. Joseph Addai (Indianapolis Colts)
Addai has never been the biggest or fastest running back, but he's always been Indy's "do it all" back, and he is exceptional on third downs, in the passing game, and is a very solid goal-line runner. He's not really an elite back anymore, but he still has the talent and tools to be an every down back. The emergence of Donald Brown and Mike Hart likely mean Addai will be playing elsewhere in 2011.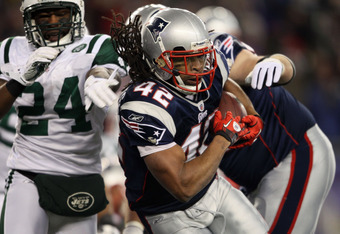 Elsa/Getty Images
7. BenJarvus Green-Ellis (RFA) (New England Patriots)
Green-Ellis has been a huge part of how the Patriots were able to change and balance their offense more ever since they got rid of Randy Moss. There's talk that they could opt to acquire a running back to pair with Danny Woodhead, but there's really no reason to. The Law Firm should stick in New England for 2011 and then some.
8. Jason Snelling (Atlanta Falcons)
Snelling isn't much to look at, but he's a smart, hard runner with soft hands and third down ability. There's a good chance he signs right back with Atlanta, but a team like Arizona or Detroit could use his tough running and talents as a receiver.
9. Willis McGahee (Baltimore Ravens)
The Ravens released McGahee in a cost-cutting move, and also because they're probably more interested in bringing back Le'Ron McClain at a cheaper price. McGahee is still a very solid short-yardage and goal-line back, so he'll easily latch on somewhere.
10. Ronnie Brown (Miami Dolphins)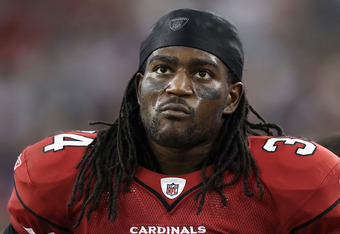 Christian Petersen/Getty Images
Brown is 29 and has battled injuries for most of his career, but still has some gas left in the tank. He doesn't have elite speed, but brings versatility out of the Wildcat, and is still a solid short yardage back that can lead an offense. There isn't a huge market for feature backs this year, but he'll find work in a nice two-back rotation like Carolina or Denver. Latching on with Cincinnati as a starter if Cedric Benson jets is also a possibility.
11. Tim Hightower (Arizona Cardinals)
Hightower isn't going to be looked at as a game-changer or full-time starter, but he's a solid short yardage back with soft hands and excellent third down ability. He'll fit in nicely with a team that simply needs a third down guy who can come in and do the dirty work and help grind the clock out at the end of games.
He could still be back in Arizona, but he could get some attention from teams like New Orleans, St. Louis, Green Bay and the New York Giants, among others.
12. Ricky Williams (Miami Dolphins)
Williams will be 34 and ancient by general running back standards, but it's safe to say Williams has never been considered a "general" running back. He's still one of the toughest runners in the league and still possesses great speed for his size.
He may only want to stick around for one more year, but could be a perfect No. 2 guy on a championship team like New York (Jets), New Orleans or another contender. A return to Miami also can't be ruled out, especially if Williams would be promised the feature role.
13. Kevin Smith (Detroit Lions)
Smith isn't a lock to be leaving Detroit, but considering his starting role has been lost to Jahvid Best, he's likely on the search for a place where he has a chance to be the guy. Injuries rocked him the past two seasons, but he still has the talent to be a solid starter if he gets the chance again.
14. Leon Washington (Seattle Seahawks)
Washington was never a feature back and isn't about to become one, but can really be a nice addition as a third down specialist and return man. Any team in need of a jolt on special teams will take a look, while his ability to help as a home run threat and receiver on third downs will increase interest from several teams.
15. Jerome Harrison (Philadelphia Eagles)
Harrison showed he could get the job done as a starter in Cleveland in 2009, but really never got the chance again in 2010 to pick up where he left off. He continued to display his speed and explosiveness in Philly, and should easily find work again in 2011. He probably won't get a starting gig heading into 2011, but plenty of teams will be interested in landing the explosive back.
Other backs worth noting: Brian Westbrook, Tiki Barber, Brandon Jackson, Carnell Williams
Track all of the free agency player movement and gear up for the 2011 fantasy football season over at NFLSoup.com!