Georgia Bulldogs Football: Malcolm Mitchell, Freshman Wide Receiver Sensation?
July 27, 2011
Kevin C. Cox/Getty Images
At this juncture, Isaiah Crowell is a household name.  The incoming freshman was highly touted coming out of high school and thanks in no small part to the mishaps of Washaun Ealey, Caleb King and Carlton Thomas expectations are becoming increasingly high for the freshman running back.  No matter how you slice it, for better or worse, the Bulldogs' running game is resting on the shoulders of Isaiah.
Undoubtedly, Crowell's impact and growth is crucial to Georgia's ground game, but I think another freshman might have just as big of an impact on the offensive side of the ball for the Bulldogs.  That freshman is Malcolm Mitchell.
Mitchell was recruited as a cornerback out of Valdosta and was considered by Rivals.com to be the nation's top cornerback prospect and the state's fourth best overall prospect.  From what I'm hearing, Mitchell isn't going to be playing cornerback; the 6-1, 187 pound athlete will be lining up at wide receiver.  And, from what I've heard he's going to be a threat immediately.
Aaron Murray has been raving all summer long.  When asked to describe his game, Murray said, "I haven't seen speed and quickness like that for a while."
Georgia strong safety Shawn Williams and cornerback Brandon Boykin were equally impressed.  Williams said that he'd never seen anybody with speed quite like that.  Brandon Boykin said, "I guard him every day, and he's progressing really great."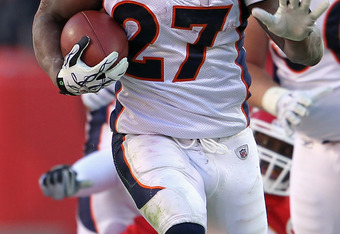 Jamie Squire/Getty Images
Several players including Murray and Boykin have also praised Mitchell's commitment to learning Mike Bobo's offense, and said that his knowledge in that area is exactly where it needs to be if he wants to play right away.
So could Mitchell's presence rival that of Crowell's?  Isaiah Crowell (along with Ken Malcome and eventually Carlton Thomas) will be called upon to fill the 1,240 yards rushing and 13 TDs lost with the departure of King and Ealey.  While that is certainly no easy task to master keep in mind that the last two freshmen backs to start for Georgia,  Ealey and Knowshon Moreno, were both able to burst onto the scene when they finally saw playing time as freshmen thanks largely to Georgia's pro-style offense. 
In other words, as long as the Dawgs are still a threat to throw the ball, freshman running backs have had success recently within the Georgia offense.  Earlier in Richt's tenure Kregg Lumpkin, Thomas Brown and Danny Ware were all able to gain significant playing time as freshmen and average over five yards per carry.
So, while the increasingly high expectations for Crowell may not be met, I do think it's fair to expect a consistently solid contribution from him, if and only if Aaron Murray is able to continue to be a threat passing the ball.  That is exactly where Malcolm Mitchell comes into the picture.
While the losses of Ealey and King are certainly substantial, I do not think they rival the departure of A.J. Green and Kris Durham to the NFL.  Green and Durham combined for over 1500 yards receiving and 12 touchdowns last season.  While those numbers are hard to replace in and of themselves, the problem is confounded by the fact that Georgia has had more trouble producing great young receivers (with Green being a rarity) and nobody on the Dawgs' roster has ever caught 30 balls in a season. 
Murray is going to have plenty of passes to go around as 124 of his 209 completions in 2010 were to players no longer wearing red and black.  If Mitchell can come in ready to play—and it sounds like he is, his impact could rival that of Isaiah Crowell.  I look forward to these two freshmen feeding off of each other for years to come as Mitchell opens up the running game and Crowell opens up downfield passing.