WWE Illuminati: Vince McMahon and Power Behind Sports Entertaiment Throne
July 31, 2011
Attention Readers:
Before you shall read (if you decide to do so, that is) this article in its entirety, you should know that this article is intended for fun; do not take it literally.
Looking to spice things up with a bit of reading material, hope you all enjoy.
* * *
Illuminati (plural of Latin illuminates, "enlightened"): The name refers specifically to Bavarian Illuminati, which is "an Enlightenment-era secret society founded on May 1, 1776 (according to Wikipedia)."
Conspiracies, yes, we hear about them from time to time. With us being human beings, it is only natural to question if they are true or not.
One of the biggest conspiracies is the mysterious, secret society, "power behind the throne" Illuminati!
This group has been allegedly tied to numerous affairs of present day governments and corporations, which would be a continuation or new incarnation of the Bavarian Illuminati.
The Illuminati are usually brought up of being the masterminds of other controversial conspiracies, as they would be the string pullers behind the events, for example the 9-11 attacks.
These actions of events are assumed to lead to an eventual establishment of a New World Order.
No, not the NWO that dominated in WCW for a few years; this New World Order is to establish a one-world government.
The Illuminati has even been linked up to the field of music as well...
Hip-hop artist/mogul Jay-Z has been linked to modern Illuminati by skeptical fans everywhere.
It is said that people believe other stars have "sold their soul" to gain wealth and fame by being connected with these secret society groups.
Now let's turn our attention to the WWE; shall we?!
WWE is the largest sports entertainment/pro wrestling company in the world.
WWE has expanded its brand in music, films, product licensing and direct product sales.
The company produces a slew of talent that have branched out to movies and other projects as well!
Vince McMahon has taken what his father had built and turned it into a dominant force that is not looking to slow down.
But did Mr. McMahon receive some help to get where is at today?
If you think about it, you can compare Vince McMahon's disbanded faction, the "Corporation," to a secret society like the Illuminati.
Even before that faction was seen on WWE television, Vince McMahon pulled a well-known trick out of his sleeve that is still well known today.
That trick being the Montreal Screw-Job.
Now, we all know how that went down, but there are still questions being brought up about that notorious incident.
Now let's go back to the whole certain stars selling their souls to be the top guy.
Now before I continue, this is all just for fun.
Now if you look at who is at top of the heap of the WWE, everyone knows John Cena holds that claim, but how exactly did he rise so fast?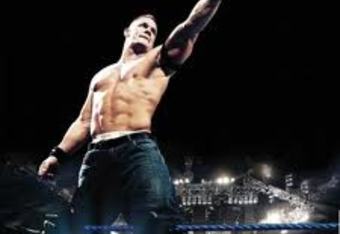 Yes, WWE has to build superstars but John Cena blew up fast, really fast.
You can't go even talk about the WWE without mentioning his name in some manner.
It has been said that John Cena stepped up to Vince McMahon's inspiring speech, where he wanted the rising stars to show "ruthless aggression", to see who will be the next star of the WWE.
Now if you fast-forward to now Cena is the top guy and has been for years, with his face placed on everything WWE.
Could Cena have joined an inside secret society to climb his way to the top of the WWE.
Some would just say, "No he kissed Vince's ass to get where he's at!"
Yes, this is all for jokes and with no real seriousness behind it, but it's funny to compare the similar factors between the WWE and the mysterious Illuminati.
Especially if you look where Triple H is at now, he is now assumed control of the WWE. Yes, this is just a storyline, but we all know Vince will truly be looking to step down soon.
But once again, you can contest that "nope he just married his way in;" which is also true as well.
But look at how certain talents are held back and which ones raise to the top.
We always question how come this certain superstar is not being pushed, or why is he being pushed he has no skills.
Maybe it's all due to the "power behind the throne."
If you look at Mike "Miz" Mizanin, he climbed to the top unsuspectingly; yes, he has deserved it, as he works really hard outside the ring by appearing on numerous interviews and other projects.
The Miz has also amped up his persona/charisma, which fans have come to love. Fans have embraced his microphone skills, as this would be the key element to his success.
But fans have wondered, "Why they would push the guy from MTV's Real World and not push guys like Shelton Benjamin or a John Morrison, who have incredible talents?"
Maybe it's because they rebelled or refuse to bow down to the controllers of the throne?!
Once again, this is all for fun and just a start for some nice discussion.
* * *
What did you think of this article?
Share your thoughts below on this interesting piece down below in the comment area.
Did you like this article, fellow venoms? If so, give some props and don't be shy to become a fan. If you have free time, check out some past articles by TW.
Heck, while you're here, comment on this current article and let your thoughts and opinions be heard...or read, I guess.
Thanks for stopping by,
T W