2011 NFL Free Agency: Dallas Cowboys Recap and Potential Moves
August 1, 2011
Larry French/Getty Images
The Dallas Cowboys have had a very exciting free agency period since the lockout has ended. It started off with major releases and re-signings of players that were on the team last year.
The Releases
Marion Barber 
Marion Barber was scheduled to make millions of dollars more than his production would have been for the Cowboys this season. Although Barber, a fan favorite in Dallas, can still be an effective back, it was clear that the years of abuse from his running style caught up to him and slowed him down.
The Cowboys drafted DeMarco Murray in the third round this year to bolster their running back depth while knowing they would release Barber.
Roy Williams
One of the worst trades in the last decade was made official when the Dallas Cowboys cut disappointing WR Roy Williams. He was another player that could not live up to his expectations, and most importantly his contract in Dallas.
The Cowboys will try to replace his production by moving Dez Bryant into the starting role and using Kevin Ogletree in the slot.
Leonard Davis
Davis, who played in a few Pro Bowls as a Cowboys guard was released due to declining play and a bloated contract as well. Davis has simply gotten older and slower, and is not nearly as effective as he once was. Davis will be replaced by Montre Holland in the starting lineup at right guard.
Marc Colombo
Colombo was released not only for below-average play, but so that rookie first-round pick Tyron Smith could be the unquestioned starter at right tackle for Dallas. Colombo was a major reason that the Cowboys line was sub-par at best last season and was released because of it.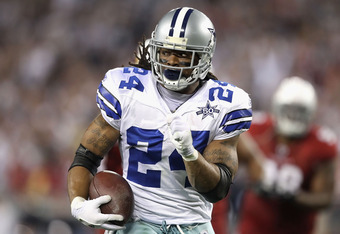 Christian Petersen/Getty Images
The Re-Signings
Doug Free
Simply put, losing Doug Free would have been a nightmare. Not only is Doug Free a great left tackle, he is a great left tackle entering the prime of his career. This was the first major move for the Cowboys, and was the player that they had to have back at all costs. Without Free, the Cowboys line would have been in shambles this season
Kyle Koiser
The re-signing of Koiser is another move that solidified the Cowboys line this season. Koiser might be the most under-appreciated Cowboys lineman, and has quietly been their best until Free's breakout year last season. Pairing Koiser with Free on the blindside of Tony Romo were great moves that needed to be done.
Marcus Spears
Marcus Spears was another crucial re-sign that the Cowboys had to have. The only two defensive ends the Cowboys had under contract were Igor Olshansky and Sean Lissemore. When Spears got hurt last season, it was a night-and-day difference between the Cowboys run defense, Spears' specialty.
Free Agents
Kenyon Coleman
Coleman was a former Cowboy from 2003-06 and played for Rob Ryan in Cleveland last season. Coleman had an impressive 68 tackles and 2.5 sacks while playing the 3-4 defensive end spot.
His familiarity with Rob Ryan's defense is a huge plus with the lockout shortening the time that players can learn defense. He will most likely be a rotational player for the Cowboy's defensive line.
Missed Opportunity?
Nnamdi Asomugha 
Yes, he deserves his own section. The Cowboys pursuit of Asomugha was a big deal around Dallas until the Eagles made an offer he couldn't refuse. It's not upsetting that he didn't choose Dallas to play for, its upsetting that he's an Eagle.
Any 30-year-old corner given a five-year contract is a concern, even if it's to the game's second best corner. It will be interesting to see how many elite years Asomugha has with the Eagles and if it would have been worth it to offer him more money.
Potential Moves
The moves Dallas needs to make are signing one or two safeties, potentially Abram Elam, Brodney Poole or Donte Whitner. Another rotational defensive end in case of injuries or mediocre play. 
Another interior offensive lineman, preferably a right guard with experience.These three to four moves will make the Cowboys contenders again in the NFL, that and having good coaching and a healthy quarterback.