Could Osi Umenyiora Go to the San Diego Chargers?
August 2, 2011
Chris McGrath/Getty Images
San Diego Chargers general manager A.J. Smith signed some key veteran free agents during the first few days of free agency, but would he be willing to pick up another?
ESPN.com reported Monday that New York Giants have given Umenyiora permission to seek a trade with another team.
Umenyiora has let it be known to the Giants front office that he is unhappy with his current contract and that Giants general manager Jerry Reese failed to renegotiate his contract after promising the two-time Pro Bowl defensive end that he would do so following the end of the 2010 season.
Because of the contract dispute Umenyiora was going to holdout during training camp, however it didn't last too long. According to a report from NFL.com, Umenyiora held out for one day, then reported to Giants' training camp on Saturday afternoon.
The Giants' aren't going to let him get away for free.
According to reports from ESPN.com. NFL.com and FoxSports.com, the Giants want at least a first-round draft pick for the massive defensive end.
The question is, will A.J. Smith be willing to part with a first-rounder in order to add Umenyiora to the roster?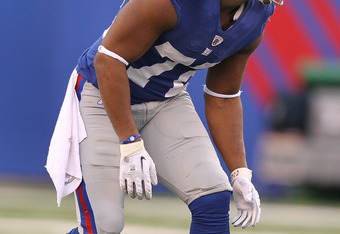 Al Bello/Getty Images
While it may be wishful thinking, the likelihood of it happening is probably close to never.
Chargers' fans know all to well about how A.J. Smith likes to keep a short leash on spending money, and how he covets his draft picks, that is unless they are late round draft picks
The last time A.J. Smith dealt with the Giants, he sent a whiny Eli Manning to New York and received the Giants third-round pick in 2004 and their first-round pick in 2005.
However adding Umenyiora might be a good thing for the Chargers.
It was well known that the Chargers experienced plenty of defensive line woes due to injuries last season. While the Chargers do have some real good talent at the defensive end position, adding Umenyiora (who had 11.5 sacks and 10 forced fumbles in 2010) could further increase the Bolts league leading defense yet again.
I seriously hope that A.J. Smith will take a good hard look at the thought of deal that can bring Osi Umenyiora to San Diego.
You know what they say, offense wins games, but defense wins championships. I can tell you that every single Chargers fan definitely wants to see their beloved team bring home a championship.