Penn State Football: Announcing the Nittany Lions' All-Time Team
August 3, 2011
Brian Bahr/Getty Images
Before another Penn State football season gets underway, let's take this opportunity to think about all the great players who have donned the Blue & White uniform and comprise Penn State's all-time team. 
In breaking down Penn State's offense it looks like this:  
QB: Kerry Collins—Collins, who won the Maxwell Award as the outstanding player in college football in 1994, gets the nod over fellow Maxwell Award winner and Heisman trophy runner-up Chuck Fusina. Collins was the conductor of arguably the greatest offense in college football history. In 1994, Collins completed 66.7 percent of his passes and had an amazing passing rating of 172.86.  
RB: Ki-Jana Carter—An All-American and runner-up for the Heisman trophy in 1994, Carter averaged an amazing 7.77 yards per carry that year. For his career, he averaged 7.16 yards per carry.
In 1993, as a prelude for what was to come the following season, Carter rushed for over 1,000 yards, averaging 6.62 yards per carry. In 1994, despite seldom finishing a game due to Penn State's large leads, Carter rushed for 1,539 yards and 23 touchdowns on less than 200 carries. He also had 17 100-yard games in '93 and '94.  
RB: Curt Warner—In 1981, Warner broke Penn State's 68-year-old record for most yards rushing in a game by rushing for 256 yards against Syracuse. A few weeks later, he rushed for 238 yards against Nebraska in Lincoln, which Husker fans still remember.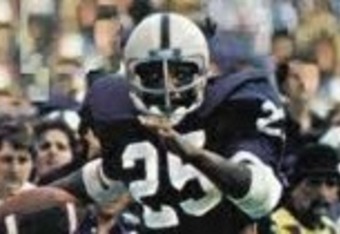 An All-American in 1981 and 1982, upon graduation Warner was Penn State's all-time leading rusher with 3,398 yards. He is still Penn State's all-time leader in 100-yard games, with 18. Warner led Penn State in rushing for three consecutive seasons and was at his best in bowl games, rushing for over 100 yards against Ohio State, USC and Georgia.
Warner was inducted into the College Football Hall of Fame in 2009. 
When Heisman trophy winner John Cappelletti and All-Americans such as Blair Thomas, Charlie Pittman, Lydell Mitchell, Curtis Enis and Larry Johnson don't make your starting lineup, it tells you that Penn State's history of running backs is certainly a rich and illustrious one.  
WR: Bobby Engram—Winner of the Biletnikoff Award in 1994 and generally recognized as Penn State's finest wide receiver, Engram is Penn State's career receiving yards leader and the only Penn State receiver to have over 1,000 yards receiving in a season—and he did it twice.  
WR: Kenny Jackson—A two-time All-American in 1982 and 1983, Jackson was quarterback Todd Blackledge's main receiving target on Penn State's 1982 national championship team. His 25 career touchdown receptions rank second in Penn State history (behind Engram's 31).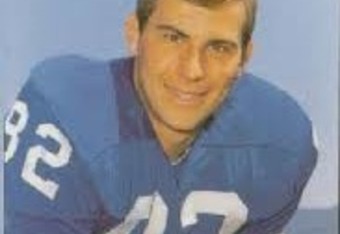 TE: Ted Kwalick—When asked about Ted Kwalick, coach Joe Paterno said, "He's what God had in mind when he made a football player." Penn State's first two-time All American in '67 and '68, Kwalick was inducted in the College Football Hall of Fame in 1989 and was named to Sports Illustrated's NCAA All-Century Team.  
OT: Keith Dorney—A two-time All-American tackle in 1977 and 1978, Dorney helped lead Penn State to a 22-2 record during those seasons. He was inducted into the College Football Hall of Fame in 2005.
OT: Levi Brown—A four-year starter and two-time second-team All-American tackle in 2005 and 2006, Brown's play helped open up holes for running back Tony Hunt, enabling him to rush for over 3,000 yards in his career.     
C: Glenn Ressler—Ressler was an All-American and the Maxwell Award winner in 1964. He gets the nod over All-American and Rimington Award winner A.Q. Shipley. Ressler was inducted into the College Football Hall of Fame in 2001.  
OG: Sean Farrell—A two-time All-American in 1980 and 1981, Farrell helped open the holes for Curt Warner to become Penn State's then all-time leading rusher.  
OG: Jeff Hartings—A two-time All-American in 1994 and 1995 and a leader on the offensive line of one of college football's most prolific offenses.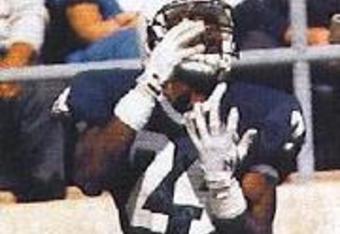 AP: Lenny Moore—For Penn State's all-purpose player, who better than Penn State's finest all-around football player, Lenny Moore?
In addition to playing running back, Moore was also a standout defensive back and had 10 career interceptions while at Penn State. In 1954, he averaged 8.0 yards per carry and 17.5 yards on punt returns. 
Simply put, Moore could do it all—and do it all very well—and went on to be an NFL Hall-of-Famer.  As reported by the Altoona Mirror, Joe Paterno once said, "Lenny Moore was probably the best football player I've ever coached, all-around. He was super." 
That's good enough for me. 
PR: O. J. McDuffie—McDuffie was one of the most electrifying and exciting players in Penn State history. He led Penn State in punt returns for three seasons. In 1989, he averaged 14.8 yards per return. In 1991, he ran back two punt returns for touchdowns.  
KR: Curt Warner—Warner holds Penn State's career all-purpose yardage with 4,982 yards and is second all-time in career kick-off return average, with a 28.8 yard average and a Penn State record three touchdowns on 32 returns. In 1979, Warner averaged 29 yards per return on 17 returns; in 1980, he bettered that as two of his 10 returns went for touchdowns and he averaged 35 yards per return.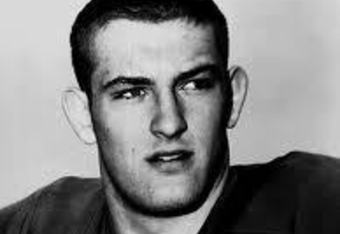 K: Matt Bahr—An All-American in 1978, four times that season Bahr kicked four field goals in a game, making 22 field goals in all with a field goal percentage of .815. Matt's brother, Chris, was also an All-American and had more field goals of over 50 yards or more than Matt, but Matt was the more accurate of the two.   
P: John Bruno—Bruno is the only punter in Penn State history to have over 200 career punts with only one block and average over 40 yards per punt. Bruno is best known for his punting in the 1987 Fiesta Bowl and National Championship game, forcing Miami to have long drives against Penn State's tough defense.  
In turning to the defense, Penn State's all-time defensive line and linebackers might be the best of any school in the country.   
DT: Mike Reid and Bruce Clark—Both Reid and Clark won the Outland Trophy and were recognized as the best interior linemen in the country.
Reid won the Maxwell Award in 1969 and was inducted into the College Football Hall of Fame in 1987. He was named to Sports Illustrated's NCAA All-Century Team.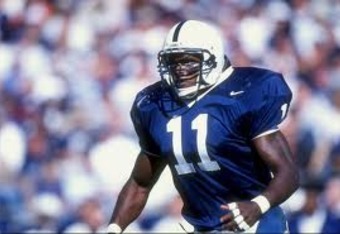 Clark was the first junior to win the Lombardi Award and was an All-American again as a senior. Perhaps no other pair of defensive tackles from any school would be considered as dominant as Reid and Clark, with perhaps some consideration for Nebraska's Rich Glover and Ndamukong Suh.  
DE: Courtney Brown and Michael Haynes—Brown and Haynes were two outstanding pass rushers for the Nittany Lions. Brown was an All-American in 1999 and Haynes an All-American in 2002.
Brown holds Penn State's career sack record (33) and career tackles for loss (70). Haynes led Penn State in sacks for three consecutive seasons and had 15 sacks in 2002. I'm sure quite a few might call for Tamba Hali to be one of Penn State's defensive ends, but Haynes' career and career numbers are more impressive. 
One was inducted into the College Football Hall of Fame, another is Penn State's single-season tackle leader and yet another won the Bednarik Award and is Penn State's all-time leader in tackles, but none of them got selected to Penn State's all-time team! 
This is why Penn State is called Linebacker U. If one wasn't a two-time All-American linebacker it hurt one's chances of making Penn State's all-time team. For my selections, we're going to go with four linebackers using a 4-4-3 defense that coach Joe Paterno used in the '60s to bring Penn State into national prominence.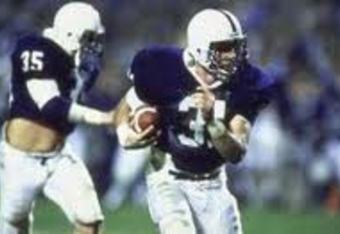 LB: Paul Posluszny—Not only was Posluszny an All-American in 2005 and 2006, but he also won the Butkus Award and was a two-time winner of the Bednarik Award as the outstanding defensive player in the country. Posluszny was Penn State's all-time leader in tackles when he graduated.  
LB: Dennis Onkotz—Onkotz laid the foundation for Penn State to become Linebacker U. He was a two-time first-team All-American in 1968 and 1969, and a second-team All-American in 1967. Onkotz was inducted into the College Football Hall of Fame in 1995.
Onkotz was also athletic enough to return punts for the Nittany Lions, averaging over 13 yards per return. He has the most career interceptions of any Penn State linebacker with 11, averaging 25 yards on interception returns with three for touchdowns.  
LB: Lavar Arrington—A two-time All-American in 1998 and 1999, Arrington was the recipient of the Butkus Award in 1999 as the nation's premier linebacker. He also won the Bednarik Award that year as the outstanding defensive player in the country.
His athletic ability made him a big-play defensive weapon on defense. Arrington finished ninth in the Heisman Trophy voting in 1999 and was Big Ten Defensive Player of the Year in 1998—as a sophomore.  
LB: Shane Conlan—Conlan was a two-time All-American and the linchpin on a defense that led Penn State to back-to-back National Championship games for the 1985 and 1986 seasons.
As reported by Sports Illustrated, Paterno once said of Conlan, "We've never asked a linebacker to do as many things as we've asked him to do." Conlan showed his greatness playing like an All-American in both championship games and had two interceptions against Miami in the Fiesta Bowl to help Penn State win a National Championship. 
The list of some of those who weren't selected is very impressive as well: Jack Ham, All-American in 1970 and inductee into the College Football Hall of Fame in 1990; Greg Buttle, All-American in 1975 and still holds the single-season tackle record with 165 in 1974; and Dan Connor, Bednarik Award winner in 2007 and Penn State's all-time career tackle leader. 
DB: Alan Zemaitis—Zemaitis led Penn State in interceptions, twice finishing with 12 interceptions, and set a Big Ten record in 2003 with 207 yards on interception returns. In 2005, Zemaitis had six interceptions and was named second-team All-American. 
DB: Neal Smith—Smith, an All-American in 1969, is still Penn State's career interception leader (19), over 40 years later! Smith's single-season interception mark of 10 passes in 1969 has never been bettered—it's matched only by Pete Harris (1978). Smith intercepted eight passes in 1968 and his 1968 and 1969 interception marks are two of the five highest in Penn State history. 
DB: Mark Robinson—Robinson, a hard-hitting safety, was named All-American in 1982 and was instrumental in helping to stop Herschel Walker in the Sugar Bowl for Penn State's first National Championship.  
At some positions one can make a strong case for any number of players, so deep are the Lions in their football history. Few schools can compare with Penn State's all-time team, particularly the Nittany Lions' defensive line and linebackers.  
It's no wonder why Penn State is rightfully called Linebacker U!