Chicago White Sox Season All but Over: Time To Clean House
August 4, 2011
David Banks/Getty Images
Two words can sum up the 2011 White Sox season—nobody cares.
I used to think it was just an excuse that fans used to describe their losing team. But now I see what they meant.
The 2011 Chicago White Sox can now be put under that abominable category. Excluding dependable veterans and faces-of-the-franchise Paul Konerko and Mark Buehrle and a couple of newbies (Phil Humber and Sergio Santos), nobody on the White Sox has been respectable. 
Pathetic.
Kenny Williams must go.
You can put Kenny Williams in the "most overrated GM" category along with Brian Cashman, Theo Epstein and Billy Beane. Yes, he's not afraid to make a move and spend money. That doesn't insulate him from being judged on the moves he makes. 
The Jake Peavy acquisition was a complete fiasco.
Jake Peavy, when not injured, has been garbage for the White Sox. Who would've thought that the former Cy Young winner wouldn't even come anywhere close to replicating his Petco Park-deflated numbers?
The trade gets an F because it single-handedly derailed the White Sox 2009 season, Peavy has been injured often, and he hasn't pitched well. 
He's only started 32 games in his two-and-a-half years in Chicago. We've seen his strikeout numbers dip, his WHIP and ERA increase, and this is the guy who is the highest paid player on the team. The White Sox didn't give up much, but they sure took on a lot of salary for nothing.
Claiming Alex Rios off waivers was a dumb move.
Alex Rios is an absolute bum. He almost tricked White Sox fans last year into thinking he cares. Well, he's back to his antics that made Blue Jays fans resent him.
One would think the most frustrating part about his game is that he is barely batting over the Mendoza Line. Sadly, it's not. It's the lackadaisical way he plays the outfield. He doesn't hustle. He doesn't do the basics. He doesn't care.
Rios had a great season last year for the White Sox. But the rest of his tenure with the team has been more than forgettable. Another overpaid, underperforming player.
The Adam Dunn experiment has failed.
STATS: .166 batting average, 10 home runs, 38 RBI, .297 OPS, .301 slugging
Nothing else needs to be said. I hope Jeff Passan was right when he said that Adam Dunn would walk away from the game if Dunn doesn't start performing again. 
This isn't to say that Williams hasn't made some good moves. The Lee-for-Podsednik deal in 2005 was crucial for that World Series victory. The McCarthy-for-Danks swap worked out the past couple of years. But the expensive and risky negatives have been far more numerous than the positives.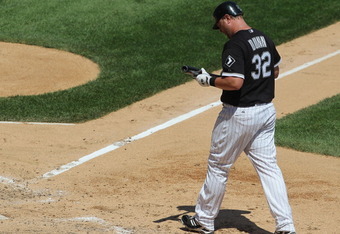 Jonathan Daniel/Getty Images
Ozzie Guillen must go.
Just three months ago, I was defending Ozzie Guillen. I've always thought he's been a good manager for the team. He himself has said he deserves to be fired, and he's been miserable. 
Ozzie has made questionable decisions. While it's obvious he thinks he's doing what's best for the team, the results haven't matched the theory. His bullpen management has been questionable and his ever-changing lineups don't make sense.
Greg Walker must go.
Everyone has been calling for this for years. But those calls have fallen on deaf ears.
.305/.384 
.250/.307
.270/.333
.249/.266
.277/.331
.207/.252
.260/.348
.166/.297
.290/.332
Those are the batting averages and on-base percentages for the White Sox—one through nine top of the depth chart hitters. The White Sox are 19th in the league in batting average and 24th in runs scored.
Only three teams walk less than the White Sox, and no team has a worse percentage at stealing bases. Only the lowly Mariners have less RBI with runners in scoring position than the White Sox.
The White Sox are a horrible offensive team, and Greg Walker has done nothing to improve them. Adam Dunn and Alex Rios have gotten worse. Ozzie Guillen is unquestionably loyal to Walker, but that just might mean both will have to go.
The White Sox should clean house.
The White Sox had the opportunity to call up Dayan Viciedo before he was injured. Ozzie says "where do I play him?" If that was his excuse, it was a poor one. Williams gave Ozzie a mandate that he doesn't have to play the paid stars.
That means he can move Quentin to DH, bench Dunn (like he has with Rios) and put Viciedo in right field. Ozzie might as well give Viciedo a chance rather than continually watch Adam Dunn strike out.
The White Sox obviously just can't get rid of Adam Dunn and Alex Rios. But they can get rid of the people who won't play the best possible players. So while those two and others are paid to absolutely stink, the one gem in the White Sox minors is and was forced to stay in the minors.
So while the Yankees continue to pile up runs against the wretched White Sox bullpen, it's time to realize the season is over. The bullpen, defense, offense and starting pitching never come close to clicking at the same time.
At least Paul Konerko comes back tomorrow...