Hunter Pence: Philadelphia Phillies' Deadline Deal Pays Immediate Dividends
August 4, 2011
Drew Hallowell/Getty Images
Hunter Pence was brought to Philadelphia in order to provide some much needed balance to a lineup dominated by lefties. The Phillies parted with their top two prospects, along with two others, in order to acquire their new right fielder.
Let's take a look at the early returns on the Phillies' big move.
Philadelphia has won all five of its games since adding Pence. However, this is a Phillies team that already boasted the league's best record prior to Pence's arrival. So, we need to look deeper than wins and losses to see the effect that he's had.
Through his first five games in a Phillies uniform, Pence is batting .285 with three RBI and three runs scored. Add in a pair of walks and Pence's OBP is .348 while wearing the red pinstripes.
These numbers are taken from a very small sample—only 21 official at bats—but they fall in line with his overall season production.
What we must understand is that the impact of Hunter Pence on the National League pennant race goes far beyond what his stats can measure.
The most telling numbers are actually coming from a different player in the Phillies lineup. Since Pence's arrival, this player is 9-for-22 with four home runs and nine RBI.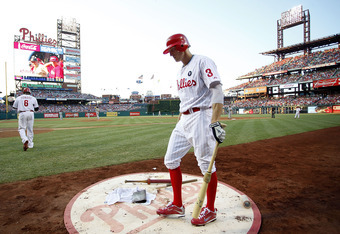 Jeff Zelevansky/Getty Images
As I'm sure many of you know, these numbers belong to Ryan Howard. Pence has been hitting in the fifth slot of Charlie Manuel's lineup, right behind the slugging first baseman.
If early results are any indication, Pence offers Ryan Howard the lineup protection that was previously missing. Knowing that Pence is lurking in the on-deck circle appears to have coaxed opposing pitchers into throwing Howard more fastballs.
In addition to statistics, Hunter Pence has invigorated the Phillies clubhouse and fanbase.
Pence spent his first four-and-a-half years with the Astros and has never had a sniff of the postseason. During his interviews after joining the Phillies, he expressed excitement about being involved in a playoff race. His energy will be a shot of life for his teammates and should help the team to avoid complacency.
Pence's enthusiasm for the game has made him an instant fan favorite in Philadelphia. What Hunter lacks in style and grace, he more than makes up for with all out hustle.
A perfect fit for the city of Philadelphia.
In five games, Phillies fans have already gotten a small taste of the difference that Hunter Pence will make on this team.
The Phillies have now set their sights on the bay area. Hunter Pence and company are in San Francisco for a four-game series with the reigning World Series champs.  Only a week ago, the Giants handed the Phillies their first series loss since the middle of June.
The players will undoubtedly downplay this series' significance, but for Phillies fans everywhere, the goal is sweet revenge.