2011 Philadelphia Eagles: What to Take from Donovan McNabb's Comments
August 4, 2011
Jim McIsaac/Getty Images
The departure of Donovan McNabb from the Philadelphia Eagles following their disappointing end to the 2009 NFL season was one of the more difficult pills for any Philadelphia sports fan to swallow. Despite the reluctance to admit that McNabb, arguably the most successful quarterback in franchise history, was in the twilight of his career, it had become evident that the team needed to move in a new direction.
Matters only got worse when fans had to hear the news that their beloved quarterback would be returning to "The Linc" the following year, donning the dreaded colors of the rival Washington Redskins. It appeared that McNabb's arrival in D.C., paired with the hiring of Mike Shanahan, would usher in a new era of success for the Redskins while the Birds would meddle in mediocrity while they figured out if Kevin Kolb was worth the risk they were taking. McNabb, following a Redskins victory in Philadelphia, even took a jab at his former team saying that they had made a mistake letting him go. 
Nearly one year later, things could not be more different. Despite Kolb opening the 2010-11 season as the starter, his injury sustained in the opening game gave way to one of the most improbable career resurgences in the form of Michael Vick. The Eagles' offense flourished with Vick at the helm, with the former number one pick taking advantage of the Birds' seemingly endless arsenal of weapons in ways that fans could not imagine with McNabb under center. Ironically enough, this realization could not have been more evident than in the Eagles' 59-28 prime-time drubbing of McNabb's new team last November.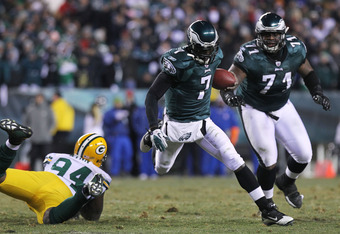 Nick Laham/Getty Images
The Eagles ended the season in disappointing fashion, falling to the eventual Super Bowl champion Packers following a late game interception thrown by Vick. However, the team's electrifying offense, combined with a vote of confidence from team management as well as the appeal of an organization who gave a player like Vick a chance to succeed made the Eagles one of the most attractive destinations for free agents following this offseason's lockout. The team capitalized on this, bringing in one of the most high-profile free agent crops in league history, apparently gearing up for a Super Bowl run only one year removed from McNabb's release.
On the other end of the spectrum, McNabb's apparent honeymoon in Washington was but a blip on one of the most tumultuous seasons of the quarterback's career since Terrell Owens' time in Philadelphia. Amidst problems with offensive coordinator Kyle Shanahan and a lack of production, McNabb was benched in D.C., signifying the end of that experiment. The Redskins traded McNabb in what appeared to be a "take him off our hands" type of deal with the Minnesota Vikings, where McNabb would play mentor to the team's first-round pick Christian Ponder. 
The Eagles' free agency moves have everyone from Rob Ryan to Tom Coughlin talking, but Eagles' fans ears perked up when their former franchise quarterback decided to chime in on the team's aggressiveness in an interview with CBS Sports. 
"I was there for 11 years, and the biggest thing we brought in was T.O. [Terrell Owens]," said McNabb. "Now they're getting the so-called 'Dream Team.' It's amazing, but I look back on my career and what they're doing now...that's great; that's excellent. But you're seeing another side. You're seeing Andy (coach Andy Reid) taking that chance. It's not just taking that chance on one guy. They're taking a chance on a bunch of guys. And they're spending money. That's amazing. Ever since the lockout [ended], teams have to spend money."
McNabb, following his analysis of the moves, seemed to change his tone as the interview continued, noting the potential problems the team would have to deal with. 
"With T.O.," he said, "after the first two or three weeks of training camp we felt like we had something. But you never say, 'Aw, we're going to win the Super Bowl.' Fans say that. Radio says that. But now they expect them to win.

"Now they bring in a Cullen Jenkins, and we all know he's a dominant force. They bring in a Nnamdi Asomugha. You have Rodgers-Cromartie, who is the one they don't mention the most because they have Asante Samuel, too. The problem is: What do you do with Asante Samuel?

"Then, you've got to worry about DeSean (Jackson). When he comes back are you going to give DeSean the ball or throw it to (Jeremy) Maclin? Remember, you have to give LeSean McCoy the ball, too. And then at the end you still have to pay Mike Vick. They have more problems than people are looking at."
It has been well-documented that the former Eagles signal caller was dissatisfied with the types of weapons that the front office put around him; however, towards the end of his Philadelphia career McNabb appeared unable to take advantage of the team's budding offense, stalling drives and missing targets on a alarmingly consistent basis. This realization, followed by Vick's effortless mastery of the offense only further justified the decision to part ways with McNabb. 
Another unsettling tendency of McNabb's Philadelphia career was his tendency to dance around certain topics and passive-aggressively approach controversial topics. These quotes, courtesy of CBS Sports, have a more than familiar feel to them and anyone who has followed McNabb as often as Philadelphia fans may sense that the quarterback has a case of sour grapes. 
One cannot discredit McNabb's contributions to the Eagles franchise. He won more games (playoff and regular season), passed for more yards and threw for more touchdowns than any other Eagles quarterback, all while ushering in a football renaissance in a city that had suffered through decades of sub-mediocrity. There was a reason that McNabb was given a resounding ovation upon his return to Philadelphia.
As McNabb's career continues to wind down, combined with some of his comments regarding the Eagles' organization, one cannot help but think that McNabb's legacy in Philadelphia may be souring by the day. Fans realize the difficulties that the quarterback faced in his years on the Eagles and the snag his career has hit since his departure. More and more, people around the league are learning more about the disgruntled quarterback's shortcomings both on and off the field.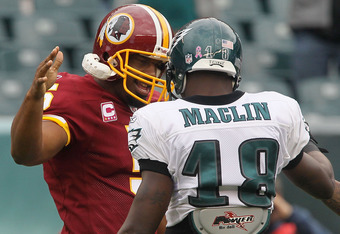 Jim McIsaac/Getty Images
McNabb's inability to work within the Redskin's offensive scheme, his constant benchings throughout the season, along with other teams' apparent lack of interest in the former pro bowler due to his inability to excel outside of the Eagles' modified west coast offense might indicate McNabb's stubbornness and lack of flexibility to learn a new system. His comments regarding his former team(s) on multiple occasions might indicate that the once squeaky clean McNabb may not be the saint that Eagles' fans had him made out to be. 
One cannot blame the quarterback for being upset about the path his career his taken since the trade to D.C. He also cannot be thrilled about Philadelphia's activity this offseason following one season with a new quarterback. However, his inability to assertively indicate his feelings towards the press and an apparent lack of drive to win at all costs may be showing McNabb's true colors. It should not be McNabb's place to diagnose the potential problems that a team may have. His mind should be focused on the fact that a team, despite all of his shortcomings in Washington, took a chance on him and believes he can deliver the sort of performance worthy of a starting job.
There were no problems in terms of ball distribution last year for the Eagles. Vick was able to utilize every weapon at his disposal in a more than effective manner, and the team's young stable of electrifying athletes flourished under the leadership of the new quarterback. In this quote, McNabb appears to be diagnosing the problems that the team may have had when he was at the helm. The fact of the matter is McNabb did have weapons in Philadelphia late in his career and Vick proved that. Maybe it was more of a matter of McNabb not being able to take advantage of these weapons in the way that was expected of him. 
At this point, everyone in Philadelphia cannot forget what McNabb did for the organization. However, with the refreshing, competitive, gutsy nature of Michael Vick combined with McNabb's insistence on taking subtle jabs at his former team, one cannot expect this city's love affair with #5 to continue for too much longer.