2011 Tour De France: Le Tour De Gilbert
August 4, 2011
Bryn Lennon/Getty Images
Everyone had an inkling of what was about to happen as the peloton paraded itself on the Passage du Gois, awaiting the first verse of aerodynamic mania in the 2011 Tour de France on the sharp jolt of Mont des Alouettes. Indeed, the news had been in the post for months. It was on the lips of every pundit and lingered in the air of every motorhome.
Stage 1 was made in the image of a one-day specialist who—replete with rebellious earring and yellow-jerseyed hair—looked like an unhappy compromise between John Lydon punk and bros revivalism. Stage 1 was made for Philippe Gilbert.
Having extinguished the attacks of Cadel Evans and Alexandre Vinokourov, Gilbert unleashed a typically relentless and compelling acceleration of his own. Typical, too, in that it was a winning one. In a race that usually begins with the comparatively processional roll-out of a prologue, it was refreshing to see Gilbert, with a tip of the wink from the race organisers, provide a truly Grand Départ.
After all, it was the least that he could do was it not?
Except that, modern cycling really isn't meant to be like this. What the Belgian is achieving at the moment is simply extraordinary. His victory on that opening day of the tour was a glimpse of what he has been inflicting on his opponents all season in one-day classics such as Liege-Bastogne-Liege and the Amstel Gold Race. It is one thing for a sportsman to achieve great things from a position of anonymity. It is quite another to continue doing so when you are demanding the gaze of all your competitors and the expectations of every spectator, when you stand out like a crocodile at an alligator rally, when you are required to produce inevitability out of chaos.
And it does not get much more intensely frenzied than cycling. It is at times possible to predict with some confidence the winner of a grand tour. Predicting a one-day race can verge on a mug's game such are the many variables that can repress you at vital moments; mechanical failures, crashes, spoiling opponents, simply not being good enough on the day. At Mont des Alouettes he might have been caught up in the crash 3km from the finish, instigated by a yellow-shirted spectator blissfully unaware of a professional cycling race heading in his direction (incidentally, the spectator would hold on to the yellow tunic until stage 9 with a heroic, Voeckler-esque effort before the driver of the French TV car that disastrously felled Juan-Antonio Flecha and Johnny Hoogerland bested his idiocy).
In an absurd season, Gilbert has stared down such factors time after time and produced a released-from-captivity slingshot from the lead group at the race's end, testament to his immaculate positioning, tactical acumen and sheer, raw power.
In previous years, the Tour de France had not been receptive to Gilbert's skill set. In fact, before 2011, he had missed the last three editions, preferring the classics and other grand tours to anonymous laps of France. This year however, the route for the first week was a gilded invitation in itself. In the form of his life and with a theatre in waiting to display it, Gilbert arrived to complete—as Mark Cavendish put it—"21 one-day races."
Whilst the contenders for the maillot jaune eventually contested an entrancing battle during the final days of the race, the single malt was being poured in the Pyrenees as the main protagonists contested a frustrating phoney war of cautious attacking, expanding and quickly closing again like the bellows of an accordion. Before the astonishing defiance of Evans, the brass neck of Andy Schleck on one side of the Galibier and the purgatory of Thomas Voeckler on the other, this was the race of the rouleurs, puncheurs and barodeurs.
What made Gilbert particularly enthralling was that he entered the race ostensibly without prejudice, ready to embark on a private exploration of his ability. Yellow, green, polka dot—all paled into significance. He was in search of the maillot Gilbert.
After predictably vacating the maillot jaune he earned on Mont des Alouettes after the team time-trial, "the Breton Alpe d'Huez" of Mûr-de-Bretagne on Stage 4 presented another launching pad for his brusque change of gear. He made the selection and the attack came but it could not be sustained on this occasion. He was secluded in the lead group this time, led home by Cadel Evans.
Gilbert's supremacy was being blunted but he had, by coincidence or design, forged a strong lead in the green jersey competition through a series of high finishes in the first week. At Super Besse on stage 8 he gapped the peloton in the closing stages to take second place and followed it up with fourth on the following stage. Once the first day had arrived, Gilbert had amassed a 45 and 64-point lead over Jose Joaquin Rojas and Mark Cavendish respectively.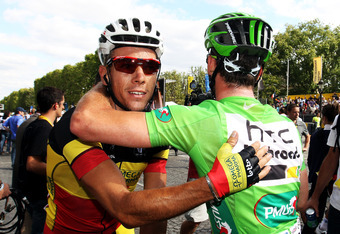 Michael Steele/Getty Images
His assertiveness had given him a clear objective and a jersey to defend but Gilbert appeared determined to go about things in the most eclectic of ways. The dilemma for him was that keeping the jersey called for restraint. And there really was no restraining Gilbert. In one-day races, there is little glory in Top 10 finishes but in the tour, they would have helped him consolidate his position. Instead, Gilbert continued to look for the maximum gain, attacking in the final kilometres of stage 10 before being swamped by Cavendish's military squad and finishing fourteenth.
Three days later he attempted to win the intermediate sprint from a kilometre out—a manoeuvre of such audacity that it verged on the hilarious. He failed once more but, frankly, who would want it any other way? In a race that is bound by eccentric diktats and etiquette, Gilbert, along with perennial escapees such as Jérémy Roy and Hoogerland, was prepared to look a fool.
Another entertainingly futile attack on stage 15 brought about the beginning of the end of his green jersey aspirations a day after he had moved off the first leafs of the leaderboard when finally discovering his limitations on the Plateau de Beille. Rarely has anyone cracked so entertainingly.
"It's hard to take in what I'm doing" remarked Gilbert after that opening stage. The trouble is, understandably, neither can a selection of spectators. Indeed, Gilbert seemed to have accepted the evisceration of his nascent career by doping opposition back in 2005 when he was interviewed by Paul Kimmage of The Sunday Times. So what has changed? Gilbert's anti-doping stance remains unmoved and his commitment to speaking out is admirable when this year's Tour winner, Cadel Evans, prefers to disappointingly lead by example alone.
The circumstances which riders find themselves in certainly have changed. In a recent interview with Procycling, Gilbert pointed to the introduction of the biological passport in 2009, a tool which monitors the blood values of riders and looks for suspicious deviations, as a transformative moment in his career. Indeed, the results pages of races where Gilbert was once getting beaten now resemble the cast list of an identity parade. The cycling of three or four years ago already feels like quite a grubby underworld. Now it feels cleaner, if not clean.
In any case, if we are to start scoffing in the face of all sporting excellence and pedal the idea that gains can only be ill-gotten, where does the pleasure lie in engaging with sport at all? There will always be champions, those who are unparalleled in their disciplines. At present, Gilbert is in a race of his own.