LSU Football: Will the Change in Offensive Coordinators Affect LSU's Season?
August 5, 2011
Kevin C. Cox/Getty Images
Last year, LSU was ranked 107th among all Division I football programs in passing offense.
Even with an 11-2 successful record and a Cotton Bowl victory, it was in the opinion of most Tiger fans that the quarterback position, and mainly the performance of Jordan Jefferson, was the real cause of LSU not having a chance to compete for the BCS National Championship.
In other words, all of the pieces of the puzzle for LSU to be a championship contender lived up to expectations with the exception of the quarterback position.  Jefferson went for seven games without throwing a touchdown to any of LSU's very talented receivers.   
Because of the passing game's dismal performance, most of the responsibility fell on the shoulders of Gary Crowton, the offensive coordinator, as it was his offense and his responsibility to make the passing game perform, but it sorely underachieved.  
When a quarterback and the offensive coordinator apparently fail to work together, it becomes very obvious that something has to change.  
Throughout Coach Les Miles' career as LSU's head coach, he has never outright fired an assistant for non-performance, but instead, he allows them to find another job.  He did this with Bradly Dale Peveto and other staff members whose job performance was not living up to what was expected.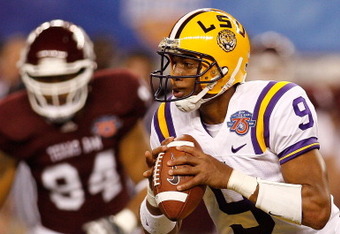 Chris Graythen/Getty Images
The offensive coordinator problem was solved, as Gary Crowton resigned and accepted the same position with the University of Maryland. The result of this was another tasteful departure of an obviously underachieving LSU assistant.  
It just seemed that Gary Crowton, although very smart with creating plays, seemed to lack the necessary skills to properly call plays that related to his sensitive quarterback, Jefferson. 
After a rather thorough but short search, Coach Miles selected former Louisville and Tulsa head coach Steve Kragthorpe as the new offensive coordinator.  
One of the criteria necessary for LSU offensive coordinator would be to develop the quarterbacks and the passing game along with making the offense be more consistent.  
Coach Kragthorpe has earned a great reputation for being a developer of quarterbacks.  When searching for his new coordinator, I am quite sure this attribute was at the top of Coach Miles' shopping list, and it looks like he had found the right guy for the job.
All during spring practice and throughout this summer, Jordan Jefferson had been saying how much he has enjoyed working with Coach Kragthorpe and how much he has learned.  
As further evidence of this progress, professional talent scouts and experts like Jon Gruden and Archie Manning have said how impressed they were with Jordan Jefferson when they saw him at the Manning Quarterback Camp in Thibodaux, La.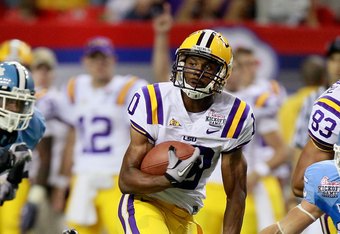 Kevin C. Cox/Getty Images
As fall camp opened this past Wednesday, LSU welcomed 104 players, and the enthusiasm of Coach Miles and his staff was very well stated publicly. In other words, excitement was in the air.  
However, on Thursday morning, Coach Miles delivered some rather shocking news to the team, as he announced that new offensive coordinator Steve Kragthorpe has been diagnosed with Parkinson's disease.  
As a result of Coach Kragthorpe's disease, he would be stepping down as the offensive coordinator, but he would remain on as the quarterback coach, and current offensive line coach Greg Studrawa would become the new offensive coordinator.
It is unknown to us at this time how the team has received this news, as the players were not allowed to be interviewed about the changes.   
Coach Miles has known of Coach Kragthorpe's recently diagnosed disease for the past three weeks, but he chose to wait until Thursday to break the news to the team.  
In my opinion, Coach Miles did the right thing and chose the right time so as not to distract the team before they reported for fall practice.  This is not the type of news a coach wants getting out to the players before camp even begins. 
Coach Studrawa, as it is revealed, served successfully for four years as the offensive coordinator at Bowling Green.
Coach Miles feels very comfortable with his new appointment and says he doesn't see a downside, and sees only upsides to the new promotion of Coach "Stud," as the team calls him.  
Miles has also made it abundantly clear that Coach Kragthorpe will still be very involved with coaching the quarterbacks, formulating games plans, and he will be present in the press box to assist where needed.  
Also, the new change will afford Coach Kragthorpe much more time to devote to teaching, coaching and preparing Jefferson and the other quarterbacks to execute the offense.   
Jefferson did not have the benefit under Crowton to have individual coaching to help him understand the system but the added coaching time under Kragthorpe can only help Jordan Jefferson in his development.   
Since no one really knows what to expect from Coach Studrawa at this point, fans can only hope that he has been in the system long enough now to fully understand the LSU offense and how it is expected to perform.
I don't see Coach Studrawa coming in and making any major changes, and if his past successes are any barometer as to how well he will do at LSU, this change could turn out to be a very positive influence on the Tigers 2011 season.  
Only time will tell for sure, but I have grown to like and trust Coach Miles more and more each year, and I trust that we can still expect those LSU Tigers to have the big year that the national pollsters are predicting the Tigers to have.