Washington Redskins: Why Tim Hightower and Roy Helu Will Be the Tandem in 2011
August 8, 2011
Christian Petersen/Getty Images
Washington Redskins training camp is fully underway now with the free agents finally being allowed to practice last Thursday after the players officially ratified the new Collective Bargaining Agreement.
All players not on the PUP list or sitting out for minor injuries were on the field in full force.
One noticeable absence was the penciled in starting running back Ryan Torain. On Thursday, Torain had four screws placed in his left hand and is expected to miss 7-10 days.
It hasn't even been two weeks into training camp and Torain is already hurt. Not to mention the players were not in full pads. It's something Redskins fans have become used to.
Last season Ryan Torain only played in 10 games and barely made it through some of those. The nickname that fans have pegged him with is "ATV (All Torain Vehicle)." Ironically, ATVs are considered durable.
With Torain out and Tim Hightower and Roy Helu getting most of the reps, they are poised for a big year in 2011. Why? Let's take a quick look at some numbers for all three candidates.
Ryan Torain: 6'1", 218lbs, 24 years old. In the past two years has played in 10 of the last 32 games, with 742 yards rushing, 5 rushing touchdowns, 18 receptions, and 2 touchdowns.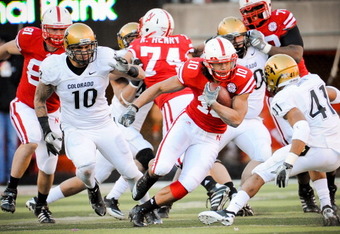 Eric Francis/Getty Images
Tim Hightower: 6'1", 222lbs, 25 years old. In the past two years has played in 32 of 32 games, with 1,334 yards rushing, 23 rushing touchdowns, 118 receptions, and no touchdowns.
Roy Helu: 6'0", 219 lbs, 22 years old. In the past two years has played in 28 of 28 NCAA games, with 2,392 yards rushing, 21 rushing touchdowns, 24 receptions, and no touchdowns.
In comparison, Roy Helu's stats were at the collegiate level against mediocre to good teams, but still provide insight of what he is capable of.
Not many fans, no matter how hopeful, expect Ryan Torain to last the entire season. With that being said, let me tell you why Hightower and Helu will be the tandem running the show in Washington, starting with Tim Hightower.
Hightower understands the importance of blitz pick-up. He had to protect the future Hall of Famer Kurt Warner. It is also something Mike Shanahan highly values, especially since the team no longer has Clinton Portis.
Over the past two years, Hightower has shown great vision in the red zone, good hands out of the backfield and proven durability. The one knock on Hightower is his fumbling issues. That is something that will be closely monitored by the Shanahan's, but keep in mind fumbling problems are something that can be corrected with different techniques—there are no techniques for increasing one's durability.
Roy Helu has also shown durability. Through his college career he played games with the flu and shoulder injuries and still managed back-to-back 1,000 yard rushing seasons. He showed great hands at the combine, making catches away from his body and showing good hand-eye coordination.
Helu also has breakaway speed, posting a 4.42 in the 40-yard dash compared to Torain's 4.71 and Hightower's 4.59.
Don't get me wrong, I like Ryan Torain as Washington's starter. However, I just don't see him staying healthy for an entire season and all signs currently point to that.
If and when Torain goes down, expect Tim Hightower and Roy Helu to be at the helms of this running attack and to see good numbers from both backs this season.