Boston Celtics: Can JaJuan Johnson Make an Immediate Impact for the Team?
August 7, 2011
Joe Robbins/Getty Images
The concept of the player draft in a pro sports league is equal parts back-alley crap shoot and high-stakes poker game. 
Consider the Boston Celtics' acquisition of Purdue University center JaJuan Johnson at the NBA draft six weeks ago.
After the fact, Boston coach Doc Rivers acknowledged the team's surprise when Johnson was available at No. 25.  (The dice had bounced their way.)
Yet CEO Danny Ainge and Rivers opted to select Providence College scoring machine Marshon Brooks.  (They'd moved from the back alley to the casino.)
But before the fanbase and media could say, "Hey, what's goin' on here?" they'd swung a deal for JJ and picked up a 2014 second-round pick to boot.  (The opposition had folded.)
While our favorite leprechaun has again successfully navigated over the rainbow, it remains to be seen if that pot is filled with gold or pyrite.
Young Mr. Johnson has certainly compiled an impressive resume to date.  The 22-year-old's senior season earned him recognition as a first-team All-American as well as both the Big Ten Player of the Year and Defensive Player of the Year. 
He also captured the coveted Pete Newell Award and is a four-year veteran of March Madness.  Also worthy of note are his three consecutive selections to the All-Defensive Team in a rather competitive conference.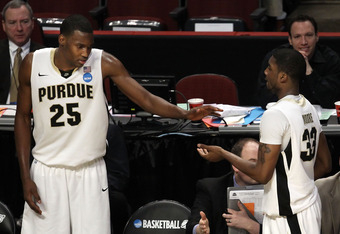 Jonathan Daniel/Getty Images
Bob Ryan of the Boston Globe and ESPN frequently bemoans what he calls the "AAU-ization" of our beloved game, wherein talented but coddled athletes are put on the fast track over their own rainbows but often discover nothing but fool's gold. 
(By the way, if you've not read George Dohrmann's compelling Play Their Hearts Out on youth ball, Abacus is suspending your hoops fandom till further notice.)
Johnson had declared himself eligible for the 2010 draft but upon reflection withdrew.  Just as significantly, he then hooked up with noted physical trainer Tim Grover, Michael Jordan's guru, a relationship which has reportedly resumed this summer. 
Adding more strength to his 6'10", 220-pound frame—JJ filled out to the tune of 30 pounds during his college career—would seem mandatory, but his almost freakish athleticism (near 40" vertical leap combined with a 7'2" wingspan) and maturity bode well. 
Of the big men in this year's draft pool, he ranked first in "touches" (18.7 per game) and in lowest turnover ratio (eight percent), another good omen.
So, what kind of an impact can be expected from JaJuan Johnson in the 2011-12 season…if there is a 2011-12 season? 
Coach River's reluctance to grant significant playing time to rookies is well-documented.  On the other hand, rookie big men (Russell, McHale, Big Baby) have made key contributions to championship runs. 
Uncertainty over the composition of the roster—currently only six players are under contract—makes speculation difficult, but here goes anyway.
Given minutes, that athletic skill is bound to create some highlight-reel moments.  If E'Twaun Moore is up-to-snuff, can't you just envision a Purdue-powered second unit? 
Realistically, Johnson's probably one good "big-man camp," like those run by the late Pete Newell, away from being an effective NBA post player—his footwork has appeared less than smooth on occasion. 
Nevertheless, that deft mid-range shooting touch already has Doc talking, if not dreaming, "pick-and-pop."
Maybe the best comparison Abacus can offer would be the young Robert Horry, who joined up with a fellow named Olajuwon in Houston in 1992—a 6'10" string bean from a solid program in a major conference. 
As a young player, before he morphed into Big Shot Bob, Just Plain Robert was a dependable, at times spectacular, rotation player.
And for those who wish to suggest that so many teams couldn't all be wrong about a guy, here's a bit of trivia.  The MVP of an NBA All-Star Game was—Abacus kids you not—a 15th-round draft pick.  Try googling Adrian Smith.