Kobe Bryant: Why Next Season Might Be the Most Vital to His Legacy
August 8, 2011
Jeff Zelevansky/Getty Images
For 15 seasons, Los Angeles Lakers shooting guard Kobe Bryant has showed his transcendent basketball skill to NBA fans around the globe.
His ability to consistently score at will while defending the opposing team's best player in the most important games, while also winning five NBA championships, has made Bryant seem invincible.
Bryant's showings of invincibility have placed him among the greatest Lakers of all time, behind only Magic Johnson, and among the greatest shooting guards all-time, behind only Michael "Air" Jordan.
In the 2011 NBA Playoffs, Kobe Bryant had the opportunity of moving past these two legends by winning his sixth championship.
Winning a sixth championship would propel Bryant ahead of Magic Johnson, who won five championships, on the list of all-time great Lakers. In addition, a sixth championship would move Bryant even closer to Michael Jordan, threatening Jordan's placement atop the list of greatest guards of all-time.
However, in the 2011 playoffs, Bryant displayed clear signs of mortality. While averaging 23.3 PPG and shooting a low 22.7 percent from the three-point line, Bryant was unable to carry his Lakers as they were ruthlessly swept by the Dallas Mavericks in the second round.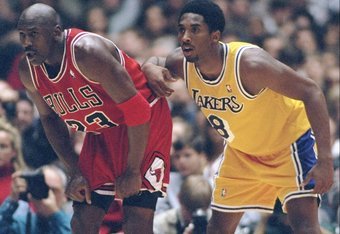 Jed Jacobsohn/Getty Images
Bryant's chance to win a sixth title and completely alter his legacy was gone.
Fortunately, Bryant has another chance to claim invincibility next season, but it may be his last.
It is evident that Bryant is slowing down physically, although his mental drive is still present.
If Bryant can show everyone that he can still lead his team to another championship despite his physical deterioration, he will truly be seen as invincible, and his glimpses of mortality may be forgotten.  
In addition, instead of being viewed as one of the greatest, he will become the greatest Laker of all-time and possibly the greatest basketball player the world has ever seen.