Impact Wrestling: Austin Aries Should Be the New Face of TNA's X-Division
August 8, 2011
I expected to read that TNA had a new X-Division champion this morning after Hardcore Justice. I was sure, as the television promos had given us clues that Austin Aries would have walked out of the PPV event with the X-Division title.
Maybe we were all wrong? Hopefully, I am not the only one who is wondering how Brian Kendrick is still the X-Division champion.
When Aries lost the three-way match last night with Alex Shelley and Kendrick and then challenged him, it became apparent that it was only a matter of time before Aries, who has looked like the best of the class of cruiserweights of late, was wearing gold. But with his brash style, it should have been last night and here is why.
Aries possess something the program has lacked from the X-Division since it was pushed aside by Eric Bischoff, that being a brashness that is perceived as a true heel. Shelley even said the man who make up the division compete and respect each other and have worked hard to build what the division has become.
He is disliked by the fans and while larger competitors like Samoa Joe and Abyss have competed in the division with great success, fans have still liked them as heels.
Aries is a true loner, much in the same path as Mr. Anderson.  But you will not see Aries join forces with anyone, he thinks he can do it on his own. His look and talk (which is great on the mic) and his personality screams for something bigger.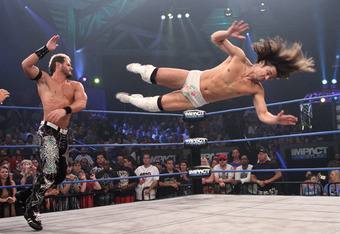 You won't see someone like A.J. Styles go after Aries because Styles is concentrating on the bigger picture and the Bound for Glory series (which I would have loved to see Aries in). Alex Shelley looks good for a feud with Aries if we can get Kendrick out of the picture, maybe even Kazarian, but I do not see that happening either.
Aries not winning last night also opens the door for questions about the division and how Impact will incorporate a Kendrick vs. Aries feud and who will now face Shelley to bridge the gap?
Where does Abyss fit in all this? I think at some point, you see a face turn for Abyss now that he is getting so much heat from Immortal after losing matches and becoming the whipping boy for the stable. He really has no place in the angle.
Will Kazarian jump back into the scene and try and dominate? What about Daniels trying to capture gold? Would love to see Aries and "The Fallen Angel" in a storyline.
There were too many questions left unanswered last night, just like in the last PPV. I was of the opinion PPV events closed the door on older stories and created new ones to arc to another PPV event. And that is fine for certain angles.
But a Kendrick vs. Aries feud until the next PPV event does not excite me and I hope Shelley will be able to get his hands on the title or Aries takes it from Kendrick in the next few weeks to create some buzz that still needs to be heard within the ranks of TNA.
Aries should be the face of this division, maybe even the company at some point. But too much needs to be built before the foundation can stabilize.